Alumna Works to Help Vets Overcome Trauma
June 23, 2017 | By Anne Kniggendorf (SF97)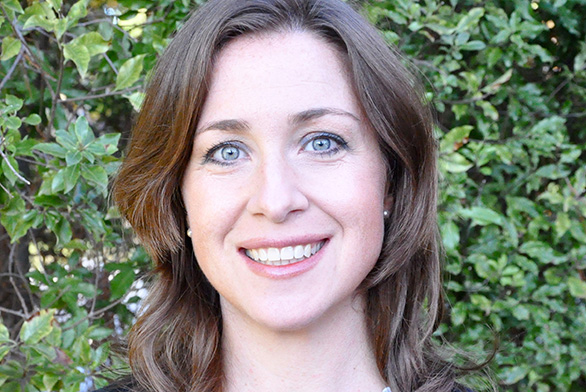 When Shannon Wiltsey Stirman was still an undergraduate at St. John's College, she toyed with the idea of pursuing master's work in Russian literature.
"But then I realized I just wanted to read Russian literature," Stirman says from her car on Highway 101 in California. She's heading to her office at the Dissemination and Training Division of the National Center for PTSD in Menlo Park, part of the Department of Veteran Affairs.
Before graduating from the Santa Fe campus in 1997, she says she knew that her real interest lay in psychology. But she was surprised by how enjoyable she found the research aspect of the discipline, since she'd initially imagined practicing psychotherapy.
"You think about how very little psychology the Program has, and yet I still feel that it equipped me so well both to pursue research and to do the types of treatments that I do," she says. "I use my St. John's education every day when I'm doing this work."
The school of therapy and research she studies is cognitive behavioral therapy; more specifically, cognitive processing therapy, in which Socratic questioning is used to help PTSD patients become their own therapists.
When the Socratic approach is done right, she says, it works very well.
Stirman explains that patients can eventually work independent of a therapist "by this process of slowing down and carefully looking at what they're saying to themselves about the things that happened and the impact that it had."
But she says this type of therapy, or in a lot of cases any type of therapy, is out of reach of those who need it most, mostly due to insurance restrictions or lack of ability to pay out of pocket. For the past two years, since her move to Palo Alto—where she also has a faculty appointment at Stanford University—her primary focus has been on research into the "implementation of evidence-based treatments."
That is, she works to deliver the most effective treatments possible to PTSD patients nationwide.
She points out that often research positions don't yield measurable results for several years, but what she's done has been a little different, because she's training therapists and following their work in the field; plenty of data returns to her about the results of this method.
"Being able to have a program of research where we can actually see (progress) is something I'm really proud of," Stirman says.
She adds, "I'm excited that I've been able to build a lab that's doing work on things that I think are pretty directly clinically relevant, and that we've been able to get funding and build a program of research to hopefully have an impact on clinical care and clinical outcomes for people with PTSD."
She credits her St. John's experience of "thinking and discovery and learning through discussion and reading and trying to figure things out" for much of her professional success.
"That's actually one of the most important things I took away from St. John's, was the sense that I could figure out how to do things," she says. "Knowing that I didn't have to be limited by subject or topic and that I had a method to figure out what I needed to discover to be able to take the next steps in my career. I bring that with me now."