January 19, 2017 | By Tim Pratt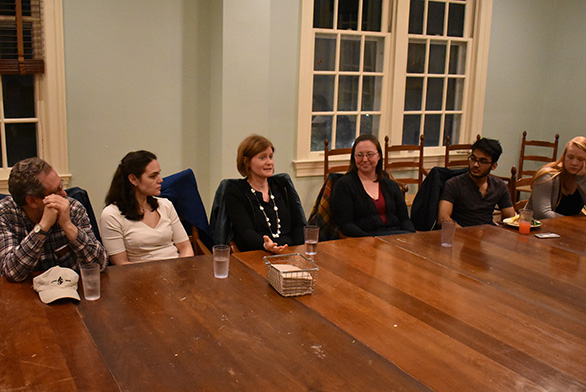 Three months before Rachel Dudik graduated from St. John's College, she was considering a number of career options.
She thought about working in forestry or with art, or even running a truck-stop diner.
But a timely academic connection and subsequent internship opportunity set her on a course that eventually landed her a job as an astrophysicist at the U.S. Naval Observatory. She has worked on everything from black holes to space missions.
"In life, the contacts you make and the people you meet are really, really important," Dudik said. "The contacts you make are one of the most important things you'll have for the rest of your life."
Dudik (A02) spoke to St. John's students January 18 during the Alumni in Science Panel in Annapolis, hosted by the Career Services Office. She was among four St. John's alumni, all of whom have successful careers in mathematics and science, that spoke to more than a dozen Johnnies in attendance. The panel shared their stories, gave advice and provided networking opportunities for the future.
A survey of more than a dozen students in the room revealed a variety of interests.
Marine biology. Ornithology. Environmental science. Physics. Neuroscience. Psychology.
Regardless of which career path students choose, the alumni stressed the importance of networking, internships, fellowships and "trying out" a variety of fields before settling on a career.
Even if you try something you don't end up enjoying, at least you will be able to eliminate that from your career options, said alumna Meredith Bohannon (A03), a postdoctoral researcher in the Department of Environmental Science and Technology at the University of Maryland. Bohannon studies the effects of environmental toxins on wild bird populations, specifically bald eagles.
"Negative data is still data," she said.
Landing a job in a certain field doesn't mean you have to stay with it forever, said alum Christopher Mark (A81), who has 15-plus years of experience in high-volume design, development and maintenance of content-intensive websites for a federal government contractor. He has a background as a salesman, mathematician, teacher and IT worker.
"You never know what the future is going to hold," Mark said.
Each of the alumni stressed how their St. John's education helped them, whether it was in graduate school or in their careers. The ability to think outside-the-box, read critically and ask questions is something that makes Johnnies stand out, they said.
"You get a lot of special skills here that have been crucial … to my success," Dudik said.
Students asked questions ranging from how to get internships that they might not necessarily have the background for—the role of networking was re-emphasized by the panel—to the role of graduate school advisors, who often play a critical part.
There also were questions about what to do when you don't have a job in your preferred field lined up after graduation—alumna Cara Gormally (A02), an assistant professor in the Department of Science, Technology and Mathematics at Gallaudet University, worked as a nanny to make ends meet while taking additional classes before graduate school—as well as an inquiry into the necessary path to get a PhD.
Senior Owen Morgan, who is considering a career in neuroscience, said he thought the panel discussion was informative because the panel gave "good, specific advice."
Fellow senior John Himes, who is looking into a career in engineering, specifically in sustainable energy, agreed.
"It was definitely helpful," Himes said.