Magic on the Emerald Isle
January 20, 2017 | By Tim Pratt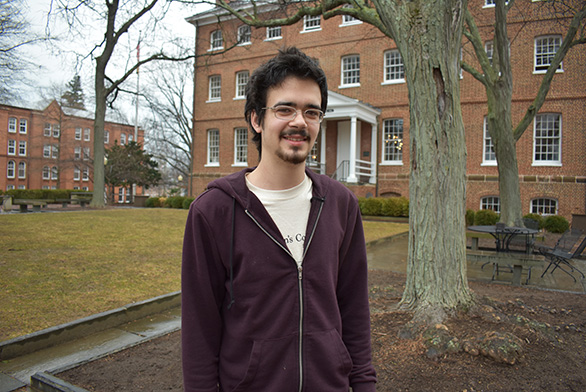 When St. John's College senior John Himes travels to Ireland later this month, he will be entering a world of wizardry.
The Catonsville, Maryland, native will have to deal with sorceries and creatures, artifacts and enchantments. He'll be relying on preparation, strategy and a little bit of luck to survive.
Himes is set to compete in an international Magic: The Gathering tournament from February 3-5 in Dublin. More than 400 players from all over the world will compete. The winner gets $40,000; the top 64 players earn at least $1,000.
Heading into the tournament, Himes says he's ready for the challenge.
"I'm feeling confident, but I'm also a little nervous to be playing with the big guys," he says.
Himes first played Magic in the fourth grade. It's a game of strategy, probability and chance, one Himes likens to a combination of poker and chess.
Players use decks of cards and, acting as wizards, attack each other in battle. Players lose the game when their life total is reduced to zero, all their cards are removed from their deck, or their opponent is able to assemble some other combination of cards that results in a win for them. Because there are over 29,000 cards in existence, the ways to win a game are incredibly diverse, Himes says, but the most basic and simplest way is to just "get your opponent dead" by attacking with creatures.
Although Himes first played the game in the fourth grade, he didn't stick with it. But over the summer of 2014, after Himes' freshman year at St. John's, a friend from home invited him to play. This time, there was no walking away from it.
Himes started playing in tournaments in 2015. He eventually won a preliminary pro tour qualifier, which earned him a spot in a regional tournament.
Himes won a regional tournament late last year in New Jersey to earn him a spot in the international tournament in Dublin.
Himes, who is sponsored by a game shop outside of Baltimore, has put in a lot of time and effort to reach this level. Aside from waking up early on Saturday mornings to travel to tournaments, he also has practiced with fellow Johnnies, though he wishes there were more players on campus.
Some players practice online. But Himes has to go to a friend's house if he wants to practice online due to a campus firewall.
It can be hard at times to balance Magic and school work, Himes says. As he prepares for Ireland, he is trying to complete his senior essay. He is leaving a week before the essay is due, so he has to turn it in early.
When Himes arrives in Ireland, he plans to travel, see some sights and stay in hostels for a few days. Then he will stay with a team of players, including another one from his sponsor's shop, during the tournament.
The trip is the culmination of years of practice and competition, but Himes isn't resting on his laurels.
"I always want to play against people that can beat me so I can improve," he says. "I always want to get better."