Alumnus Makes Waves in World of Furniture Design
April 15, 2019 | By Rebecca Waldron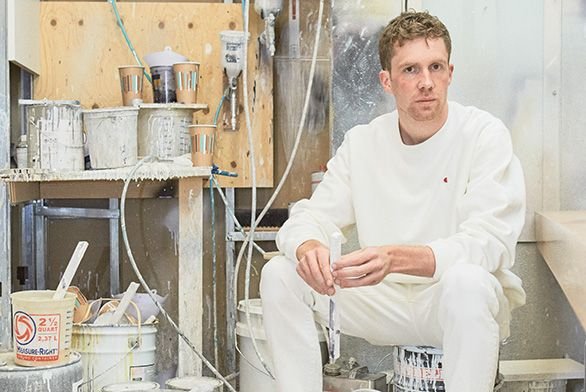 When Sam Stewart (SF11) first arrived in New York City shortly after graduating from St. John's College, his future felt like a blank slate.
"I didn't have big plans when I arrived in New York," he says—and he certainly never would have guessed that only a handful of years later, he would be preparing for a major show of his work at the Salone del Mobile, an international furniture design fair in Milan that took place in early April.
"I didn't think about literally translating my St. John's education into a career when I graduated ... But I knew I had the confidence from St. John's that I could teach myself anything and talk to anyone," he says. "I think that helped a lot."
Armed with an intellectual intrepidness he gained from his experience tackling new and complex ideas in the St. John's Program, Stewart soon landed a job working in an art gallery in Chelsea, New York.
"That gallery had a lot of furniture-art crossover," Stewart says, "a lot from the Italian Radical Design movement and the Studio Craft movement of the '60s and '70s. I really liked the idea of something being only somewhat functional."
He started reading about the artists who were represented by the gallery and quickly found himself falling head first into the deep history of both American and international furniture art and design.
"Once I learned there was this much bigger history, I felt like, 'This is something I can contribute to. This is a conversation I want to be a part of,'" he says.
Stewart started tinkering in the gallery's wood shop in his off hours, experimenting and teaching himself the skills necessary for furniture design and fabrication. Soon, he was making furniture on a commission basis.
His first break came in 2015, when he was approached by the popular Manhattan restaurant Dimes to design some tables as part of their expansion. (His name had been passed along by a designer who had seen his work in a show at his studio.) Dimes loved the tables Stewart designed for them so much that they commissioned even more work.
"It was a strange but really cool feeling to see people using something I had made and taking notice of it," he recalls.
The tables Stewart designed for Dimes were an instant hit with their clientele, and his name began circulating among the art and design elites and fashion celebrities who often frequented the restaurant. Eventually, Stewart's name made its way into the orbit of the Italian artist and designer Martino Gamper who commissioned Stewart to repair a table for Gamper's Manhattan apartment.
Gamper's wife was so impressed by Stewart's work that she encouraged him to send his portfolio to a friend she had at New York's Fort Gansevoort gallery. The gallery scheduled a studio visit with Stewart and, impressed by both his work and the unusually lucid way he was able to explain his thought process (another skill he picked up at St. John's), commissioned him to design a table and chairs for their booth at the annual New Art Dealer's Alliance art fair in New York.
Stewart set to work brainstorming different designs, eventually settling on a concept for children's furniture. He created a small cloud table with upholstered edges, two raindrop stools, as well as a sun chair and cloud chair for the gallery owners to sit in.
"I was kind of worried at first," he says. "I thought the furniture might infantilize them ... which was kind of the point. It was supposed to be humorous, but I thought they might be offended."
Instead, the owners loved the playfully subversive table and chairs so much they decided to give Stewart his first solo show.
The show, Cryptid, opened in early spring of 2018 at Fort Gansevoort. Inspired by the work he had been doing for private clients in their homes, Stewart decided to create a fictional client, a mythological being he named the Cryptid, who was obsessed with body image and faux luxury. Stewart turned the gallery into the Cryptid's apartment, filling it with semi-functional furniture—a carefully crafted chair with a plastic slipcover that would break if you sat in it, a surrealist version of a home workout system— all designed to provide insight into the creature's personality.
"Home interior work is so personal," Stewart explains. "You have to take into consideration the psychology of the home and the people you are designing for. It becomes a form of portraiture. When you're making a thing for a person or a couple, you have to interpret them in some sense. I try to make things that look like something the client would own but also looks like nothing they already have. I think the reading skills I got at St. John's really cross over here. In a sense, I'm always trying to read a person and a space and create a synthesis."
Stewart's skill for synthesizing information, in fact, was first brought to his attention at St. John's.
"I was in a seminar with Janet Dougherty and Laurence Nee," he remembers. "We had had a couple of bad seminars and I had stopped participating as much. I remember I was in the library one afternoon, and Mr. Nee came up to me. He started giving me a hard time about participating. He said, 'You're not great at detailed analysis but you are really good at synthesizing the information that's floating around the table. We need that!' That really meant a lot to me. He showed me that I had this particular skill and that I could use it to make a valuable contribution to the conversation. His comment has stuck with me and I think it informs a lot of my methodology now."
Reflecting on his own path and the paths of many of his former classmates, he adds "it's hard to describe to people outside of it, but I've seen the people I knew in school go on to do so many different things and be successful at them. We've all gone in different directions, but that in itself speaks to the value of the St. John's education."