Tutor Robert Abbott (A04) to Address Annapolis Grads at 2019 Commencement
April 19, 2019 | By Kimberly Uslin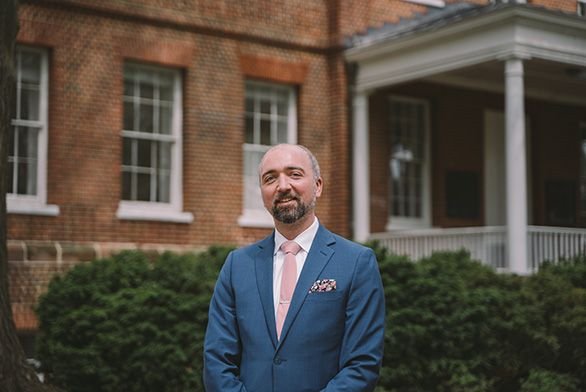 When St. John's College tutor Robert Abbott (A04) was approached by the Class of 2019 to give the commencement speech at their graduation, he very nearly said no.
"I thought, 'How unfortunate. I hate public speaking,'" he says with a laugh. "And then I thought, 'I love this class.'"
The affection, it seems, is mutual. Abbott was selected by a class-wide vote, explains senior Ivan Syristyn (A19), who served on the selection committee.
"Mr. Abbott is very popular in our class. He's very energetic, very engaging," says Syristyn. "He went to St. John's, so there is more of a Johnnie connection to him. His intellect, his passion, and his engagement with students are what ultimately caused people to vote for him."
Abbott, who was born and raised in Alexandria, Virginia, says he "knew immediately" that St. John's would become his home after receiving the famous The following teachers… postcard in the mail.
"My parents strongly suggested I apply to at least one other place, and I did, sort of pro forma, but I knew this was the place for me," he recalls.
As an undergrad, Abbott was taken with the campus, enjoyed conversations with upperclassmen in the coffee shop, and was involved in public service groups like the Student Committee on Instruction (SCI) and Delegate Council (DC). Unexpectedly, however, it was his time on the crew team that he remembers most.
"I was a shy kid, I didn't really do well on teams," he says. "But I remember being in the gym at a meeting for all the people interested in rowing, and we just sat down in a big circle. [Athletic Director] Leo Pickens gave a very short speech—the main message was 'You show, you row.' I rowed all four years. It was really important to me."
Scholastically, Abbott was drawn to the earnest gravitas of the St. John's Program.
"I remember freshman lab [with tutor Katie Heines] being the first time that I felt like someone was taking everything I said and did absolutely seriously and without judgment," he says of his first year in the Program. "I learned how to read line-by-line from her, just to go through a text carefully and find the arguments."
He went on to pursue a master's degree and PhD from the University of Chicago, but St. John's called to him once again. When he returned, many of the tutors Abbott had as an undergraduate were still working on campus, and he says navigating new relationships with them has been an interesting—but rewarding—experience.
"It's like picking a conversation up again after a few years," he explains. "But [you're] getting to know someone in a really new way. They had been important to me [when I was a student], but you have to forge a new friendship in order to be colleagues."
Navigating his relationships with students has been equally fulfilling, Abbott says. Because he began teaching in 2013, the 2019 grads are among the first he has seen through all four years of the Program.
"I've matured a lot over these four years, and I've gotten to watch them do the same. I didn't arrive with this class, but I was here to welcome them, so that feels very special."
"Every class is different," he adds. "I've realized the truth of that more and more. I see that in them more than I've ever seen in any other class. I think to myself, 'Here are all these individuals, [and] I've never met anyone like them'—and at the same time, I recognize them as Johnnies."
Abbott only agreed to overcome his discomfort with public speaking, he says, because he truly feels he has something to say to the graduating seniors. Though he won't give his speech away, he does want one thing to be clear: He is "hugely" optimistic for the future of the Class of 2019.
"I can't wait to see what they do. They have everything before them, the whole world. Of course they're thinking, 'St. John's was so wonderful, I can't believe I'm leaving'—but this is just the beginning."
Annapolis Commencement begins at 10:30 a.m. on the Front Lawn on May 12. Santa Fe Commencement will be held at 10:30 a.m. on the Weigle Placita on May 18.