Alumnus Seeks to Preserve and Teach Endangered Languages
January 30, 2019 | By Anne Kniggendorf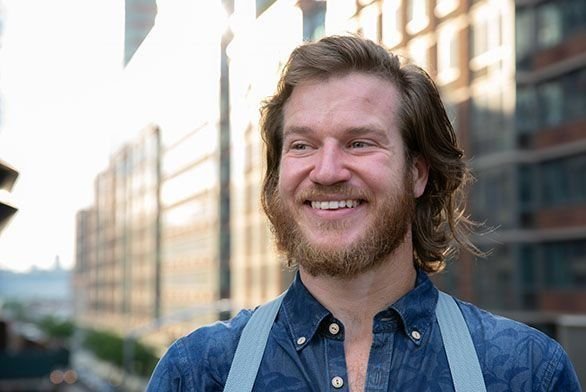 Alumnus Charles Major's business, Betterment Labs, recently received a National Science Foundation Small Business Innovation Research Grant to develop a web-based system that will guide users through developing their own early-literacy materials aimed at early language learning and saving endangered languages from extinction.
"Kids who learn to read in the language that they hear at home are able to learn to read in another language [English, in the U.S.], and they are able to pick those skills up much quicker and more effectively," says Major (SF10), citing research that supports his project. "Learning to read at an early age is really essential for future education and everything that comes out of that."
Major founded Betterment Labs two years ago with Dr. Catherine Callow-Heusser, who holds a Ph.D. in educational assessment, evaluation, and research from Utah State University. The two had known each other for years (Major is friends with her son), but discovered a mutual love of "education, technology, and a desire to do social good while earning a profit."
While Major was still a student at St. John's, Callow-Heusser hired him as a regular employee at her company EndVision to evaluate reading programs in elementary schools on reservations in Arizona and New Mexico. She still owns the company, but has dialed back operations to focus on Betterment Labs.
Though the work interested him, Major did not originally plan to pursue his study of the reading programs of indigenous peoples. After graduation, he moved to Albuquerque and worked with Lee Munson (SF97) to learn the ins and outs of investing. The work wasn't for him, however, and he then enrolled at Utah State to study mechanical engineering.
"If anything, [St. John's] broadened my horizons and made me feel like there was a way in which I was capable of jumping into anything," Major says. "That's largely good, but the negative is [that] if I can do anything, what do I do?"
Utah State offered him a scholarship, which he used to complete an MBA while still taking undergraduate courses in mechanical engineering (though he did not finish the engineering program). Graduate degree in hand, he went to work for Google and some California tech start-ups.
"Being in a start-up seemed really exciting, getting to be a part of a team figuring stuff out. This is something St. John's really informed, actually, wanting to be a part of something at the beginning," he says. "At St. John's, I liked getting down to the fundamentals of something and figuring out how to apply those."
At Betterment Labs, he's found a way to use all of his training and education in one place.
"My coding skills are like 98% self-taught," he says. "I had one college-level coding class, but I basically learned all that stuff beforehand. St. John's gave me the ability to do that. When it comes to education, we're pretty fearless about jumping into something new."
He and Callow-Heusser have a few apps on the market already. One, called SOS (Safe on Scene) is already in use and aids people in emergency situations. A feature called "Lockdown" turns off a cell phone's lights and sounds and automatically sends a text to 911, keeping the user from drawing attention to himself. Another, SOS Safe @ School, is a total incident management system that handles everything from student behavior issues to an overflowing toilet to more dire situations. Because it is used for purposes than solely life-threatening emergencies, teachers can use the app on a regular basis and will be familiar with and ready to use it in a crisis.
The app Major received the National Science Foundation grant to develop is called READ! Toolkit. Primarily through Callow-Heusser's research, Betterment Labs learned that native languages are often not spoken at home, and when they're taught in a formal setting, the person who knows the language isn't always equipped to teach it. The languages, Major says, often lack the curricular material to guide the teachers.
"We're hoping to bridge that gap to make it so anyone in a group who is interested in teaching the language would be able to jump in," Major says.
He explains that the toolkit user will need to write culturally relevant stories, but the app toolkit will guide the process so that it follows language-learning best practices. Then the students will learn to read by going through those stories, either in book form or in an enhanced app that includes features such as highlighting words as the story is read aloud, pronunciation feedback, interactive quizzes, and progress reports.
For developmental purposes, Major decided to begin with English and Ancient Greek, focusing on New Testament Greek because "there's so much material," he says. The pilot program is on target to be ready for testing in July 2019.
Once Betterment Labs is assured that the app works, they'll develop the program to work for Navajo (specifically a language called Dine), Siletz, Spanish, and, English versions with "different cultural focuses, especially African American," Major says.
He's excited about the possibility of revitalizing some of the 3500 or more endangered languages. While efforts are underway to document some of those languages worldwide, his research shows that not much is effort is being made to teach them—and Betterment Labs is happy to fill the need.
Now that the government has reopened, Betterment Labs will receive their funding and begin to pay a team of contractors, including a linguist, to continue development. (A side note: Major says he'd love to have St. John's students intern with him).
"I certainly think it's really valuable to have places like St. John's that are teaching people to think well and be free thinkers," he says. "That seems to be more and more pressing every day, since our political camps and ideologies are just getting locked down."