A Rare Book (and Its Owners) Find a Home at St. John's
January 30, 2019 | By Kimberly Uslin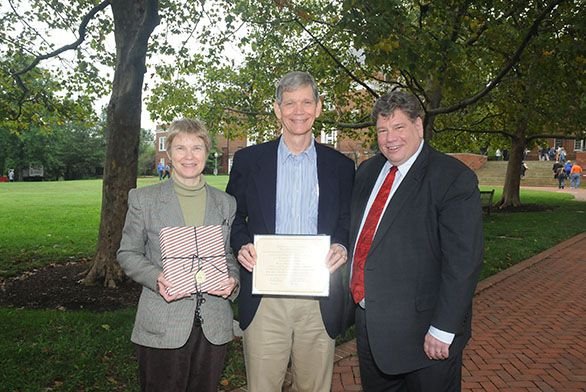 Soon after he came to St. John's Annapolis campus, President Pano Kanelos took a tour of the Greenfield Library and stopped by the Rare Book Room. The 560-item collection, he says, was impressive—but one element stood out: two first-edition copies of Leviathan by Thomas Hobbes, printed in 1651. The book, one of his favorites, had been the subject of Kanelos' master's thesis, and he was thrilled to find that St. John's had not one, but two rare copies.
A week later, the library staff told him he could keep one of the books in his office. He often takes it out to show to visitors and recently had the chance to thank the benefactors of the book, Betsy and Carl Seastrum, personally at a Freeing Minds Capital Campaign launch party. The Seastrums (both H11) donated Leviathan to St. John's in 2010, along with a 1680 folio of Machiavelli's The Prince.
"Their gift of these historic editions has proven not only to be a gift to the St. John's community, but one that I value on an extremely personal level because both books have been meaningful to me in my own scholarship," says Kanelos. "I spent a good deal of my graduate years working and writing on Leviathan, and I'm so excited to be at a college where I can keep it in my office."
The books were originally obtained by Betsy Seastrum's great-grandfather, Judge Duncan MacArthur Vinsonhaler. Missouri-born Vinsonhaler was a graduate of Yale University and University of Michigan Law School, but spent most of his adult life in Omaha.
"He loved books," recalls Seastrum. "He liked to sniff around the antique books stores; he was interested in their value."
On one trip to Boston as a young man—in the late 19th century, Seastrum guesses—Vinsonhaler picked up the first-edition Leviathan and the Machiavelli folio, holding on to them for decades. He was in a literary circle in Omaha, Seastrum says, and was friends with writers Willa Cather and John Neihardt. It was Neihardt, in fact, who told Vinsonhaler in 1927 that the Hobbes was worth $1,000, a fact detailed in the letter he wrote to his grandson (Seastrum's father) when he passed the book onto him.
"The letter was dated February 22, 1947. My dad was 24, and uncertain what he was going to do with the books," Seastrum says. "He wasn't going to sell a family legacy item like that, so he kept them for almost 30 more years until the summer of 1977."
He then gifted the books to the recently married Seastrums. ("We were the intellectuals in the family," Betsy explains.)
The couple took the books to an appraiser in Georgetown who advised how to best care for the texts, which were then wrapped in brown protective paper and placed on a shelf upright.
Twenty years later, Carl was reading a 1999 copy of Forbes when he came across information on St. John's Summer Classics program in Santa Fe.
"We thought it sounded great, and I had a yen to go out west anyway," remembers Betsy. "We went to study Aristotle's Politics with [tutors] Warren Winiarski and Matt Davis. I still remember the first opening question: 'Which came first, the city or the man?'"
"There was dead silence," she continues. "But being not a bit shy, and because I had read it carefully, I knew Aristotle had addressed directly that. He said the city, because you can't have a civilized man without a city. Otherwise, they're savages."
They were hooked. Betsy and Carl made the trek out to Santa Fe every summer for the next 20 years (with one exception, in Betsy's case). St. John's became a part of their life; they joined the biweekly seminars held by the DC alumni chapters for years, with Carl eventually becoming the treasurer, and attended many executive seminars. In October 2011, they were named honorary alumni, granting them access to alumni events.
These days, they go to the Annapolis campus two or three times a year for Weekend Classics (including a seminar on Toni Morrison's Beloved in February for Carl's birthday—"That's our idea of a good time," laughs Betsy). Though they had considered the Graduate Institute, it wasn't a possibility until their retirement, and by then they were unwilling to either make the daily hour-long drive to Annapolis or spend the summers in Santa Fe due to health considerations. Instead, they began endowing a GI scholarship with the aim of supporting others interested in pursuing the degree.
In 2008, after Betsy's parents passed away, she began considering what the couple would do with the rare books.
"We wanted to place them somewhere where they would be valued," she says. "I remembered that in the Meem Library [in Santa Fe] they had a very nice reading room with books in glass cases, which got me thinking about how St. John's would be a great place for them. They're both in the Program."
They had the books appraised once more in Bethesda, then began the process of donating them to the Greenfield Library on the Annapolis campus. Leviathan and the Machiavelli folio became the property of the college in 2010.
"Most of [our rare books] are the result of private donations over the years," explains Catherine Dixon, library director at the Greenfield Library. "Many of the books in the Rare Book Room collection reflect or relate to the program of study here at St. John's College. The library staff take a patron-focused approach to making the books in the Rare Book Room available and accessible, keeping in mind the program of study, and the interests of the students, faculty, and staff as much as possible."
"Students get to look at (and touch) early editions of some of the works they are reading in class and they get to compare how the content was treated in an early edition as opposed to the current publications they are reading for class," she adds. "When we meet with students, we also talk with them about the proper way to handle rare material. [They] enjoy taking a deeper look at the books, including turning the pages or looking at the construction. The students here really connect to the print books, especially special editions of the books related to the Program and by authors they love to read."
"We were thrilled that they had a wonderful home and we didn't have to worry about them anymore," says Seastrum. "They've been in the family for over 100 years, but we don't have any children. These things can easily be lost and destroyed."
When they met Kanelos at the Freeing Minds event last year, the Seastrums considered it the perfect end to the books' story.
"He came up to us and was thrilled because his thesis was on Hobbes," she remembers. "Before, there wasn't a special connection, so that was a real gem of information."