"The Cave" Reopens on Santa Fe Campus
January 24, 2019 | By Kimberly Uslin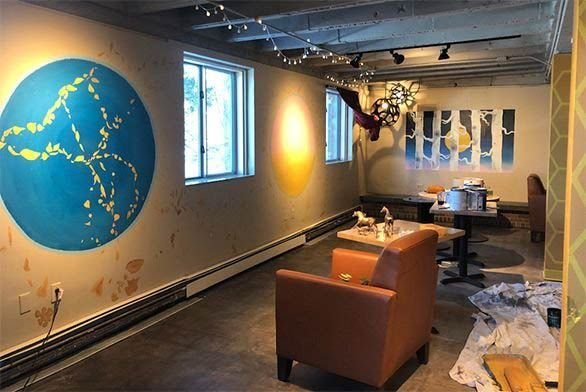 "The Cave is dead," proclaimed a Nietzschean Instagram post after the popular Santa Fe campus hangout was closed in late September. Now, precisely four months later, The Cave is back—and, hopes operations manager Shannon Albritton (SF20), better than ever.
Though the history of The Cave, located beneath the dining hall in the Arroyo Room, is about as mysterious as its moniker, general consensus is that it's been used as a student space offering after-hours food and relaxation options for about five years. As part of the space's re-envisioning, Albritton says, The Cave will now partner with local Santa Fe food and beverage vendors like Chocolate Maven, Whoo's Donuts, and Iconik Coffee Roasters (with hopes to include options from the farmers market in the near future).
"Aside from seminar days, the coffee shop closes at 5 p.m., and the dining hall closes at 7 p.m.," says Albritton. "Students are up pretty late working, so we'll be open until 10 or 11 p.m. so people can come in and do their homework and have a bite to eat without having to have access to a car to get off campus to get food or coffee."
The Cave is technically a student club supported by the Polity budget, but Albritton hopes that selling food and drink will help it become self-sustained. In general, however, he says the reimagined Cave will be "less focused on the food aspect."
"We're still going to sell things, but moving forward it will be more of a community and artistic space," he says. "We'll be holding weekly or biweekly events, things like open mic nights, art shows, movie nights, game nights that bring the community together in a space that's more comfortable."
The Cave has a sort of "intimacy" and sense of "student ownership" that other spaces on campus do not, Albritton explains, which is why it has become such an important part of Santa Fe campus life.
"I think the thing that people hadn't realized, including myself, is how much The Cave is really a presence on campus," he says. "Since it's been closed, I've noticed there have been less events and less interaction between the students, and that affects the general well-being of campus life. That's one of the big things we were looking to change—making the student life experience on campus much stronger and healthier."
As part of its reopening, The Cave now features murals from four Santa Fe students made with "raw artistic expression," tapping into another element Albritton hopes to encourage.
"Exercising the other part of the brain is extremely important. The events that we're going to hold in The Cave will allow for more creative expression," he says. "That's part of what it means to be liberally educated."
The Cave is celebrating its grand opening January 25 from 4:30-6:30 p.m. with free snacks and drinks and live music, followed by a "grand relaunch" of student-run literary magazine The Grout, and rounded out by an open mic night beginning at 8:30 p.m.