Alum's Life and Legacy Reveal the Science Behind Our Choices
May 13, 2022 | By George Spencer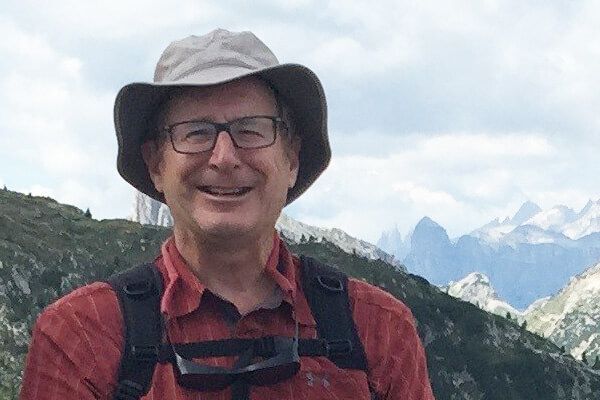 Some people dread decision making. Not Dr. Kip Smith (SF73). He made a career out of studying how currency traders, air traffic controllers, drivers, and military officers make difficult choices.
Smith earned his PhD in information and decision science from the University of Minnesota relatively late in life. He was 45 and had worked for years in geothermal hydrology and exploration geophysics.
During a far-flung academic life that combined cognitive psychology, neuroscience, and experimental economics, he taught psychology students at Kansas State, future automotive engineers at Sweden's Linköping University, and officers at the Naval Postgraduate School in Monterey, California.
"The whole field of decision making came to life in the last half of the 20th century," says Smith, who warns against snap judgments when making big decisions. "For difficult ones, get as much information as you can and cast about for multiple alternatives," he advises. "If you don't wrestle by seeking information and weighing the options, you aren't doing it right."
But if the decision involves whether to flee or fight, trust your gut, according to him. "Your snake brain, the lower part of the brain that has nothing to do with the cortex, is telling you to cut and run or stand and fight," he says.
One recent decision came easily for Smith—naming the college as a future beneficiary of his IRA. This legacy will gift will establish an endowed fund that will yield a permanent stream of annual income to benefit students on the Santa Fe campus.
"St. John's is the worthiest institution I've been associated with," says Smith. "I appreciate the education I got there, and I appreciate it more and more as I get further away from it."
He is grateful for his rigorous liberal arts education and hopes it will become even better. "I want the college to try to up its ante in science and economics," he says.
In his gift agreement, Kip stipulates that his endowed fund be used by the college to advance its science and math curricula. One example includes developing preceptorials that emphasize the teaching of the scientific method, especially regarding hypothesis testing, data collection, and behavioral decision-making, which was Smith's scholarly field.
"I can see how a study of the economic model of decision making would be a good math course," he says. "It's just adding, multiplying and dividing, but it makes you think about probabilities and alternatives."
Kip's gift will also benefit Santa Fe's career services programming, which has undergone a significant expansion in recent years. With a dedicated full-time staff of four, the Office of Personal and Professional Development assists students to write resumes, build portfolios, engage in postgraduate coursework, and gain work experience through internships.
Although the traditional STEM disciplines [science, technology, engineering, and mathematics] are sometimes viewed as distinct from the liberal arts, more than one-third of the summer internships undertaken by Santa Fe students in 2021 involved work in STEM. A collegewide survey of St. John's alumni also shows that nearly 20 percent of graduates have pursued careers in STEM or a related area, such as healthcare.
Kip has been among them. While in Santa Fe, he fell in love with the hot springs in the Jemez Mountains. He earned a master's in geology at the University of New Mexico in Albuquerque where he conducted electromagnetic mapping of its geothermal energy resources. He then became a hydrologist for the U.S. Geological Survey (USGS).
Looking back, Smith jokes, "I was getting paid by the USGS to get naked in hot springs all over the west."
At the time, oil and energy companies were interested in exploiting superheated underground water as an energy source, and Smith's research led him to co-author the monograph "Geothermal Potential of the Western United States."
The results were bittersweet. He found that no massive underground reservoirs of hot water existed. "My research saved the hot springs, because it stopped oil and power companies from thinking about geothermal as a viable resource," he says. "I feel very good about that, but I also worked my way out of a job."
Before the ax fell, Smith settled in at the University of Utah's earth science laboratory—but he ran into another wall when federal budget cuts ended his non-oil exploration-related research.
Smith and his geologist wife, Monica Clement, decided to pursue new careers. She became a geology professor; he entered the business administration program at the University of Minnesota and focused on decision making.
For his dissertation he built a computer model that emulated how foreign currency traders did their jobs. Smith spent a year on the trading desk of a major bank to learn how traders made lightning-quick decisions that involved huge sums of money.
"One of the guys gave me two maxims right off the bat—you never go broke by taking profits and cutting your losses. This is a lesson investors need to learn: Don't hold on to your losers. If they come back, buy them again, but don't hold on."
After graduating, the Federal Aviation Administration hired him to serve as the principal investigator on an interdisciplinary research program. He studied the decision-making activities of air traffic controllers in on-route centers who manage the workload of controllers who guide individual aircraft. That job came to an abrupt end on 9/11.
After serving as an assistant professor at Kansas State in Manhattan, Kansas, Smith leapt at the opportunity to become a professor in the Cognitive Systems Engineering Laboratory at Linköping University, two hours south of Stockholm.
He has since performed consulting work and conducted research on pedestrian detection systems. He and his team developed a model that predicts driver behavior based on research in India and Sweden. "The Western eye sees Indian driving as chaotic, but that's a bias we have. Indians follow firm rules, just not the ones we are used to."
Today Kip and Monica live in a senior community in the foothills of the Cascades Mountains east of Seattle in Issaquah, Washington. Furniture making has become his passion. He's crafting an oak dresser whose sides have inlays of white maple and red padauk that form a Navajo pattern.
For Smith, the decision to build furniture was easy. "It involves well constrained tasks. You can plan them out. You can execute them and get a result. It's what you expect."
Results, he says, are what he expects from his giving—and he is confident St. John's will yield them.