St. John's Graduate Heads to Stanford Law School
May 26, 2022 | By Patricia Moore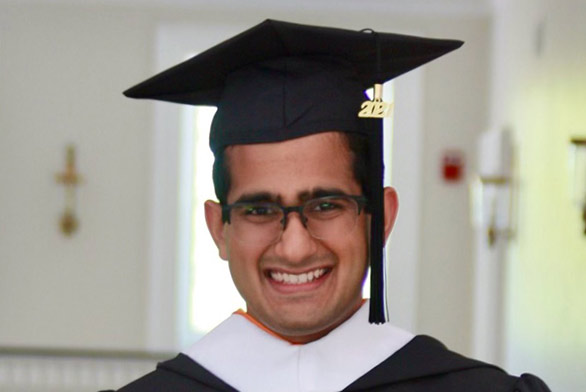 Avi Kumar (A21) is one of the lucky ones. He always knew his life path, and that knowledge—illuminated by a St. John's education—gave him the clarity, persistence, and skills to be accepted at Stanford Law School. "I've always been interested in the intersection of government, politics, and business," says Kumar, "and I've been dead-set on pursuing corporate law." Kumar says he owes his collegiate and professional success to the "intensive education" he received at St. John's College. "You really can do anything with this degree," he adds.
"I'll never forget what Mr. Roosevelt said in his Convocation speech: 'St. John's is as different from Amherst and Swarthmore as they are from Ohio State.' It's true. St. John's brings a certain intellectual fearlessness, a generosity of spirit in the classroom, and a truly enviable eye for the big picture."
These Johnnie-acquired attributes prove especially valuable for graduates because "you're forced to question your reasoning at every turn," says Kumar.
How SJC prepares students for law school
Kumar states that "the study of law is a very conservative (small-c conservative) undertaking, and St. John's inspires a veneration toward tradition that matches the essence of law." By absorbing the habits of the great thinkers—from ancient historians and Christian philosophers to the great physicists—St. John's prepares its students for a life in law by helping them acquire the necessary temperament and reasoning skills, according to Kumar.
"To the outside world, our Great Books study might seem quirky, out-of-the-ordinary, and perhaps even weird. I believe we're exactly the opposite: the inheritors of a long Western education tradition," states Kumar.
St. John's—a known entity among prestigious law schools
St. John's comes with a recognizable brand among law school admissions committees; in fact, 100% of law school applicants from St. John's have been admitted to law school since 2012 and Kumar will be joined by a second Johnnie in Stanford Law's new class: Aidel Townsley (A22). "On a practical level, I would advise using the personal statement to bring out the Johnnie flair," Kumar says. "I believe Johnnies are incredibly gifted in applying their intellectual curiosity to any topic and making it worth caring about."
How one Johnnie made his law school application stand out
Kumar brought his Johnnie-inspired curiosity to explaining his passion for corporate law—and bankruptcy law in particular—on his law school application. "Those areas don't enjoy the sexiness of constitutional or criminal law," says Kumar, "but I was drawn to the broader stakes of sound corporate law in a commercial republic like the United States, so I tried to convince the admissions committees that their eyes should light up when they think about Chapter 11 bankruptcy protections."
Honing the ability to explain nebulous issues
Kumar credits every class at St. John's for his "articulateness," because he was "forced to mimic the great thinkers in reaching for articulate thoughts on exceptionally hazy issues [such as] why we consider certain mathematical proofs or scientific theories 'elegant' or 'beautiful.'"
In addition to the intellectually rigorous St. John's education, Kumar also points to specific St. John's faculty and staff for inspiring him to reach for his dreams. "Carol Carpenter [vice president of communications and creative strategy] trusted me with some high-stakes communications projects when I was a freshman intern, and she encouraged me to keep in mind what I wanted to do in the outside world," explains Kumar.
He also credits Charlie Bergman—director of the office of personal and professional development—for his collaboration on offering a "mini-MBA program" to a consulting club Kumar started. In addition, one of Kumar's tutors, Annapolis Dean, Joe Macfarland, provided invaluable career guidance and recommended him to the Stanford admissions committee.
"There are many schools that purport to offer a liberal arts education, but in my view, St. John's has stood the test of time and resisted social and cultural whims to preserve a true liberal education: one that frees you from pretense and prejudice," Kumar concludes.