Anchoring Knowledge in Greece
March 23, 2020 | By Eve Tolpa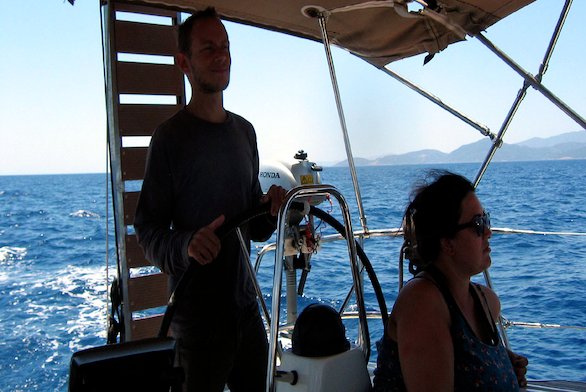 Kyle Canterbury (SF21) describes his summer 2019 experience as "one of a kind."
He attended "Greece from the Sea," a three-week seminar hosted by the American School of Classical Studies at Athens (ASCSA) that combines archaeology with sailing. Because Greece is the origin of many St. John's Program texts, the course served as an anchor for his undergraduate studies while offering a glimpse of what further education might entail.
The session's first week was spent at the ASCSA campus, where Canterbury and his classmates explored the history of Athens and delved into subjects from art history to archaeological technology. "We walked through historic neighborhoods of 19th century neoclassical houses dotted with compact Byzantine churches while discussing the geological age and formation of rocks and jutting terrain, on our way to an institute for archaeology, where we would hear a lecture on newly underway excavations," he says.
That initial week also featured a bus trip to the Temple of Poseidon at Sounion and a chance for the group to row "a functioning reconstruction of an Ancient Greek warship, the trireme, out of the port of Piraeus."
Canterbury's participation at ASCSA was made possible through a Global Pathways Fellowship. Pathways programs, both General and Global, allow St. John's students to complete special courses or academic prerequisites that ease their transitions into careers or graduate study.
The overarching intent of the fellowship was most evident to Canterbury when he and fellow participants were required to deliver reports at various sites along their Greek itinerary. These projects mandated extensive research into secondary material, a process he viewed as "beneficial preparation [for] transitioning to graduate-level research." Canterbury's own presentation, about a chain of islands known as the South Aegean Volcanic Arc, was "delivered on the peninsula of Methana—itself a spectacular display of land built up from volcanic effusions—standing atop a volcano that we had hiked."
The group spent the course's final two weeks at sea honing their sailing skills, "especially being at the helm to [and] from the coast where we had docked our boats," Canterbury recalls.
"We glided along the coasts of the Aegean during the day to reach each rendezvous point, where most often we would be guided through Mycenaean ruins, sometimes snorkeling over submerged walls and columns that we could dive down to and touch with our hands," he adds. "We even entered a cave that was a hub for prehistoric humans."
As he traversed the Greek coastline, Canterbury found his perspective on the area changing and expanding. The open sea provided a fitting context for open-ended discussion, and—much like Johnnies do—ASCSA students brought their curiosity to extra-curricular conversations, which spanned subjects like the environmental effects of fishing practices and regional tourism.
"The program was exceptional in providing a most holistic picture of its location," says Canterbury. "There was no definite boundary to what we were there to do. This, for me, was essential to the experience and helpful in contemplating a future in which to strive to consider the many consequences of every decision, even in the seemingly removed life of academia."