Johnnies in Tech+ Moves Online
March 20, 2020 | By Les Poling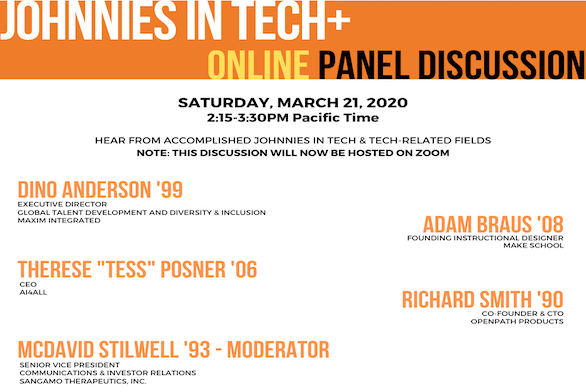 Originally, the inaugural Johnnies in Tech+ panel event was set to take place on Saturday, March 21 at the TerrAvion headquarters in Oakland, California—courtesy of TerrAvion founder and CEO Robert Morris (SF04). Co-sponsored by the St. John's College Alumni Association and the Northern California Alumni Chapter, the event schedule featured a panel discussion with accomplished St. John's alumni in tech and tech-related fields, as well as a networking reception following the panel. The event was planned and meticulously put together months in advance, well before the escalating situation related to the COVID-19 pandemic; in the days approaching the panel, it became clear that a public conference was no longer a possibility.
But Johnnies in Tech+ will still take place on March 21, from 2:15 p.m. to 3:30 p.m. PST. Using Zoom, Johnnies in Tech+ will bring together four panelists, one moderator, and up to 1,000 online participants for a discussion on tech and tech-related fields, the state of American industry, and how the St. John's education prepares students for an ever-changing world.
The discussion will be moderated by McDavid Stilwell (A93), senior vice president of corporate communications and investor relations at Sangamo Therapeutics, a genomic medicines company in the San Francisco Bay Area. For 15 years, Stilwell has worked in various roles in the biotech industry, including communications, investor relations, business development, and financial analysis. In true Johnnie fashion, he started his career in an unrelated field—journalism, first as a newspaper reporter and later as editor of an investor newsletter—before working at a hedge fund and transitioning to tech.
The four Johnnie panelists similarly span a range of fields and roles. Tess Posner (SF06), CEO of AI4ALL, is a social entrepreneur who works in artificial intelligence, focusing on increasing equity and inclusion in the tech economy. Through a variety of education and development programs, AI4ALL seeks to help underrepresented young people gain access to the tech world—all with the goal of developing accessible artificial intelligence in a responsible manner. Posner's work has been recognized by Forbes, The Atlantic, and more.
Adam Braus (SF08), on the other hand, works in software engineering. A current San Francisco resident, Braus is a self-taught engineer who cofounded the largest coworking space in Wisconsin before helping create Make School, a college for software engineers. For Make School's first three years, Braus took the lead on programming; he now teaches software engineering, product management, and general education courses. He recently published a book about organizational innovation titled Leading Change at Work.
Dino Anderson (A99) began his career as a math educator before pursuing scholarly work in philosophy, curriculum theory, and post-colonial aesthetics at Columbia College, Bowdoin College, and John Jay College. After nearly 10 years, he felt an urge to move on—he wanted to tackle "large-scale, wicked problems"—and after two years directing urban youth empowerment nonprofits (Bard College and Broadmoor Improvement Association in New Orleans), he moved on to mission-based tech work at Mozilla and First Look Media. He now works as the diversity, equity, and inclusion advisor for The Coaching Fellowship, a leadership development program for young women leaders of impact; in his spare time, he explores the worlds of Hegel and James Baldwin.
And finally, there's Richard Smith (A90), CTO and cofounder of OpenPath Products, one of the world's first mobile software development companies. Since the late 1980s, Smith has worked with OpenPath cofounder Johanna Wilson (A90) and more than 40 Johnnie engineers in gaming, multimedia, and wireless technology. OpenPath has played a pioneering role developing text messaging services, international chat platforms, shared media viewing applications, and more, making the company a longtime observer of the intersection between technology and social life that defines our current day and age.
Individually, each panelist offers a fascinating perspective on the many facets that form the modern tech industry—and contemporary American life. As a collective, the panel promises a nuanced and engaging analysis of technology, the ways we interact with each other, the nature of professional life, and how the St. John's Program prepares its students for E-learning, software engineering, ethical artificial intelligence, and much more.
Of course, the new, unwelcome context of the Johnnies in Tech+ event is anything but ideal. Johnnies do their best work when they're in close quarters, engaging in intimate and exciting dialogue with each other. But Johnnies also adapt. They've done it for decades, and they'll continue to do so—whether with the Great Books Program or the new pedagogical contexts that inevitably arise in 21st century life. The Johnnies participating in the Johnnies in Tech+ panel exemplify the indefatigable St. John's spirit; the drive to ask questions, to innovate, and to learn. Join them on Saturday, March 21 on Zoom.