Annapolis Campus Expands Fine Arts Program
December 17, 2018 | By Kimberly Uslin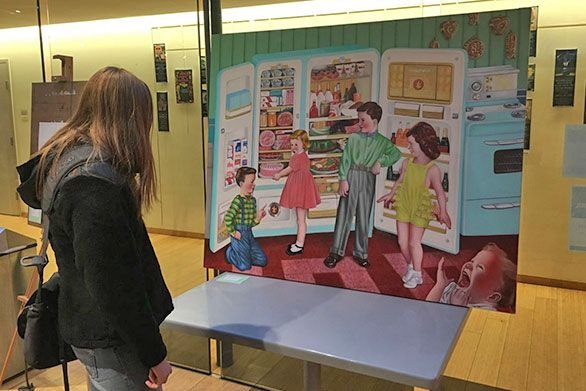 In a single weekend in the fall semester, students on the Annapolis campus had the opportunity to take a field trip to DC's National Gallery of Art to examine the work of photographer Dawoud Bey, to share their creativity with the campus during the first-ever Student Art Showcase Soiree, and to work with their peers to collaboratively create an elaborate ceramic pyramid.
The past year and a half has been a bit of a renaissance for St. John's fine arts program. While not officially on the curriculum, the fine arts have long been considered an important complement to the Program, both historically and creatively. In previous years, however, art has been more of an independent study.
Now, the fine arts program is run by the Assistant Dean's office, spearheaded by Nathan Dugan, assistant dean, and Taylor Waters, director of student services, and Frances Van Ness. Though it started a bit "by accident," Dugan says, the campus community has come together to help it thrive.
"To develop the fine arts presence on campus, we worked with other tutors who had been thinking about art and its connections with the Program for many years," says Dugan. "We wanted to be thoughtful about art—not just how art works technically, but how to be thoughtful Johnnies about it."
The fine arts program was founded, he says, as "a way to get Johnnies to stay thinking, to ask more open-ended questions and see the philosophical importance [of art]."
Offerings include classes in drawing, painting, and ceramics, "open studio" hours during which students can gather to create, frequent field trips to art museums in Baltimore, Washington, DC, and beyond, and tutor-led art discussions on topics pertaining to (or specific pieces) of art. Everything is both optional and completely free. Dugan estimates that between 130–150 students participate in at least a portion of the activities, and that between 60-80 are involved in the classes.
Julia Cooper (A20) has been involved with the fine arts program as an art assistant since her freshman year. When she first started, she says, much of the programming was open to the Annapolis community, but moved into the purview of the Assistant Dean's office under Katherine Heines (A82).
"That was really exciting," says Cooper, who had worked for an art gallery in high school. Soon, art discussions and field trips starting filling up with Johnnies. "You could see how many students wanted to be involved with the art program, not only in art history, but with going to the museums and talking about art in the studio."
Open studio hours, which she had difficulty publicizing, were less successful. Still, students would use the studio whenever they had free time, running quickly through the allotted supply of paints and brushes. This, to Cooper, was good news.
"It meant there were students participating in visual arts on campus," she says. "I believe very strongly in the visual arts when you're also doing a lot of reading and academic work. It helps make you more well-rounded in a lot of ways, using your creative energies and having an outlet. It was exciting that we had students that were doing that, not neglecting their artistic sides because they were so busy."
Eager to take the program even further, Cooper and Dugan approached Anna Seban (A20), who had worked in the education department at a museum in Sacramento, California, over the summer. Her experience leading art-focused activities and workshops seemed to be a perfect fit.
"I was very excited when I was approached because art is something I'm very interested in, and there [hadn't been] much of a visual or fine arts focus at this school," Seban says. "I think it really supplements the program well, having an outlet to express yourself emotionally."
The open studios began to take shape, with Cooper and Seban determining a loose structure to alleviate "the anxiety of just looking at a piece of paper and trying to make something amazing." Figure drawing with live models is always popular, as well as collage nights and other themed evenings.
"It's important to keep people excited about what they're making," says Seban.
"We unlock all of our materials so that if anyone comes in and they have something else they want to be working on," adds Cooper, "we have all the resources they need if they might not be able to afford expensive oils paints or large-scale easels and canvases. There's been a lot of very amazing art that has come out of open studio."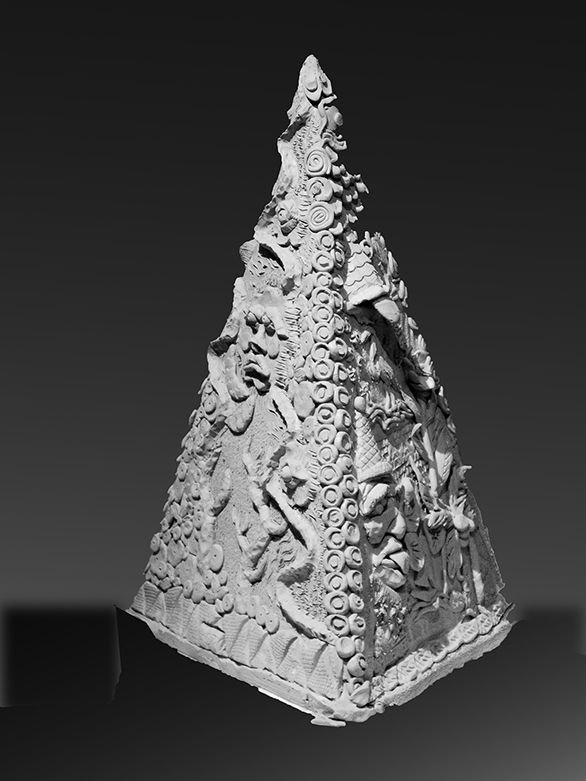 Anywhere from 7–12 students take advantage of open studio, which is home to acrylic, watercolor, and oil paints, brushes, pastels, charcoals, canvases, pencils, markers, inks, art books, and materials like newsprint and magazines for collage. The formal classes, taught by outside artists, range from 12–15 students, while art discussions draw a varied crowd based on the topic and the tutor. Field trips to locations like the Baltimore Museum of Art, Walters Art Museum, and Hirshhorn Museum, however, are always full, with students lining up to get their names on the sign-up sheet.
"We've had a lot of students this year especially who have been coming in and talking about how important visual art is to the Program and to history and the context of all the things that we're reading," says Cooper. "It also reaches a more emotional side of what we're reading, which I think is really interesting."
"It's not just fine arts or building your portfolio as an artist, it's an intellectual pursuit," adds Seban. "With the Great Books comes a lot of great art. There's so much Biblical art that's referenced, tons of art on Dante and Shakespeare and all kinds of different texts. It's nice to be able to have a visual connection with it."
"I think people are excited to have a space in the Program where they can be themselves and do what they want to do. It's a very rigorous program. It's a lot of reading and sitting in the library or a coffee shop and just taking in information. We have time to synthesize in class discussions and essays, but having a different way to synthesize that information is important to well-being. It's very easy to get wrapped up in what's happening on the curriculum. Sometimes it's a lot of very heavy stuff that can really weigh on you and occupy your mind. I think it's important to have the chance to just let everything out and focus on yourself and what you're thinking and feeling. I think art is one of the best ways to do that."