The Annapolis Class of 1978 Endowed Scholarship
By Eve Tolpa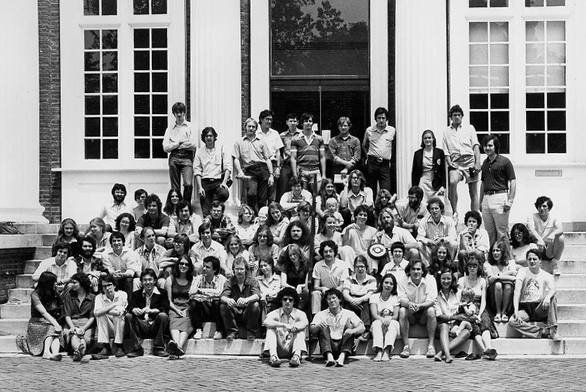 It was at their 2018 St. John's reunion that the Annapolis class of 1978 came up with an idea. They wanted to support future Johnnies while commemorating their own enduring connection to the college, so they set out to raise $50,000 over a period of five years.
Those monies would form the basis of the Annapolis Class of 1978 Endowed Scholarship, a campus-specific fund providing a permanent, ongoing source of financial support designed to grow in perpetuity. The fund principal is held untouched within the college's overall endowment, and a portion of it is spun off (so to speak) every year, based on a percentage set by the Board of Visitors and Governors that typically falls between four and six percent. This is the money used to provide student scholarships.
As a fundraising initiative, the Annapolis Class of 1978 Endowed Scholarship adopted a participation model, which not only sets a dollar goal but also aims to involve as many donors as possible. Traditionally, bigger donors look to participation as a way of gauging commitment to a college from its own community. When they see large numbers of alums, family, and friends supporting St. John's, the value of their own investment is reinforced.
In the case of the Annapolis Class of 1978 Endowed Scholarship, all dollars raised were considered contributions to the Freeing Minds campaign and, as such, were matched by funds from the $50 million Winiarski Family Foundation Challenge.
Back when the class of 1978 were students, the college's financial foundation was shaky, and that precarious state endured for decades until the $300 million Freeing Minds campaign was launched in 2017. One of the achievements of Freeing Minds—which met its goal early, in January 2023—was lowering St. John's tuition by a third while converting the college's tuition-driven financial model to one based on philanthropy.
For Larry Ostrovsky (A78), Freeing Minds played a part in inspiring him to contribute to the endowed scholarship. "It signified that the school was on the right track," he says.
A retired lawyer living in Anchorage, Alaska, Ostrovsky wants the liberal arts education he enjoyed to be made available to as many students as possible. He views the Program as "an education that keeps on giving throughout your life. You participate in discussions of the very fundamental issues, and it instills in you the ability to read things fresh."
Ostrovsky contrasts law school, which teaches a specific set of skills necessary to perform a trade, with St. John's, which teaches more fundamental and important skills: reading closely, discussing, and assessing arguments over a broad range of issues, from ethics and philosophy to science and math. In our culture, he contends, people often conflate the loudest voice with the best argument. But Johnnies know that this is not the case.
During four years at St. John's, he says, "you learn to discern good arguments from BS, and by about junior year you start to see the quality of people's arguments really improve."
As one of the organizers of his class's 40th reunion, Ostrovsky was there at the scholarship's inception. "It's always fun to go back and see how people have evolved, how they've grown since St. John's," he says of his continuing involvement with the college over the years.
"Most people really valued the experience and came to appreciate it more and more the older they got," he continues. "There's a certain loyalty to the college, and in terms of the class gift, I think it continues to mean something to people."
Given the fact that now, five years later, the Annapolis class of 1978 has met its initial goal and cemented its legacy, he is no doubt correct.