Annapolis Class of 2019 Supports Audiobook Program
May 6, 2019 | By Kimberly Uslin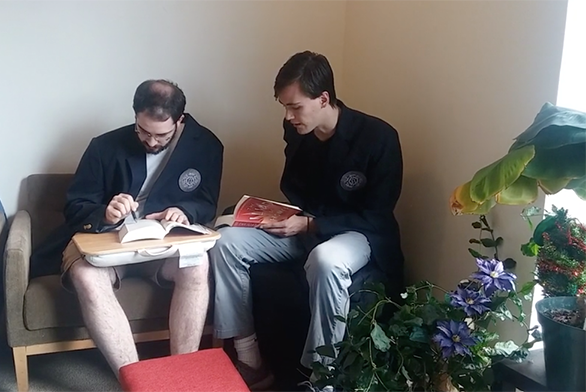 Each year, the St. John's College graduating class selects a tangible symbol of their transition from undergraduates to alumni: the Senior Legacy gift. The gift is voted upon by the seniors and funded by their donations, with a not-so-modest goal of 100 percent participation.
The gift, as the name suggests, is meant to leave a legacy—a way to "improve the student experience to come," as its organizers write on their fundraising page. Their selection? Audiobooks of the St. John's College Program texts.
"A lot of people are busy," says Ivan Syritsyn (A19), one of the Senior Legacy Committee members. "They want to be able to do a few things at once. Some people may be slower readers. We thought that if we had an audiobook program, it would make it easier and would offer a convenient way to ease the burden."
The audiobooks, Syritsyn explains, may be beneficial in increasing retention rates. Though the details have not yet been solidified, all money raised will be given to the library to organize the best system for distribution, whether that is subscriptions, physical audiobooks to checkout, or another means of delivery.
"We have to work around the copyright laws and limitations, so that will be left to the professionals at the library," he says.
The Class of 2019 is the first to give their gift as part of the Freeing Minds campaign. Thanks to the Winiarski Family Foundation, the donation will be matched dollar for dollar, doubling its value with a corresponding gift to the endowment.
"We're very happy that any money we raise will get doubled through the endowment," says Syritsyn. "We've been through budget cuts and financial discussions, and now we have this campaign that's doing really well. So any money that we can contribute, we're very glad to—to increase the sustainability of the college for years to come. We'd be glad to know that the college will still be around when we're 70 years old."
Having already met their fundraising goal of $2,000, the class is now focused on reaching the 100 percent participation mark.
"This is our first philanthropic endeavor, so it's a way to give a little something extra back to the college," says Syritsyn. "We've had donations as little as 13 cents to as much as $1,000. We want to make life easier for those who come after us. This is the first step in a continuation of a good lifelong relationship we'll have as permanent members of the college."
"And this is our alma mater," he adds with a laugh. "We're graduating on Mother's Day, so we might as well give her a gift."