Annapolis Campus Celebrates 227th Commencement
May 14, 2019 | By Kimberly Uslin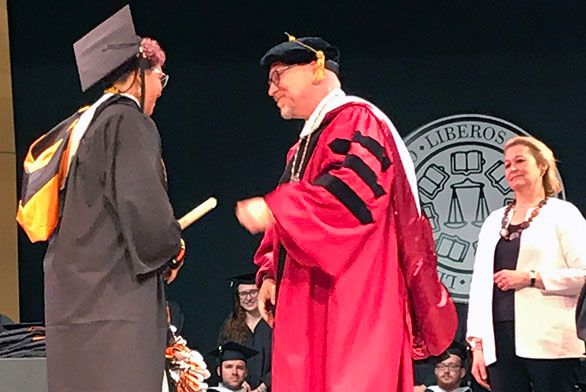 "We're not going to let a little rain dampen our spirits, are we?" asked campus President Pano Kanelos of the black-gowned sea of graduates on Sunday, May 12 at the 227th Commencement on the campus of St. John's College in Annapolis.
Though the weather didn't improve too much, the atmosphere was festive as the ceremony proceeded in the Francis Scott Key (FSK) Auditorium, with overflow seating in the FSK lobby and nearby Conversation Room. Over the course of the morning, 98 newly minted alumni were awarded their diplomas—80 undergraduates, each receiving a Bachelor of Arts in Liberal Arts, and 18 Graduate Institute students, earning their Master of Arts in Liberal Arts degree.
Several awards and prizes were meted out as well, including the coveted award for best senior essay, awarded to Rachel Marie Goad (A19) for her essay "Desire's Lawful Bounds: Sexual Permission in Song of Solomon." Other awards of note for the senior class included excellence in speaking, given to Matteo Scapini Burrell (A19), outstanding service to the greater Annapolis community, given to Zoe Hinman (A19), greatest care and service to the youth of the city of Annapolis, given to Rachael Elizabeth Brooker Langston (A19), the Charles Vernon Moran Prize for visual art, given to Yuan Liu (A19), and the Walter S. Baird prize for excellence in the arts, literature, or sciences, awarded to Yaxuan Tang (A19). This year's blazer winners were John Davis (A19), Zoe Hinman (A19), and Thaddia Angelica Montione (A19).
Among non-graduates, Damon Theodore Kutzin (A20) was recognized for best junior essay, while Samuel J. Berretini (A21) and Natalie Grace Walker (A21) shared the honor for the sophomore essay and Jessie Ann Tagliani (A22) received the freshman award. Graduate Institute students Leland Caswell Ellis Jr. and Patrick Burke Corry took home honors for distinguished preceptorial and tutorial essays, respectively.
The graduating students were addressed by tutor Robert Abbott (A04), who was selected by the senior class. His intent, he made clear, was not to offer advice, but to invite the graduates to consider a perspective they may not have otherwise by revisiting the tale of Thales falling into a well from Plato's Theaetetus.
"A witty Thracian servingwoman, upon observing this, remarked: 'How is it, Thales, that being so wise in the affairs of Heaven, you should fail to see what was before your very feet?'" recalled Abbott, later adding "But the more I think about Thales falling into a well, the less it seems to me to warn against the conflict between theory and practice and the more it seems to describe an utterly typical event in a thoughtful life."
This thoughtful life, he explained, should not be the source of mockery—nor should the metaphorical well be necessarily seen as a danger. It can take many forms—a Euclidean proof, a seminar discussion, a mistake, or even "doubting what the right thing to do is, or even if there is a right or wrong."
"Aristotle tells us that wonder is the source of wisdom," Abbott said, "and perhaps it is by having the ground fall away from beneath us that we are prepared to behold the world with new eyes … In these halls, you have practiced disorientation, having your ground—perceptual, intellectual, moral—fall out from beneath you. You have learned to be more committed to the conversation than your own embarrassment, distraction, or incivility. You have learned to remain at the table.
Going back to the world is like falling into a well—disorienting at first, but in it, you may discover the source of what is … Thales falling into the well is an image of what happens to human beings after they have strained to see the undying beauty above them that lost their footing and found themselves in fathomless depth. Perhaps instead of being forced down to earth as in [Plato's] cave, they fall there as Alyosha [Karamazov] does, in praise and wonder."
Congratulations to the Class of 2019!
Commencement ceremonies on the Santa Fe campus will be held Saturday, May 18. Be sure to check back for coverage!