Johnnie Artists Recognized by SITE Santa Fe
May 15, 2019 | By Rebecca Waldron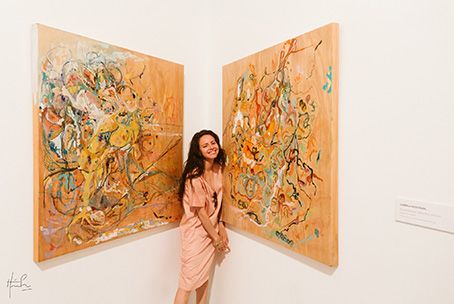 On a recent Friday in early May, a large crowd gathered at contemporary art space SITE Santa Fe to celebrate the opening of the SITE Scholars Exhibition. The annual show, designed to increase student participation in the museum and contemporary art world, featured the work of 14 local student artists, including St John's students Hector Poveda Morales (SF21), Gabriela Mendizabal (SF20), and Georgia Foster-Cooper (SF20). This is the first year that Johnnies were chosen for the exhibition, which is a particularly exciting opportunity because SITE Santa Fe is considered one of the nation's emerging contemporary art establishments, having been named home to one of 2018's top-five art exhibitions by The New York Times.
Sophomore Morales, a photographer, says he began doing photography work in 2012. He describes his work as conceptual, with a focus on mental health issues, and in 2016, produced a series about his personal struggles with depression.
"Being from Colombia, mental health issues are a taboo," he says. Through his art, he aims "to make my life better and to make someone else's life better."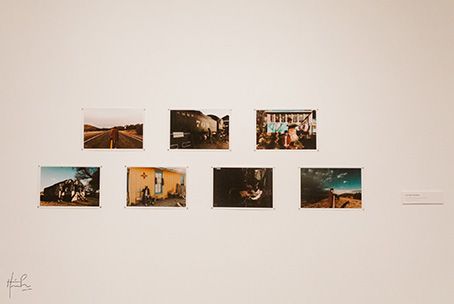 For SITE Santa Fe, he produced a series called "Land of Scattered Memories," which explores ghost towns along the Turquoise Trail scenic byway.
"I was not only able to observe the juxtaposition between the past and the present, but I also uncovered a side of New Mexico that many have never seen before," he says of the work.
Another of the Johnnie artists, Mendizabal, attended an arts high school where she learned to produce clean, professional-looking work with an eye for craftsmanship and an emphasis on technique. These days, though, she is stepping away from what she describes as a contrived and pressurized way of working. As she shared in a video interview SITE Santa Fe, today her work is "a coincidental ... debris of the experience."
Her two paintings in the show, "Sibling Selves" and "Running Mouse," were done on raw wood. The works' complex, meandering lines and muted colors recall works by renowned artist Julie Mehretu, who has described her own work as being a kind of debris left over from impressions of a landscape. Lately, Mendizabal says, she has been drawing inspiration from Kierkegaard's Either/Or and La Rochefoucauld's Moral Maxims.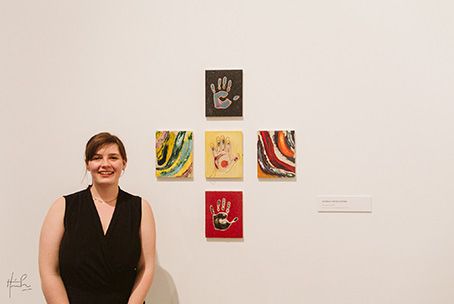 Foster-Cooper, who co-runs the campus gallery in Santa Fe, described herself to SITE Santa Fe as "a rather new artist," still experimenting with her style, medium, and process. In 2018, she attended the Marchutz School of Fine Arts, in Aix-en-Provence, France on a St. John's College-funded Global Pathways Fellowship. One of her art instructors, she recalls, commented that a painting she made of a nearby mountain reflected the artist's experience of the landscape more than it told the viewer something new about the mountain. But this, Foster-Cooper said, was what she liked about it.
"When you've developed yourself as an artist, you know how to make other people see what you're seeing and you can only really get there if you know yourself well enough to know how you see," she said. Her SITE Santa Fe work comprised a series of small paintings on wood panels, three of which were hand prints. She called the work "First Touch," reflecting this spirit of inchoate artistic exploration.
As she put it, "it's exciting not to know what's coming next. "
See the show May 4 to 28 at SITE Santa Fe.
Photos by Hector Poveda Morales (SF21).