Annapolis Davis Scholars on UWC, St. John's, and the Future
October 1, 2021 | By Les Poling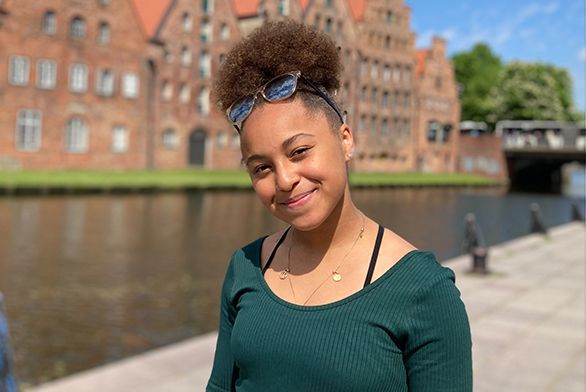 In 2019, an anonymous Johnnie alum contributed a generous gift to the college that enabled newly admitted students from the United World Colleges (UWC) system to attend St. John's—which has been a partner in the Davis-UWC Scholars Program since 2012—tuition-free. Davis scholars, as they're known, receive full-tuition scholarships to enroll at the college, helping students summit the financial obstacles that may stand between them and the Program.
St. John's and United World Colleges share a number of similarities, particularly in the common ground between the International Baccalaureate Theory of Knowledge and the emphasis on questioning and dialogue that defines the Program. For many years now, those similarities have led to an ever-growing UWC student presence at St. John's: today, UWC graduates comprise five percent of the college's total undergraduate community, joining an international student population that makes up 20 percent of the St. John's student body.
The Class of 2025 continues this pattern, bringing a new cadre of diverse perspectives and enthusiastic, community-oriented learners to the college. During the last weeks and months, students from Norway, India, Sri Lanka, the United Kingdom, Kenya, Germany, China, and more have arrived in Annapolis and Santa Fe, eager to begin the next stage in their journey of learning.
Chloe Caliz (A25) originally hails from Rockville, Maryland, but spent the last two years at UWC Robert Bosch in Germany, where she aimed to "find my place in the world."
"Going away from home, being independent, having to create new connections with people from all over the world, getting to experience a bunch of different cultures and perspectives, and having these discussions that normally would be seen as taboo back home—I really longed for this," Caliz explains. "UWC was kind of the key to unlocking this part of me."
"I'm very happy to have found a part of myself, but I haven't found my whole self" she adds. "And that's the reason for coming to St. John's."
Via the Program, Caliz hopes to examine the intellectual underpinnings of many of the contemporary subjects and dialogues she and her classmates explored at UWC. At the Robert Bosch campus, she says, students took a rigorous approach to issues that, while not necessarily new, felt rooted in the present day, from contemporary battles for LGBTQ+ rights and the Black Lives Matter movement to the onset of global climate change. At St. John's, she hopes to connect those conversations with the foundational works that make up the undergraduate curriculum.
"I'm intrigued by the way we can use the tools we learned at UWC and bring them to St. John's," says Caliz. "I very much like that the tutors are less a lecturer, and it's more of an even playing field."
Perhaps unexpectedly, Caliz admits that she's "not much of a bookworm." Nonetheless, she looks forward to probing the wide range of works on the St. John's reading list, calling it a "tool for going to medical school, which is my dream."
"I think the Great Books Program will be useful for [thinking about] ethics, morals, and also getting into the habit of reading and talking, and finding my own reasoning through books and discussions," she says.
And in true Johnnie fashion, Caliz is also excited for parts of the Johnnie experience that don't connect as explicitly with her future vocation: intramurals and music.
"I think music theory is my biggest interest right now," she muses. "Creating melodies and all these different concepts—it seems really cool, especially sophomore chorus."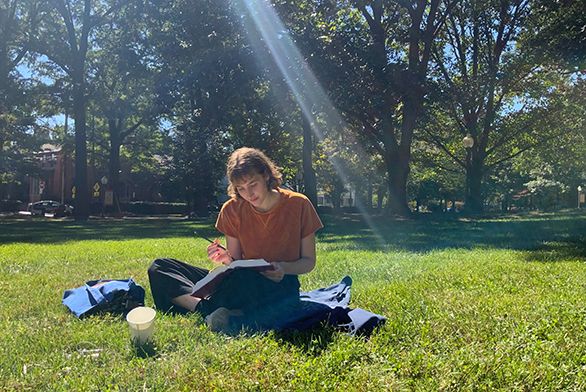 Natalie K (A25) came to St. John's from Germany by way of UWC Mostar in Bosnia and Herzegovina. Initially, she says, she had no interest in attending university in the United States; however, during a college fair, she came across a flyer for St. John's that advertised the undergraduate reading list. Having initially applied to UWC out of a desire to read and learn more, the emphasis on books and dialogue immediately appealed to her.
"I thought, 'That would be really cool to have read all of these books,'" she recalls. "A lot of things build upon [those books]; it would be nice to know the foundation."
At UWC, Kreppner explains, the intensity of social and academic life helped her more fully know who she was; from her friends—who she calls her "definite favorite" part of the UWC experience—she says she developed a better understanding of art, activism, and the connection between the two. That being said, the two-year concentration of intellectual activity took a toll; there wasn't much time to step back and enjoy the learning experience, "because there were so many other things to do."
Now, at St. John's, "I have this goal to love learning again," Kreppner says. Of course, the St. John's Program is famously rigorous, and the interdisciplinary nature of the curriculum means that students study multiple subjects—math, laboratory, the Iliad, and more—all at the same time. Plus, Kreppner adds, the initial seminar conversations were somewhat intimidating; "it was difficult in the first week for me to speak up."
Nevertheless, she says, "I really enjoy math, even more than I thought I would. It's a very cool approach [at St. John's]—we all try to solve the propositions together, and because everyone looks at them a little bit differently, you get really deep into what they are truly about. It's really three hours of solving interesting, interconnected riddles together!" Plus, in the future, she's looking forward to reading more of the modern entries on the reading list.
Like Kreppner, Mei Xu (A25) considers the variety of people and perspectives she encountered at UWC Maastricht in the Netherlands to be one of the most valuable parts of the experience. Another similarity: the intensity of the two years as a whole, especially with the arrival of COVID-19 during Xu's senior year. Before the pandemic, she says, she was working frantically to keep up with the UWC syllabus, organize an art exhibition, and enjoy time with friends. After the onset of COVID—which, for Xu, included an unexpected lockdown stay in Paris, where she was when the French borders closed—that intensity manifested in the difficulties of isolation and online learning, as she and her peers studied and eventually graduated from countries away.
Now, at St. John's, Xu hopes to build upon the interests she started developing in Maastrich—namely art, reading, learning, contemplation—in a way that combines intellectual rigor and a personal (as well as collective) sense of creativity. She's planning to get involved with Energeia, the St. John's Annapolis arts and literary publication, and she says she already enjoys seminar, lab, Greek, and math.
"I'm not a mathematical person—I do not enjoy math," she says. "But math here is very different, because you have to demonstrate all the propositions … I've heard from other people that the propositions only get more challenging after [Euclid]. I'm kind of looking forward to it."
So far, Xu says, one of the most striking characteristics of St. John's—something both in common and slightly different from her UWC experience—is the way the varied intellectual foundation of the college defines the overall student experience. At Maastrich, discussions about art, politics, and the like were exciting and engaging, but often emerged in their fullest form outside the classroom. Not so in Annapolis, she explains. "That kind of conversation applies in the actual classes here."
In the future, Xu looks forward to growing more comfortable in seminar, and she hopes to get to know more of her fellow Johnnies, particularly American ones. More immediately, she says, she can't wait to start discussing Plato's Republic.
"Right now, we are reading more narrative works, but not so much philosophical concepts," Xu notes. "I heard from a tutor that students engage more or differently with the Republic. I'm really looking forward to [seeing] if my classmates have more to share."