Annapolis Tutor Zena Hitz to Spend Upcoming Academic Year on Sabbatical at Princeton University
July 20, 2023 | By Luis Sánchez (AGI23)
Johnnies in Annapolis might notice a familiar figure's absence when they return to campus this fall—but this tutor will be back next year with plenty of new experiences and reflections to share.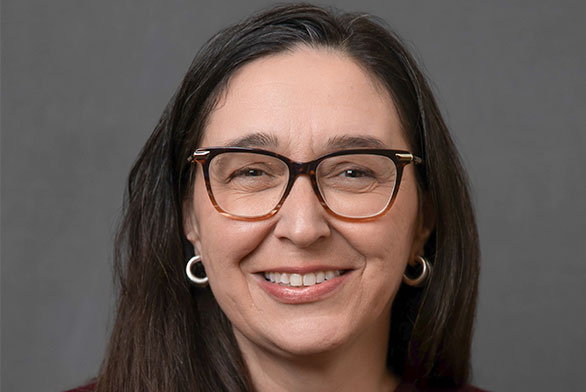 Zena Hitz (A95) will spend the 2023-24 academic year on sabbatical at Princeton University, where she was awarded a fellowship jointly by the Project in Philosophy of Religion and the politics department's James Madison Program in American Ideals and Institutions. At Princeton, Hitz will explore a question that's been central in her mind for decades: what is the true value of learning for its own sake? For her, the fellowship marks a milestone in a journey that started long ago—and which included several years spent with a religious community in Ontario, Canada.
A Thirst for Knowledge
Hitz's parents were "both lovers of books, words, and ideas without professional training of support, amateurs in the original and best sense," she remarks in her 2020 book Lost in Thought: The Hidden Pleasures of an Intellectual Life. "The standard for success of an activity was enjoying oneself in fellowship with others." With her upbringing, Hitz naturally found herself at home at St. John's College, graduating from the Annapolis campus in 1995. Fueled by the school's Great Books curriculum, she recalls, "My academic life began in spectacular growth and excitement . . . our classes proceeded without agendas, the discussion driven by the living questions that we and our teachers brought to the room."
Fork in the Road
Hitz earned a master's degree and a PhD in philosophy at Cambridge University and Princeton University, respectively. She wanted to study ancient views of self-knowledge—in other words, what does it mean to know something? And more precisely, what does self-knowledge entail? But Hitz found herself ensconced in elite academia for nearly a decade, teaching at schools including Auburn University and the University of Maryland-Baltimore County. This brand of success—measured in publication output, peer recognition, and conferences—eventually collided with her values.
Cloistered from Academia
Meanwhile, Hitz had converted to Catholicism. She soon realized that to serve others and abide by the directive "Love thy neighbor," she had to find a mode of intellectual life compatible with the commandment. Her disenchantment with academia grew, and she began considering the prospect of a religious life. Renouncing the surrounding world seemed the only way to pursue knowledge with no tangible reward.
So Hitz joined the Madonna House, a Catholic religious community in Ontario, Canada, to consider whether such a place was right for her. Hitz recalls how she and the members of the community performed daily tasks assigned under obedience, including baking, furniture restoration, and repairing books, and—as she jokes in her book—more or less "being trained as a 19th-century housewife." Regularly switching domestic jobs prevented Hitz and her peers from identifying with their work, allowing them to focus on serving others and the community.
Coming Full Circle
The religious life is one of service, and it does not always yield a rich intellectual state. Hitz realized in due course that she longed for the life of the mind; prayer and renunciation were not necessarily compatible with this desire. "So I discerned that it was time to leave the community," Hitz writes, "and in a nearly miraculous set of coincidences, the job I wanted, along with a house and a car, fell into my lap."
The job she landed was as a tutor at St. John's College in Annapolis, transporting her back to where her academic journey began years earlier. To Hitz this was, in short, the place where she could establish a life of the mind that fulfilled the "Love thy neighbor" commandment by allowing her to pass on to students "the habits and passions of leisured reflection that I had received myself."
The Life of the Mind
Molding minds is an important part of Hitz's work, but her upcoming Princeton fellowship has no teaching obligations. This hiatus will allow her to "sit and think something in depth on my own," she says, channeling the searching mindset that initially drew her into the academic world: what is knowledge? What is self-knowledge? And what kind of process is that by which we reach an understanding of this or that concept, idea, or fact?"
This undertaking "may have to begin by distinguishing knowledge from opinion, the classic division between episteme and doxa," she says. "In our hyper-connected world, where we can Google everything, knowledge is being reduced to a process of retrieving information, an outsourcing mechanism of sorts. But what's interesting is that the pursuit of understanding is something you have to do by yourself. I want to find a way into these questions."
Teaching at St. John's, she concludes, is what made Hitz realize the importance of her quest. The college prides itself on being a place where tutors can "create an environment where our students learn to think, and where they fall in love with thinking," Hitz says. And the advent of information technology—particularly new artificial technologies—makes their role even more pressing. "What we do [at St. John's] can't be done by an AI," she quips. "So, in the worst-case scenario, Johnnies will be the last people left in the world who can think."
Hear more from Hitz, who appears as one of the hosts on the college's web and podcast series Continuing the Conversation.