A Lifelong Friend of St. John's College: Remembering Stewart H. Greenfield (Class of 1953)
July 26, 2023
Stewart H. Greenfield (fondly known as Stu), a cherished member of the St. John's College community, died peacefully on the night of July 19, 2023. He was 91 years old. Renowned for his support of the relocation and renovation of Greenfield Library, which was named in his honor, Greenfield was central in revitalizing the Annapolis campus's beloved academic hub. But to really know him is to know that this gift was but one of many he bequeathed to the college.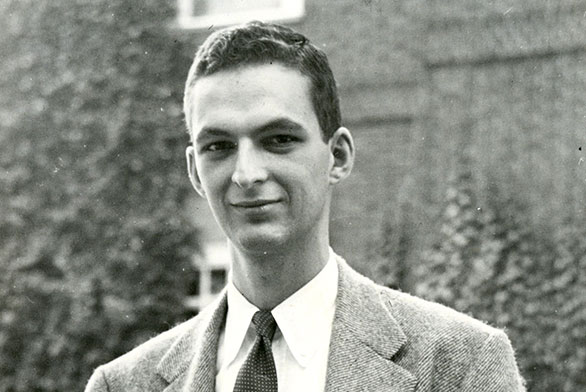 Greenfield's journey, which began in New York City before he settled in Westport, Connecticut, was a remarkable one of generosity and dedication. As an alum of St. John's, Greenfield graduated from the Annapolis Class of 1953, laying the foundation for a lifelong bond with the school. He served in the United States Army before going on to become a prominent figure in the financial world, co-founding two investment businesses, Oak Investment Partners (1978-1994) and Alternative Investment Group (1996-2020), both in Connecticut. He retired in 2020 at the age of 88. Throughout his career, Greenfield exemplified the qualities of leadership, vision, and deep commitment that he also brought to the college. "He was a gentleman, kind and giving," says collegewide president Mark Roosevelt. "It's that simple."
Greenfield's love for St. John's College was evident through his extensive engagement. He served on the Board of Visitors and Governors for an impressive 17 years, leaving an indelible mark on the college's growth and development before being elevated to trustee emeritus and continuing to be involved. "I used to say of Stu that if we had a dozen Stu Greenfields to comprise our entire board, we'd have the best and strongest board in the country," remarks Chris Nelson (A70), the former president of the Annapolis campus. "He was a dear man who loved the college dearly."
For more than a decade, Greenfield also participated in the college's New York City Executive Seminars program and often attended Summer Classics, most recently in 2022. He was a member of the college's Freeing Minds Society, where his lifetime giving reached the prestigious and highest level. As a recipient of the college's Alumni Association Award of Merit, his outstanding contributions were recognized and celebrated.
Annapolis President Nora Demleitner recalls how "even on Zoom calls, Stu's warmth and humanity came across. He was interested in everything, and he had the capacity for truly broad-ranging conversation, which makes it so fitting that our library is named after him."
Thanks to Greenfield's generous gift, the library was relocated from what is now the Barr-Buchanan Center to its current site, which at that time was the historic state of Maryland Hall of Records building.
"I've always admired Stu," reflects Warren J. Spector (A81), chair of the Board of Visitors and Governors. "He had a great love for and dedication to the college. He was renowned for his guidance and mentorship to fellow board members, including myself. Most importantly, he's the one donor who got his name on the most beloved building on campus, the library—and for half of what I gave to get mine on a dormitory. He really outfoxed me on that one!"
Upon completion of the library's renovation, Greenfield stood at the front of a long "fireman's water bucket" line, along which bags of books from the old site were passed to the new site. The first bag of books contained the Bray collection, which helped birth the library in 1696. Greenfield addressed a crowd of more than 300 at that gathering, sharing: "My family and I have a passionate interest in old books, a passionate interest in St. John's... and a passionate interest in Annapolis. The new library is a wonderful opportunity to merge those interests."
Greenfield's philanthropic interests extended beyond St. John's College to educational, environmental, and human rights nonprofits. He was most proud of his work with The Nature Conservancy in Latin America, where he worked with various stakeholders in Bolivia to protect over 3.7 million acres of rainforest, savanna, and forest to create the Noel Kampff Mercado National Park. The Park was later designated a World Heritage Site by UNESCO due to its habitat and biodiversity. In 2017, the Connecticut League of Conservation Voters awarded him their Founders Award in honor of his "tireless dedication to protecting Connecticut's most important assets—our open spaces, clean air, and water."
"I always enjoyed discussing birdwatching and his trips for The Nature Conservancy to some very faraway places," says Sharon Bishop (A65), trustee emerita. She remembers Greenfield as "wise, quiet, and soft-spoken, the soul of civility and gentility" and says he served as a role model to younger board members, including herself.
Ron Fielding (A70), former chair of the board, concurs. "When I, as a much younger man and 'newbie' to an endowment investment committee, solicited Stu's counsel, he readily and generously provided it, and never with any airs of superiority," Fielding says. "He is one of those people, who, only when they pass, bring the realization that they will be sorely missed, precisely because they have been so special."
"Stu," concludes Bishop, "was truly one of the pillars of St. John's survival and success over the last 50 years."
Greenfield is survived by his wife, Constance Greenfield; his son, Matthew Greenfield, and wife, Molly; their children, Max—who is currently enrolled on the Santa Fe campus—Beatrice, and Darwin; his daughter Joanna Greenfield; Roger Comora and his children Isabelle and Lucas; and his extended loving family.
In lieu of flowers, memorial gifts may be made in Greenfield's honor to St. John's College and The Nature Conservancy; simply click on your preferred institution's name to be linked to the donation form. To share a condolence message, click here.