A Meeting of Minds: Max Harris (SF07) and Marge Rodgers (A17)
July 28, 2023 | By Kirstin Fawcett
Harris and Rodgers were just Johnnies ten years and two campuses apart—until they by chance ended up at the same small video production company in Baltimore.
Max Harris (SF07) and Marge Rodgers (A17) were both born and raised in Los Angeles by parents who worked in the TV and film industries. There, they attended small schools that nurtured their love of the arts, particularly cinema. But what cemented their bond earlier this year when the duo first crossed paths at Hackstone—a Baltimore-based video and film agency whose marketing clients include Under Armour, Toyota, and Johns Hopkins—was perhaps stronger than shared childhood roots: they were both Johnnies. "We immediately sequestered ourselves for about 15 minutes," says Rodgers, describing how the two first made the connection during an office party and abandoned their board game to reminisce and exchange notes.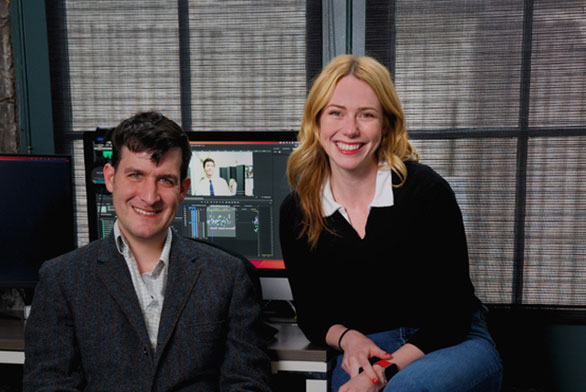 Harris graduated from St. John's Santa Fe campus in 2007, and Rodgers from Annapolis in 2017. (Both wound up in the greater Baltimore area thanks to family and loved ones.) He's a film editor; she's in business development and identifies clients and growth opportunities. Despite their Tinseltown ties, neither had initially set out to work in video production—in fact, their parents had discouraged them from entertainment altogether. At the end of the day though, both agree that their liberal arts background has played an essential role in their success. "We have this shared education, and we intrinsically understand how it can be applied to many different fields," Rodgers says—including the small screen.
After leaving St. John's Santa Fe, Harris embarked on a well-trodden road for many Johnnies: law school (in his case, New York University) interspersed with clerkships and internships. But a thought plagued him while studying for the California bar exam: "Do I really want to be doing this?" Harris remembers asking, wishing he'd pursued something more creative.
So, the newly minted law school grad reached out to some friends in L.A., brushed up on Premiere Pro (a video editing software app), and snagged a job as a television marketing editor at Lussier, an entertainment marketing agency in Burbank, California. "I looked through a show for the most exciting pieces of it that told the story," Harris says. "Often there was another person writing the copy—the words or the voiceover—and then you synchronize these elements and find the right music that brings them to life." When work dropped off during COVID-19, he moved to Baltimore, and in 2021 he found himself a home at Hackstone.
As for Rodgers, she worked in real estate while contemplating law school, thinking she'd go into real estate law since it seemed like a practical choice. Then Rodgers contracted COVID-19 and "got really, really sick," which led to a change of heart. "I was just like, what's more important," she remembers, "that I go to law school because I think I'm supposed to? Or do I spend time reading and thinking for the rest of my life? And how can I make a living while having time to do that?"
Rodgers recovered from COVID-19, and she eventually became acquainted with the founder of Hackstone, who "basically built this business with his own two hands" in his Baltimore basement, she says. Her soon-to-be boss hadn't gone to film school either and billed himself as a "creative director of a digital media company built for people who don't like digital media companies." He noted Rodgers's interest in film and camera-ready energy and offered her a position. She accepted and embarked on a new chapter in life—one that led to her reflecting more on her past after she and Harris met as colleagues.
Rodgers wasn't too anxious about the pivot: four years spent reading the Western Canon "gave me such enormous confidence," Rodgers says. "I mean, I graduated from St. John's. I somehow managed to pass ancient Greek." At the end of the day, she's not afraid to confront a challenge in the classroom or in the film studio. Plus, as Rodgers notes, both she and Harris honed their job's most essential component—strong listening and discussion skills—in seminar. "With video editing and production, a lot of it is communication," she says. Thanks to their discussion-based college years, "we are good talkers. We're good storytellers. And I think [our boss] found that in both of us separately not knowing that it's something that had been fine-tuned by the St. John's education."
And whether it's bouncing ideas off their coworkers or wearing many hats in a small company that produces and distributes artful brand films, animation, and targeted/paid media, neither Harris nor Rodgers hesitates from rolling up their sleeves to try something new. They both attribute this to their time at St. John's, which they say trains the brain to approach the world and solve problems.
"You can read a book that will explain the notation for storyboard frames," Harris concludes. "You can learn screenplay formats." Learning how to learn, however, is what both did at St. John's—and they can take that with them wherever they go.