Apiculturist Alumna Wins Fulbright-National Geographic Storytelling Fellowship
July 16, 2019 | By Anne Kniggendorf (SF97)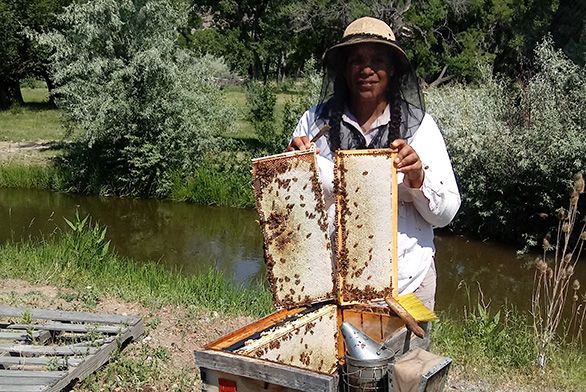 Melanie Kirby (SF97) didn't mean to put off graduate school for 20 years. However, now that she's finishing a Masters of Science in Entomology at Washington State University, she knows it was worth the wait.­­
Her mother, a retired teacher, had been urging her to go back to school for years. But Kirby says it never felt right.
"There were still so many things I was interested in that I still wasn't ready to narrow it down," she remembers. "I told [my mother], 'The only thing I'm really fascinated with at the moment is beekeeping.'"
After graduating from St. John's College nearly 20 years ago, Kirby devoted her life to bees—first in the Peace Corps in Paraguay, then in Hawaii, Florida, Michigan, and later as co-owner of her own operation, Zia Queenbees, in her native New Mexico. In fact, it was her desire to work with farmers and beekeepers in New Mexico as an agricultural extensionist that finally drove her to grad school: The position required a graduate degree.
"I want to really help to elevate the voices of farmers. Peace Corps really did that to me, working with these peasant farmers … They were so observant, and they knew so many things about the world around them, yet our society tends to not really value salt of the earth type of folks," Kirby says.
Her professional enthusiasm, experience, and education paid off. Kirby was recently selected for one of only five internationally awarded Fulbright-National Geographic Storytelling Fellowships. In November, Kirby and her two children will travel to Spain to begin work on her Fulbright project: "Bees as Seeds: How Endemic Strains of Honey Bees Can Support Sustainable Apiculture (Beekeeping)."
Among other endeavors, she plans to tag hundreds of bees with Radio-Frequency Identification Devices she developed at WSU in cooperation with the engineering department. The data she gathers will help her learn about mating flights.
Kirby, who has already used her voice to elevate others' in publications like Mother Earth News and beekeeping trade journals, will continue to tell tales of beekeeping and breeding through the National Geographic Society and Department of State online platforms and their social networking sites during her grant period.
"I want to be able to quantify not only what I see in the field, but what all these other beekeepers and farmers see. I want to be able to learn how to do the statistics so that then what they experience is taken more seriously," Kirby explains. "This industry is really the backbone of American agriculture because American agriculture rests in strong pollination. In order to have good pollination you have to have strong beehives."
As far as Kirby is concerned, humanity is at a point in environmental stewardship where all voices need to be heard, not only those of scientists and government officials. She would like to serve as a translator or liaison between those in the fields and those in the offices.
"I really like the thought of serving my country but without necessarily carrying a weapon—machetes don't count," she adds jokingly, referencing her machete-wielding in the wilder environments where she's practiced apiculture.
Kirby says she wouldn't have taken this path in life without her St. John's education, nor would she have asked the question that continues to guide her to this day.
"What is it that I need to learn to not only advance myself but to be an asset to my community? St. John's definitely played a role in not only giving me the tools but the inspiration to go out and learn to be the change that I want to see."