Armillary Sphere Unveiled on Santa Fe Campus
September 27, 2019 | By Kimberly Uslin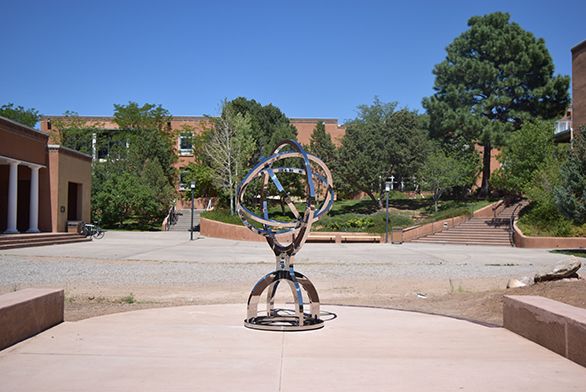 Fifteen years after graduating from the Santa Fe campus of St. John's College, the Class of 2004 and friends have unveiled the largest class gift in St. John's history: a functioning armillary sphere, the only one of its kind in the world.
The sphere, which was fabricated using the designs of sixteenth-century astronomer Tycho Brahe by renowned artist and sculptor David Harber, was unveiled at a special dedication ceremony held during Santa Fe's 2019 Homecoming weekend. There, attendees heard from members of the Class of 2004, Harber, Dean Walter Sterling, and tutor emeritus Bill Donahue, who—along with other faculty members—was instrumental in the sphere's creation.
"It's an emblem of the role that astronomy plays in the mathematics tutorials, which is really quite unusual," says Donahue. "To have every student that college study Ptolemy, Copernicus, Kepler, Newton…it's a unique thing."
Though Brahe is not currently on the Program, students do study Kepler, Copernicus, and Newton, whose revolutionary works were built upon the observations made by Brahe on this sphere's design. The functional sphere—a predecessor to the telescope—can be used to find and map solar, planetary, and astral positions.
It serves, too, as a stunning piece of public art. The sphere is located next to the Meem Placita, on a new placita designed by friend of the college Jill Brown, with the garden designed and landscaped by Hania Stocker (SF12), who owns Northern New Mexico Gardens. Aiding Hania was Tutor David Levine who, with his wife Jacqueline, also supported the garden with a donation in honor of David's parents.
"The armillary is not just an instrument, it's a beautiful object," says Donahue. It was intended, he explains, to bridge the perceived divide between the sciences and the arts—though he does not himself believe in their separation.
"I see science as another kind of human thought and as one of the disciplines of the humanities," he says. "That is emphasized by the seven liberal arts, four of which are mathematical. That gets completely ignored by just about every liberal arts program in the U.S. We are the ones who are treating the scientific and mathematical disciplines as humanities, as human enterprises."
The sphere was made possible through a gift of over $100,000 from the Class of 2004 and friends, which wanted to underscore the connection between art and learning.
"They wanted something that was both a beautification of campus and important to the curriculum," says Kelsey Miller, who worked closely with the class. "They wanted to add something to campus that would make the St. John's education richer."
"We've gone in a completely new direction in making an armillary sphere that is not just a model but is a functioning thing," adds Donahue. "That fits so beautifully with what we do at St. John's. We're not reading old books in order to acquire some kind of culture. We're taking them seriously as human thought. We're not trying to learn what Platonism is, we're trying to really engage in conversations with Plato. We're not just trying to read old astronomy books, we're trying to understand their view of the world."