Giving Back to St. John's
June 7, 2018 | By Anne Kniggendorf (SF97)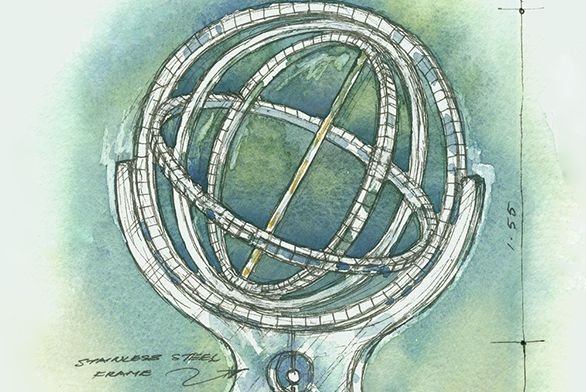 The Class of 2004 of St. John's College in Santa Fe has raised $145,000 for a fully functional, surgical steel armillary sphere that will grace the college's western campus.
Raising money for every class gift involves "peer to peer" fundraising—friends and acquaintances asking for contributions to a specific fund.
Class gift co-chair Annette Prapasiri recalls that her classmate, Thomas McBee, who initially acted as the 2004 class gift chair, stood up at senior dinner and announced his contribution. Without knowing what the class would elect to give the college, he'd already transferred the entirety of his $200 security deposit into the gift fund.
Prapasiri says that though McBee set the bar high, he also inspired many of their classmates to give just as generously. She recalls that some, like classmate Robert Morris, were very quick to meet McBee's challenge.
Ultimately, the class decided to gift a working stainless steel armillary sphere measuring about 1.5 meters by 2.5 meters, as opposed to a garden sculpture version. As far as they know, their armillary sphere will be only the third of its kind in the world—they are hopeful that its rarity will raise the college's visibility.
Ptolemy designed the first armillary sphere to measure the movement of celestial bodies. Tycho Brahe later improved on the Ptolemaic model for better accuracy in the measurement of the movement of planets and comets. Modern astronomical equipment has rendered armillary spheres no more necessary than astrolabes.
All the same, the class saw the sphere as "a symbol of humankind's inquisitive aspirations, the search for wisdom, and the appreciation of beauty" and were intent on gifting it to "the college that has fostered our minds, our spirits, and our hearts with its hope of shaping us into better individuals for the larger community we have entered," the class wrote in their proposal to the college.
Prapasiri says the gift-giving kept its momentum for a while. Someone would issue a challenge gift and the rest of the class would rise up to meet that. The project stalled with the 2008 market crash.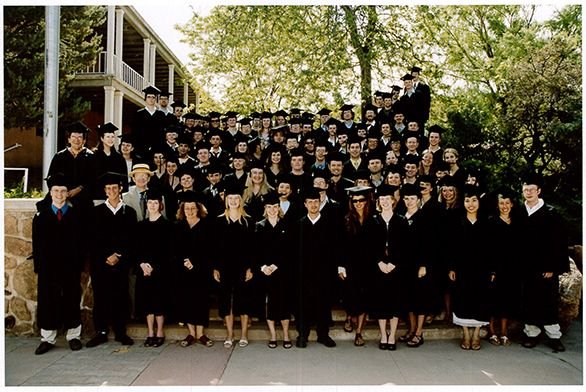 As their 10-year reunion approached, Victoria Mora (who was vice president of advancement at the time) reinvigorated the campaign, alongside dedicated classmates such as Prapasiri, class gift co-chair Brenna Strauss, Heather Upshaw, John Edgerton, and Chris Aamot.
Upshaw, now a development officer at MIT, led the new charge.
A working sphere would cost around $100,000, but that proved to be a moving target due to inflation in shipping and labor costs. The class would have to push hard to reach their goal.
Upshaw spent the spring having private conversations with classmates and secured multiple lead gifts, including two five-figure pledges. With these donors in place, the project suddenly seemed feasible.
"By the time we sent out a blast email to the class, we were able to say, 'Look, we raised $40,000 since graduation. In the last three months we've gotten another $41,000 in pledges,'" Upshaw says. "The momentum is on our side; get on board."
Many in the class responded by making four-year pledges to be paid in full by 2019, the year of their 15th reunion, which is also when the armillary sphere will be unveiled between Evans Science Laboratory and the upper dormitories.
As it stands now, the 2004 gift fund contains just under $120,000. Roughly $55,000 of that amount was given by friends of the class—people who supported the project but were not graduates of the class of 2004.
St. John's Director of Annual Giving Mark Piekarski says, "I've been working for 15 years as an annual giving director. The 84 people of that class have raised more money for this project than I've ever seen a senior class do in my life."
He hopes that a similar fundraising campaign in August, just before the official launch of the college's capital campaign, will encourage more alumni to give. Last year, 1,292 degreed undergraduate alumni gave. This year he'd like to raise that to 1,500.
The crowdfunding effort that Piekarski has designed will take place over a two-week period and raise money for the Johnnie Scholarship Fund and the Graduate Institute Fund.
In May, he tested the idea with a crowdfunding campaign called the Rusty Wickets, which prompted former croquet players and croquet enthusiasts to give toward croquet and lawn equipment, and student financial aid.
When that campaign closed, 34 donors had raised $18,320—well over their goal of $7,500.
The crowdfunding Piekarski will push out to the entire college community in August will be led by seed donors (from each class) who are comfortable directly asking their classmates to give. Fundraising in this manner will save the college money in direct mailing and will allow younger alumni to give electronically, which he says many prefer to writing checks or donating by phone.
Upshaw says she knows many alumni are not comfortable talking about fundraising and worry that big reunion campaigns will make people less likely to show up for homecoming. However, half of the Class of 2004 registered for their 10th reunion. Not all were donors to the project, but everyone was invited to join in celebrating the success.
"You can definitely utilize a fundraising campaign as a vehicle to generate excitement around reunion. They don't take away from each other," Upshaw says.