Embracing the Intellectual Life
June 5, 2018 | By Tim Pratt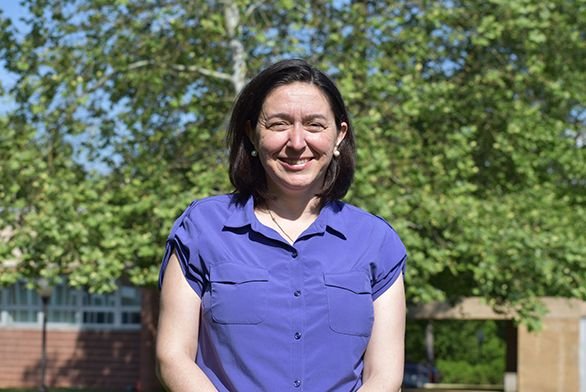 St. John's College tutor Zena Hitz (A95) has heard all the talk about the benefits of a liberal education.
Students become better citizens. They gain the skills to be successful. They land good jobs.
All of that is true, Hitz says, yet none of it seems like the right defense.
"I feel like it's instrumentalizing learning," she says. "That's not why someone like me gets into this."
Learning, she says, should be done for its own sake.
Hitz is further exploring the issue in her first book, titled Intellectual Life. She received a National Endowment for the Humanities (NEH) Summer Stipend to work on the book over the coming months. It is under contract with Princeton University Press.
"I think the main thing I want to do is encourage people who already have intellectual inclinations or live intellectual lives, but are not sure if it's worthwhile," Hitz says.
Hitz normally teaches students in the St. John's Summer Academy or Summer Classics programs during the warm summer months. The Summer Stipend will allow her to work exclusively on the book and purchase valuable resources.
The NEH received an average of 834 Summer Stipend applications over the last five years. Less than 10 percent of those projects were funded.
Hitz started writing Intellectual Life last summer. She took a sabbatical this spring and continued to work on the book at the University of Notre Dame in Indiana. It was made possible by a fellowship through Notre Dame's Center for Ethics and Culture, which is directed by St. John's alumnus O. Carter Snead (A96).
While a publication date hasn't been finalized, Hitz is eagerly anticipating the book's release.
"It's been incredibly exciting to work on it and think about it coming out," she says.
When Hitz was a St. John's student, she never imagined she would one day return as a tutor. After graduation, she wanted something different.
Hitz earned her master's in philosophy from Cambridge University in England, then studied at the University of Chicago before completing her PhD in philosophy at Princeton University. Her scholarly work focused on Plato and Aristotle.
Prior to St. John's, Hitz taught philosophy at Auburn University and University of Maryland Baltimore County. She also served as fellow at the Center for Hellenic Studies and visiting fellow at Princeton University.
However, Hitz says she grew disillusioned with the "normal" classroom setting, away from the seminar table. Teaching seemed more about memorization and repetition.
"I felt too disconnected to my students in those big lecture halls," she says. "I felt like I wasn't thinking in class."
Hitz returned to her alma mater as a faculty member in 2015.
After reading articles about a "crisis" in the humanities, Hitz was inspired to write an essay. In it, she argued that thinking, studying, reading and learning should be done for their own sake, separate from an end goal of gaining money or power. The essay laid the groundwork for her book.
Hitz has enjoyed the writing process, mostly.
"At the beginning it was really fun to write freely," she says. "I reached a point in the winter when I suddenly realized I didn't have a model of a book I'm working from. Then I got scared because I thought 'This isn't going to be a book; it's just going to be a collection of Zena's favorite thoughts.'"
Hitz kept writing, however, and hoped the book would come together.
"All of a sudden it started looking like a draft," she says.
Hitz returned to Annapolis in late May. The book is going through the review and editing process now. As Hitz works on the finishing touches, she is simultaneously looking forward to the fall semester.
"I'm really excited to return to the classroom," she says. "I really missed my students."