June 4, 2018 | By Tim Pratt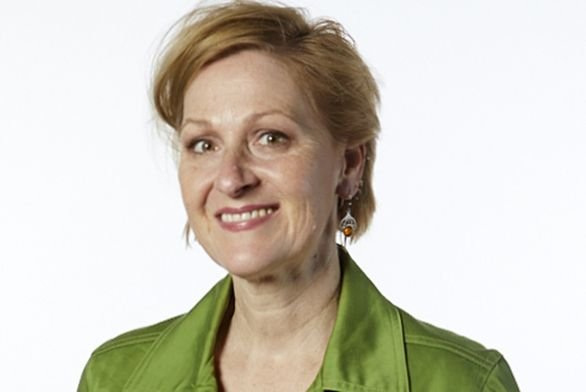 Erin Milnes (A88) loves to create new words.
Not words to be added to the dictionary, but brand names for new products and companies.
Milnes is the creative director for Catchword Branding in Oakland, California. The company has named more than 1,000 products for hundreds of clients over the past two decades. Milnes has been creative director for two-and-a-half years.
Milnes leans heavily on the language skills she acquired at St. John's—translating Greek and studying French—as she creates new brand names for clients. She used those skills in previous jobs during her 25-year communications career, too.
"The translating we did (at St. John's) gave rise to a higher level thinking about language," she says.
Milnes works with businesses in every sector, from technology startups in nearby Silicon Valley to automotive, lifestyle and food and beverage companies. Catchword's clients include Corning, Starbucks, Walgreens and Wells Fargo.
Companies often come to Catchword when they haven't been able to create brand names on their own.
"A brand name is a very, very short story," Milnes says. "It's a handle, an avatar, a vessel for your audience's relationship with you. It is a powerful tool that can resonate with (or turn off) the people you want to reach."
Milnes thinks deeply about the roots and meanings of words when trying to find the right fit. She looks for names that are memorable and engaging, that relay the right message and capture the appropriate tone. She aims for "rich" names with layers of meaning that can unfold as consumers engage with the brand. She wrote about some of her favorite brand names of 2017 on the Catchword blog.
"I think branding, in general, is an area a lot of Johnnies could succeed in because it looks at the fundamentals of what something is—its eidos, if you will," she says.
This pursuit often means developing upward of 2,000 possible names per product, she says, before landing on a group of finalists for the client to choose from. The high number of options is necessary, she says.
"If you want to trademark a brand name, particularly if it's international, you can't only generate 10 names because they will all get knocked out," she says. "All the obvious ones are probably taken unless you're in a very niche industry."
Corning is one of the company's oldest clients. Catchword has named Corning's Masterpix fine glass print, Fibrance light-diffusing fiber and several other products. Milnes has created names for at least two Corning products.
One of the job's unexpected perks, Milnes says, is she learns early on about new and interesting technological developments, or "solutions to problems I didn't even know about."
In a recent naming project, Milnes learned that cryptocurrency mining uses as much electricity as a small country. The company, which chose her Latin-based coinage Soluna, is developing renewably powered computer processing centers around the globe. The name evokes the natural world, solar power, and a solution to this energy problem, she says.
Wordplay
Milnes' interest in words dates back to childhood. She wanted to read every book in the library, she says, and recalls feeling "thrilled and empowered" when she learned poems didn't have to rhyme.
When Milnes arrived at St. John's in 1983, she was a singer, musician and poet. Her father, Sherrill Milnes, is a renowned opera singer who would later sing at his daughter's commencement. Milnes' mother was a music educator.
Milnes has fond memories of St. John's. She recalls late-night conversations about Hegel, and an all-night reading of Finnegans Wake.
She continued to pursue her music and writing interests at St. John's, whether it was singing in the small chorus and directing Collegium or writing for The Gadfly student newspaper.
Milnes' writing abilities paid off. She was awarded the senior essay prize and was nominated for the junior essay prize. Both essays were on drama—Hamlet and Phèdre, respectively—as theater was another one of her interests.
It was during Milnes' time at St. John's when she began to ponder how language affects thought, and vice versa. She was affected greatly by a junior year preceptorial, led by tutor John Verdi, on Wittgenstein's Philosophical Investigations. She would go on to study or "dabble" in six languages over the years.
Milnes landed a job at Loyola Press in Chicago after graduation. It kicked off a lengthy career in book publishing, including work for clients like Stanford University Press and University of Chicago Press. Her knowledge of Greek helped her edit academic books.
"Every book I worked on was something different, and I could find something of interest in all of it—from marital property regimes in medieval Flanders to cutting edge evolutionary algorithms," she says.
Milnes worked in the journalism industry, too, including a stint with The Solar Home and Business Journal. Throughout her career as a writer and an editor, Milnes viewed her role as an advocate for the reader.
"As reader of this newspaper or book, what do I want to know and need to know?" she says. "I want to answer their questions before they are asked."
In addition, Milnes did communications work for nonprofit organizations. She has a long history as an activist and volunteer, including work on human rights and social justice causes. She worked with Amnesty International for years.
On Brand
Milnes was working with her husband, Chuck Guest, at their company, Prime Chuck Creative, several years ago when clients began to ask for help on naming projects. The concept piqued Milnes' interest.
"I loved the idea because as a language geek I was like 'Whoa, cool. You get to play with words.'" She says. "Then I found out there are companies that specialize in it."
That led her to Catchword. Milnes says she enjoys the work, but still thinks critically about it.
"I do worry about applying marketing concepts to every aspect of our existence," she says. "But there's a way to be a company and try to make a living, and be authentic and moral."
Outside of work, Milnes volunteers as an elementary school music teacher in a district where K-3 music education is not offered. She also loves water sports, and trained to be a whitewater rafting guide when she was 35 years old. She's learning to play the trombone, too.
"It's important for me to keep learning, to challenge myself," she says.
Milnes plans to return to St. John's for her 30-year reunion at homecoming in September. She remains friends with many of her old classmates. The shared St. John's experience—from freshman Greek onward—creates a bond that's not easily broken, she says.
"I think that, for most Johnnies, the friendships you make at the school are almost as important as the Program itself," she says.