June 12, 2018 | By Anne Kniggendorf (SF97)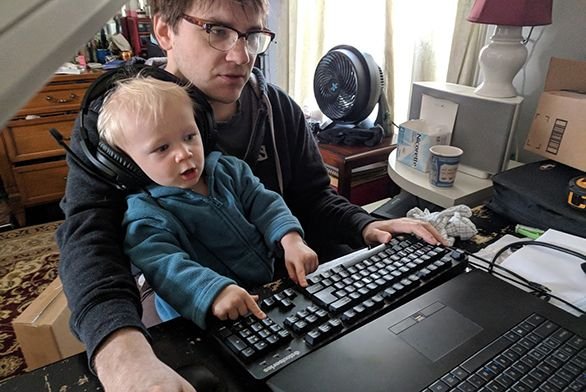 Josh Diaz (SF04) would have attended the University of California-Berkeley and majored in political science had he not attended a particular party during his senior year of high school in Southern California.
That night, he met a Johnnie.
"She was so charming and smart and disarmed so many folks," Diaz recalls of the woman, Jennifer Jackson Bloom (SF95). "I thought she was the coolest person in the world."
Now a game designer in Seattle, Washington, Diaz says back in high school he really didn't know what he needed or wanted from higher education. He feels lucky that Bloom suggested he skip Berkeley and check out St. John's instead.
Once on the western campus of St. John's College and placed with a group of prospective students, he was sold on the college. The group talked about books and easily related with each other.
"These are my peers, this makes sense," he recalls thinking.
"I was enchanted and thought this was so amazing and such a neat vision of what learning could be and learning for the sake of learning and learning things the hard way and being able to formulate your own responses to things," he says.
If he hadn't found St. John's, he's not sure that he'd have made his way to MIT for graduate school and then into a satisfying career in video game design.
At MIT he studied comparative media studies—a master's in science, but taught in the humanities department through commercial development as well as academic research. His time there was "super useful career-wise," he says, but it was St. John's that he thinks really gave him the tools he needed to succeed.
"I think empathy and communication are at the heart of game design. I make a puzzle for you to solve. I make a challenge for you to meet. I write a story for you to get excited about. The way that St. John's taught me—both on the big scale and the little scale—to engage in discourse with folks, to be committed to dialogue, is incredibly useful for how I do that."
The most prominent game he's worked on at ArenaNet is Guild Wars: Path of Fire. He was the systems designer for that release, a version of a 15-year-old game that has sold millions of copies worldwide.
"Game design is not an algorithmic process. It hasn't been solved," Diaz explains. "Every arrangement is unique and needs fresh eyes, needs empathy, and especially on big teams you need to be able to collaborate with other people who want something different."
He says that video game storytelling has elements of math, drama, poetics, history, and mythology—all of which he was able to work with comfortably because of his time at St. John's.
"The fact that St. John's said, 'Do everything, you have to be able to do a little bit of everything,' actually gave me the equipment to go in—was the only training that taught me how—to do what I do," he says.