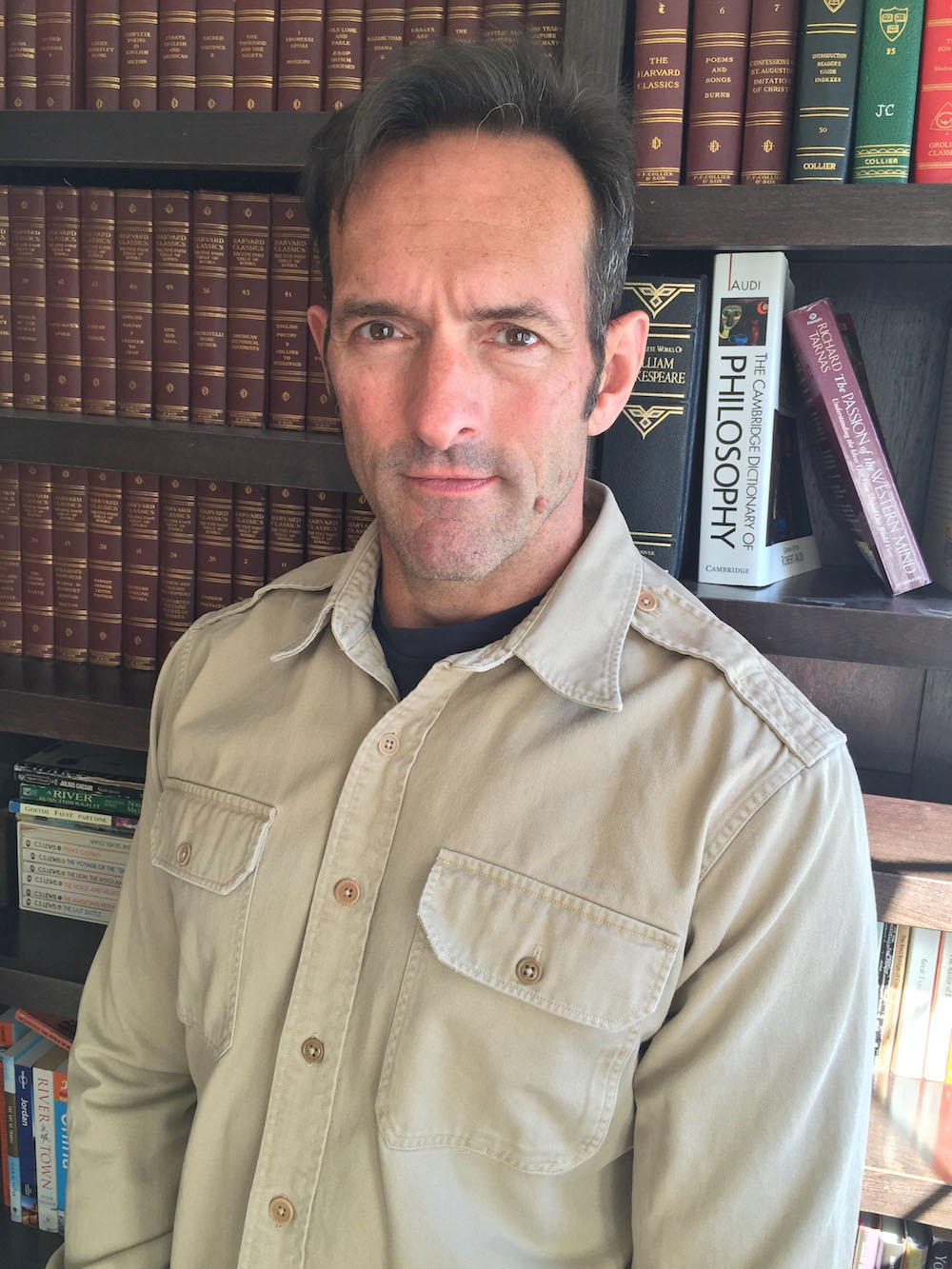 Roger Carstens is a student at the St. John's College Graduate Institute in Annapolis. Carsten is a retired US Army Special Forces lieutenant colonel whose last posting was an advisor to the Iraqi National Counter Terror Force in Baghdad, Iraq.
St. John's College: What brought you to St. John's?
Roger Carstens: At age 27, I'd done a lot of reading and I felt I'd pretty much figured out the meaning of my existence and what it meant to live a good and committed life. In the 20-plus years after that, I had life experiences that challenged some of the things I might have thought when I was a little bit younger. I'm here as part of a continuing quest to really figure out what life is about, what my purpose is, what the meaning is, and what it is to lead a good and committed life.
And that is especially so now that I have four children, from two to 15, because at a certain point they're going to start asking those questions, and I don't want to simply revert what I thought was the truth when I was 27. I want to be able to have deep and meaningful discussions about what it is that they should be thinking about, doing, how to treat people, and how to look at problems.
SJC: How have you enjoyed your time so far?
RC: When I talk to the students here, I'm very impressed at how thoughtful they are, how serious they are. I find this whole environment very refreshing. Oddly enough, I used to run a special forces training for the Army, these were the guys we were trying to recruit. And they're hard to find, because a lot of people are very rigid, linear, follow processes, it's black and white—and lot of those people never made it through training, no matter how physically gifted they were. We'd always go for the people, even if they were less physically gifted, that really had a lot of attributes that I find when I walk around this campus.
SJC: How has your military experience informed your reading at St. John's?
RC: I think I'm on six wars now, between Panama to Kosovo to Bosnia to Iraq, Afghanistan, Somalia. Just seeing all of the humanity out there—that may not be the best term—to see what it is when you go out there and realize that they're not like Americans. … You talk to a Somalian almost every Somali can recount his generational history down to 32 generations. I'm the son of so-and-so, who's the son of so-and-so, who's the son of so-and-so. They go on and on and on. … [Then] you read about the Athenians and the Trojans [in the Iliad] and think, "Man, I've seen this."
It reminded me of all the conversations I had with American soldiers when I was an advisor trying to help them get into this. I say, "Hey, the tribal system over there is very important. It's like this." And yet I'd have young officers and soldiers who couldn't comprehend it, "Why would they do that? I don't understand it." And yet again, you open the Iliad and the Odyssey and it's all right there. And it just tells you that a lot of the things that we wrestle with now that we cannot comprehend are actually eternal. [The military] has broadened me as to how other people live. [And] when I read some of these books, they absolutely tie into what I've spent my life doing or thinking about.
SJC: What are your plans after you graduate?
RC: You know, I don't know. I should. I've spent at least the last seven or eight years advising senior leaders on strategy. [Editor's note: Carsten recently served as the senior civilian advisor on the Commander, International Security and Assistance Force (COMISAF) Advisory and Assistance Team, located in Kabul, Afghanistan.] And strategy's all about ends, ways, and means. I want to go there. I currently am here. And what tools do I have to get there? The big thing is determining that end state. And yet, as my wife will point out, lovingly, even though I can advise other people on it I'm not really sure what my desired end state is.
SJC: You mentioned that you are taking the Greek preceptorial. How is it going?
RC: I've been in hard classes [before] and I've hated them—mechanical engineering or fluid dynamics. This course is crushing me and I leave with a smile on my face every night. So it's great.
St. John's College values military service and provides Yellow Ribbon funding to every qualified applicant who is accepted. We enthusiastically welcome veterans and their dependents to both our undergraduate and graduate programs. This interview was edited for length and clarity.
—Brady Lee (AGI14)