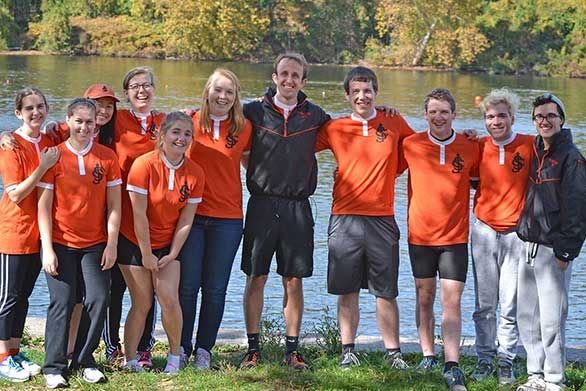 PHILADELPHIA, Pa.—The St. John's College Crew Team had an exciting two weeks on the water in late October.
On October 24, the team traveled to the Head of the Schuylkill Regatta, one of the largest regattas on the East Coast. The team entered two boats: a men's coxed four and a women's coxed four.
"Both boats competed in the championship four races and achieved remarkable results," Collin Ziegler (A17) said.
The men's four finished the four-kilometer course in 17:53; the women's four completed the course in 20:35 and placed ahead of the University of Maryland's team.
"The regatta proved a rewarding experience both on and off the water," Ziegler said. "The team was given the opportunity to race alongside and meet experienced crews from all over the east coast."
A week later, the novices of the crew team rowed their first head race at the Head of the Occoquan. (This was the team's second visit to Occoquan this month.) The novice mixed 8+, eight of whom were freshmen, placed 12th out of 22 boats.
"It was such an exciting race," said Thaddia Montione (A19). "We passed two boats and held off two more."
View photographs from the Head of the Schuylkill Regatta, courtesy of Jennifer Ongley (A18).
—Brady Lee (AGI14)