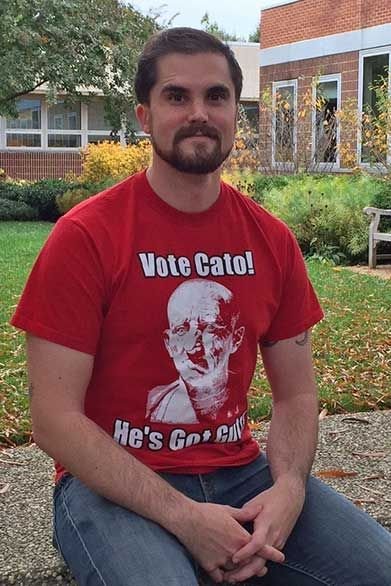 ANNAPOLIS—Kevin Cheney was a petty officer second class in the US Navy when he first heard about St. John's College.
"At the time I was thinking, 'I don't know exactly what I want to do,'" but a conversation with an alumnus changed that.
"Once he aligned me with the idea of St. John's, I started looking it up and I took a visit and it just made sense," Cheney (A18) said.
Prior to coming to St. John's, he enlisted in the Navy after studying drafting at technical school. He worked as a fire controlman on a ship performing maintenance and repair on technical equipment such as radar. The job involved following thousand-page manuals step by step. The challenge came when the technical manuals did not provide all the information.
"The hard part of my job was thinking my way around [an issue] when [the manual] didn't work. Not everything you do is prescribed to you by the page," he said.
"You need to balance these two worlds: there's a prescribed way to do things and at the same time you have to think on your toes and get things done as fast as possible and as safely as possible."
Cheney said being on a ship was to live in a microcosm of society.
"I worked with people who worked on radar electronics, and then I also worked with people who worked in kitchens. I worked with people who did the plumbing and people who grinded the paint."
His time on ship prepared him to engage with his peers at St. John's. He said studying at St. John's has expanded his ability to adapt to problems.
"There is always a question and rarely a finite answer here. That comes up most when I'm trying to write a paper. I'm given a freedom which I haven't exercised before."
When asked what he wants to do after St. John's, Cheney says that he is leaning toward agriculture or food infrastructure.
"I'm really interested in food because it's become increasingly important to me to pay attention to what I'm doing. As I think about it, it would be great to be able to touch upon that for many people, and to bring something that I actually believe in to people's homes."
While Cheney does not have any Veterans Day traditions, he is going to call his grandfather, who served as a US Marine in World War II.
"I'm going to talk with him [and] tell him how things are going." Cheney said that when he enlisted, he learned that many other family members had served in the military.
"There was this hidden tradition that I didn't know about. Maybe it's in the blood."
As he reflects on how he has changed since coming to St. John's, Cheney admits that he was never a big reader. However, he says that St. John's has compelled him to read more than he would have ever done on his own.
"Once I leave that's when I will really find out [if I remain a reader], but right now I enjoy it more than I ever have before. It's a door unlocked."
St. John's College values military service and provides Yellow Ribbon funding to every qualified applicant who is accepted. We enthusiastically welcome veterans and their dependents to both our undergraduate and graduate programs. This interview was edited for length and clarity.
—Brady Lee (AGI14)