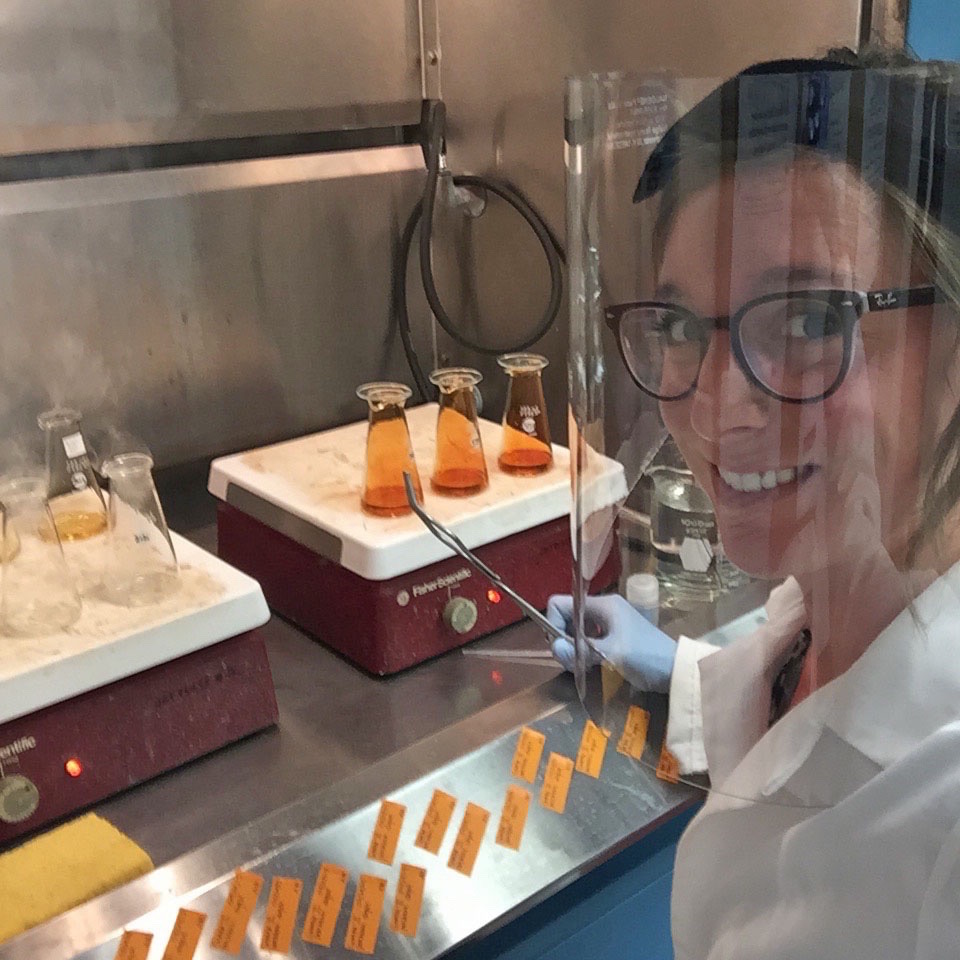 WASHINGTON, D.C.—Because she wants to go to veterinary school after graduating from St. John's College, Andrea Hill was excited to intern in the nutrition lab at the Smithsonian National Zoological Park.
"My nutritional research internship provided me with a completely different perspective of a field that I am so passionate about. I got to spend my summer working with evolutionary biologists, field researchers, and clinical nutritionists learning about the science on which some aspects of veterinary medicine are based."
As a Hodson intern, Hill (A16) studied the eating habits of the chimpanzee populations at Gombe Stream National Park in Tanzania.
The project's goal was to develop a foundational data set for ongoing research; these are the same chimpanzee populations that primatologist Jane Goodall began studying in 1960.
"The most surprising part of this project is that there is no data about the nutritional content of the foods that these chimps eat," Hill said. "It was up to me and four other interns to gather that data."
As the only student not majoring in biology, Hill was often asked what she was doing in a nutrition lab.
"I chose this internship for several reasons, but they were all driven by my goal to pursue veterinary medicine," she said.
"As a biomedical field, there is more to vet medicine than just the medicine—there's the science. The science behind the field is something that I had yet to experience, and I chose to work in a research lab rather than another clinic as a result."
She said her lack of previous practical lab experience pushed her to learn her duties and responsibilities quickly. If she had a question about a particular procedure, she was confident enough to ask questions—something she learned at St. John's.
"Before I knew it, my superiors were asking me to train the other interns on certain procedures, and my biology colleagues were asking me how to run assays and interpret data."
While she spent most of her summer in the lab, Hill's mentor knew of her interest in veterinary medicine and encouraged her to participate in vet-related opportunities at a nearby hospital. She went on rounds with the staff and saw some of the pathology cases around the zoo.
Hill also spent a week in the commissary preparing diets for the animals in the birdhouse, where she had some direct interaction with the animals.
"I got to hand feed a lesser anteater live mealworms, to watch the two Andean bear cubs nurse from their mother, and to get a private tour of the great ape house where Lucy, a 42-year-old orangutan, continually made raspberry noises at me," she said.
Experiences such as these helped Hill define her career path.
"While working in a research lab was a fun and educational experience for me, especially as someone who had no real lab experience prior, I've learned that I prefer the medical aspect of the veterinary field to the scientific one. Working with animals is more rewarding for me than working with respect to animals."
The Hodson Internship Program offers students the opportunity to pursue summer internships in virtually any career field, by funding otherwise unpaid positions through a generous grant from the Hodson Trust. Visit our Hodson Trust Internship Program page for more information. Quotes are excerpted from the student's internship report and used with permission.
—Brady Lee (AGI14)