January 5, 2017 | By Eve Tolpa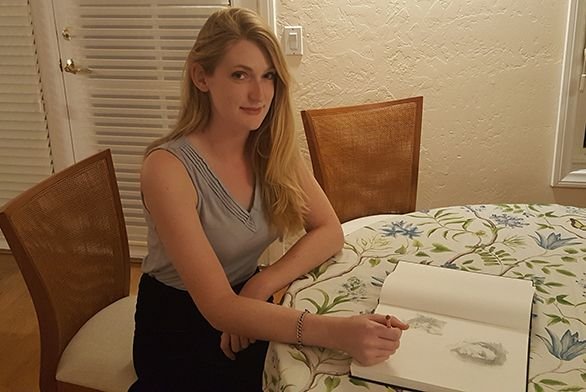 Representational painter Eryn Gammonley's (SF17) Pathways Fellowship led to a realization: for the first time ever, she felt a career in art was a "plausible reality."
Gammonley spent her 2017 summer term studying at Watts Atelier of the Arts in Encinitas, California. Like many ateliers, Watts offers private independent classes for non-degree seeking students, and her course load comprised seven classes in painting and drawing.
Watts provided her not only with rigorous hands-on instruction but also a real-world context for her passion. In her report for St. John's Career Services, Gammonley extrapolated job options based on the paths followed by her instructors.
"To get a good idea of the kind of career than can be hoped for by fully investing in the schooling offered at Watts," she wrote, "prospective students should look at the biographies of Watts teachers." She went on to explain that a fine art focus was often supplemented by illustration or concept art.
Until her experience at Watts, Gammonley believed that professional artists were fated to endure difficult lives, isolated and penniless. "I had convinced myself that being an artist was completely impossible, economically and otherwise, but there are tons of people out there doing this," she says. "It takes time, but it's possible."
The impetus for creating art is the same one that drove Gammonley to seek a classical education. Growing up in Colorado, she hadn't initially planned to go to college, but an interest in philosophy prompted her to search the web for alternative institutions.
She found St. John's, and "it sounded exactly like the sort of thing I liked," says Gammonley, who was awarded a merit scholarship at the Santa Fe campus, where she spent all four years. Now, she says, "I can't imagine going anywhere else."
The appeal of St. John's—and reading "the old books"—mirrored Gammonley's interest in a classical approach to realist art. "I knew that a big part of what I liked about art was thinking about the ideas behind it," she says.
"So many people are turning to realist art as their preferred mode of expression. Human beings still like beauty; something's going on there. In spite of whatever arguments can be made that there is no inherent meaning in anything, there's still a deep need for people to participate in beautiful things. St. John's, and the things we read there, point the way towards that phenomenon."
Her own relationship to the Program's texts reinforce that viewpoint. "I wrote my senior paper on Aristotle's Poetics, in an effort to figure out how art works," says Gammonley, adding that "the things that really stuck with me were the things I ended up reading in study groups—a lot of Plato, a little bit Nietzsche. I ended up liking Plato the most. The way he writes is so deceptively rich."
Ultimately, though, a focus on aesthetics continues to assert itself in Gammonley's education. "I really need to understand what humans care about when they make beautiful things," she says. "Studying at St. John's helped justify to myself that I really cared about the beautiful and that it was worth pursuing."
Equally important, the college provided her with the discipline necessary to commit to that pursuit. As of fall 2017, she was back at Watts, honing her artistic skills while weighing the possibilities for graduate school.
Whatever her next steps, her Pathways Fellowship irrevocably widened her perspective. "It can be surprising in itself, after you've been at St. John's for a while, to get out," she says. "I'd recommend it."