Works of Renowned Artists on Display
January 5, 2017 | By Tim Pratt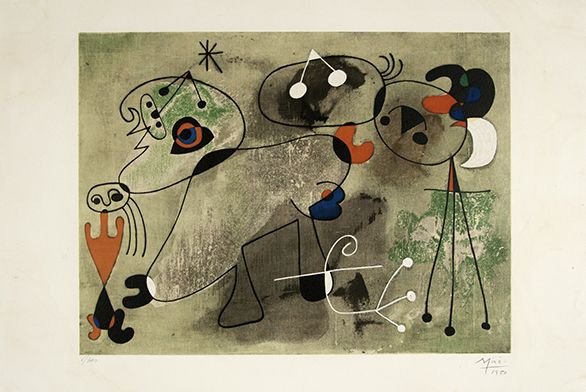 Throughout his career, English painter and printmaker Stanley William Hayter worked with some of the most influential artists of the 20th century, from Pablo Picasso and Jackson Pollock to Joan Miró and Marc Chagall.
Over six weeks this winter, many of those collaborative works will be displayed in the Mitchell Gallery at St. John's College, Annapolis.
About Prints: The Legacy of Stanley William Hayter and Atelier 17 runs from January 11 through February 25. The exhibit, which is free and open to the public, features more than 50 prints from a variety of artists.
"These pieces reflect the styles each artist is known for, but extended into another medium," says Lucinda Edinberg, art educator at the Mitchell Gallery.
Hayter was a renowned artist who opened an art studio called Atelier 17 in Paris during the 1920s. In the 1930s, artists like Marc Chagall, Georges Rouault and others began working with Hayter to create etchings, lithographs and other pieces.
When World War II erupted, Hayter closed the studio and moved briefly to London, then New York. He taught and eventually opened a studio space in Greenwich Village. Years later, Hayter returned to Paris.
Throughout Hayter's career he worked with hundreds of artists. He also wrote two books, including About Prints in 1962, which included information on the printmaking process as it pertained to some of the pieces featured in the publication. Those pieces were chosen for their excellence in technique and design.
"Even if it's etching, it's pushing the limits of what printmaking can do," Edinberg says.
In 2016, Syracuse University Art Galleries Director Domenic Iacono curated an exhibit based on Hayter's work. The exhibit, opening soon in the Mitchell Gallery, features a variety of techniques and styles.
Several events are planned throughout the exhibit, including lectures, a workshop and other programs. For a complete schedule, visit the Mitchell Gallery website.
The exhibition is supported by the Helena Foundation. It is organized by the Syracuse University Art Galleries.