The Kaplan Clan of Johnnies
January 2, 2018 | By Anne Kniggendorf (SF97)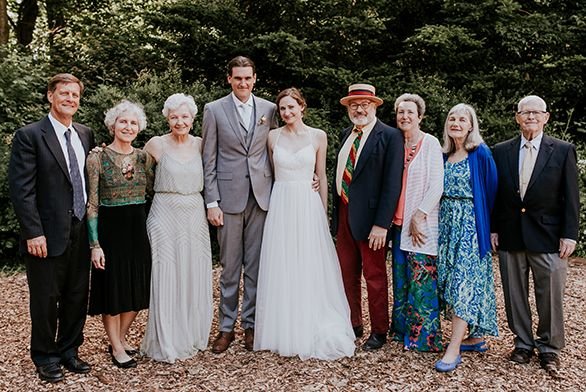 Three siblings.
Two husbands.
One daughter.
(And an ex-husband.)
Together, these members and in-laws of the Kaplan clan comprise an extended family of Johnnies who, over the course of several decades, have given many small gifts to St. John's College. Together, their impact exceeds $15,000.
The original siblings hailed from Philadelphia. They migrated to Annapolis, to Santa Fe, and in some cases, back again to Philadelphia. They fell in love on both campuses. They had children, and one of them carried on the Johnnie tradition. Individually, they have served their communities in a variety of ways, from law to social services, and collectively they have served St. John's in major ways through their philanthropic commitments.
But how did it all begin?
Sharon Kaplan Wallis (A64), now a semi-retired lawyer in Philadelphia, was the first to attend St. John's College. Her father had heard of it and was interested, but didn't know it was coed; Wallis quickly discovered that the school had been admitting women since 1951 and she was pretty sure she wanted to be one of them.
A visit to the Annapolis campus proved her hunch correct. She loved the colonial, red-brick campus and the Program captivated her. In addition to agreeing with the great books approach to learning, she was charmed to find that students nicknamed the most prestigious tutors after Greek gods. "It appealed to me and was all terribly cool," she recalls.
She later married, and subsequently divorced another student at St. John's, Charles Wallis. Charles, a sculptor who eventually settled in New Zealand, transferred from St. John's after his sophomore year to pursue his interest in fine art.
Bart Kaplan (A68) began the year after his sister, gaining early admission weeks before his sixteenth birthday. He didn't finish in four years as she did, but took some time off after sophomore year.
He subsequently completed two years at the University of Pennsylvania as well, but Kaplan knew he would rather finish college at St. John's. He's stuck with the college ever since, and regularly makes donations and attends alumni seminars in Philadelphia. Years ago, his non-Johnnie daughter accompanied him to a seminar and met her future husband, Josh Murbarger (A97).
By the time Kaplan returned to finish his degree, the college was so rooted in the family culture that their younger sister, Melissa Kaplan Drolet (SF72), knew she also wanted to attend.
Drolet says, "They would come home and be reading these really impressive books. I thought: I would really like to do that. I would like to read those books. They never did anything to actively convince me to go."
She began in Annapolis. After her sophomore year, she decided to take a gap year and hitchhike around Europe. But just after she'd announced her plan and said goodbye to her friends, her father unexpectedly passed away and her mother vetoed her plan—and told her she had to be safely in school somewhere.
But her exit had been too grand for her to simply show up on campus again, and it was much too late to apply to another college. She appealed to then-Dean John Kieffer, and through a series of administrative sleights of hand she was on her way to Santa Fe.
Drolet still remembers how kind the college was to her under the circumstances. "It's because it's such a small school; it's just so human-scale. I love St. John's. I have a soft spot in my heart for it."
Many years later, after she'd married the late Raymond Drolet (SF69), she was thrilled when her daughter Megan Drolet (SF08) also wanted to attend, and that they'd be able to share their duplicate collection of Program books with her.
Megan Drolet remembers discussing the college with her father when she was a small child. He thought it would fit her well but never tried to convince her to go.
She fondly remembers how much support her family offered her while she was a student:
"I knew people who were getting some push-back from their families and their parents were like Why don't you go to a real school? And my family was just like, That Megan, she's the only one going to a real school."
When told that, together, their family had donated more than $15,000 to the college over a combined 80 plus years of giving, the Kaplan sisters were surprised by this. But Bart Kaplan says it sounds about right.
Megan Drolet says, "Everybody has a lot of love for St. John's. It's a really core part of the family."