A 'New Era' for the Hodson Boathouse
December 13, 2017 | By Tim Pratt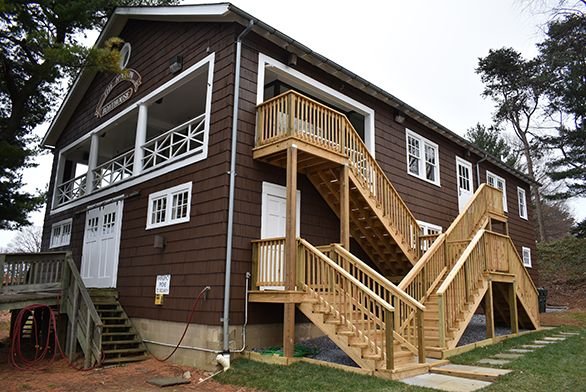 Towering above College Creek at St. John's College in Annapolis, Hodson Boathouse has long served as a resource for students, faculty and staff looking to take advantage of the college's waterfront location.
The decades-old facility serves as a home base for the St. John's crew and sailing teams, and has plenty of space for receptions, dinner parties and other events.
Recently, the boathouse underwent a three-month renovation. The $100,000 project included improvements to the inside and outside of the two-story building, from shoring up structural issues in its foundation to replacing stairs, siding, paint and other features.
The changes are welcome among St. John's students who use the facility regularly.
"The boathouse is especially important to students this year, with McDowell (Hall) under construction, so I'm glad that it's all spruced up and ready to continue holding events," says crew team captain Jennifer Ongley (A18). "We just held our crew banquet there last weekend and had a great time."
Crews worked extensively on the foundation, but also replaced or repaired much of the building's cedar shake siding; installed new stairs and landings; painted exterior trim, doors and windows; and replaced three exterior entrance doors.
"The new stairs are, frankly, beautiful, and they also don't sag and make ominous noises when one walks on them like they used to," Ongley says.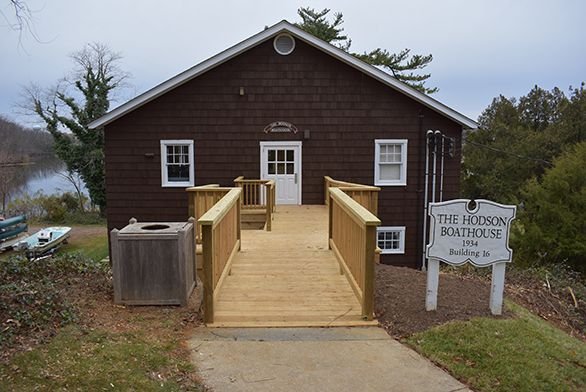 Crews also installed bluestone stepping paths and new sod at the bottom of the landings, along with new sod at the top approach. They removed invasive vines, too.
Inside, workers insulated attic space for better thermal efficiency and replaced heat pumps. In the second-floor event space, crews repainted and installed new hardware handles, kick-plates and exit devices as well as new electrical switches, outlets, and trim.
Aside from the renovations, new boathouse manager Brian DeGraw cleaned out the interior of the ground floor, where the crew and sailing teams meet and store equipment. That has made things easier for both teams.
Sailing team captain Madeline Edwards (A19) called the improvements "great."
"We recently changed boathouse managers and coaches for both the sailing team and the crew team, so it really feels like a new, exciting era for the boathouse," Edwards says.