A Love of the Written Word
December 12, 2017 | By Tim Pratt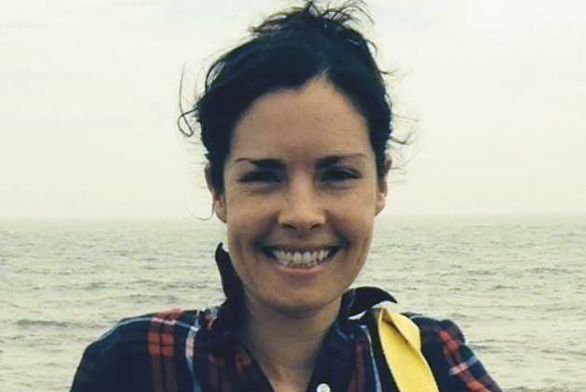 In the mind of Jessica Alexander, fairy tales take a twisted turn.
In one story, a woman finds a hand in a garden. A bear drags a man off his porch in another story. In yet another, a family wanders in and out of old photographs.
These are just some of the tales spun by Alexander (A03) in her new book, Dear Enemy, published in November by Subito Press. The 80-page volume is Alexander's first published collection of short stories. She calls the publication of her first book "exhilarating and terrifying."
"It's like the first time you speak in class and the room falls silent," she says. "That's the terrifying part. The exhilarating part is when someone responds, and you realize that you have been part of a conversation all along."
Dear Enemy features flash fiction stories Alexander wrote over the last several years. She's now a visiting professor of English at Franklin and Marshall College in Pennsylvania, but wrote many of the stories while pursuing master's and PhD degrees.
The pieces feature a lot of "normalized magic" in the fairy tale tradition, she says. The first story she ever published is in the book, along with nearly two dozen others. The longest story is just nine pages.
"It's a collection of stories in sort of a spare, minimalist, fairy tale-esque style," she says.
Alexander's journey to this point took her all over the United States, but it began in her hometown of Buffalo, New York.
Growing up, Alexander always enjoyed reading. She developed an interest in writing, too.
When it came time to consider colleges, Alexander knew she didn't want to sit in big lecture halls with many other students. A brochure for St. John's, with its small class sizes, seminar-style classrooms and discussion-based learning, intrigued her.
"I was really taken by that," she says. "Then when I visited I was really impressed with how the conversation continued outside the classroom."
Alexander enjoyed her four years at St. John's. She played intramural soccer and was part of an informal workshop group in which students gathered to discuss each other's writing. Her experience at the college was enlightening.
"In a lot of ways, it inspired in me the love of reading," she says. "In addition to the love of reading, (I developed) this critical eye towards texts."
After graduating from St. John's, Alexander worked a variety of jobs, including some production assistant work in film—one of several creative avenues she considered pursuing. She also moved to Santa Fe, a place she once visited on a road trip with friends from the Annapolis campus, as she debated what she wanted to do with her life.
Eventually, Alexander realized she wanted to teach. She earned a master's degree in literature from Bowling Green State University in Ohio, a master's of fine arts degree in poetry and fiction from Ohio University, and a PhD in literature and creative writing with an emphasis on fiction from the University of Utah. A Tanner Humanities Fellowship allowed her to work on her dissertation for a year in Utah.
While Alexander was in graduate school, she stayed busy writing, and her work soon paid off. Her fiction began getting published in a variety of literary journals, including Fence, DIAGRAM, Denver Quarterly, Psychopomp and Dreginald.
In the fall of 2016, Alexander began teaching creative writing at Franklin and Marshall. While she enjoys writing, teaching also brings her joy.
"I think I just love that moment, not so much when students arrive at understanding, but when you can see the shared pleasure of pursuing a line of thought—the shared pleasure of an idea opening up in front of a student," she says. "I think my teaching has been informed by the kind of mentoring role and different style of teaching emphasized at St. John's."
Alexander continues to write in her spare time. Looking ahead, she's already working on another book, this one a gothic novel.