August 7, 2018 | By Kimberly Uslin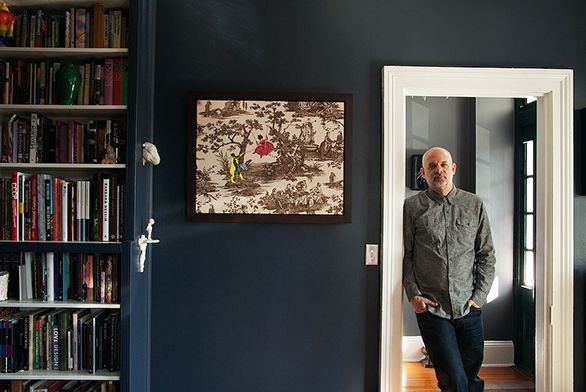 "I never thought in a million years I'd be a middle-aged embroiderer," says Richard Saja (SF93). "But what I realize about my life is that everything is like that—circumstance and happenstance."
It was happenstance, in fact, that Saja began embroidering at all. He began working with toile in 2001 after being laid off from a design job at an ad agency. While talking with a friend and fellow St. John's grad about their love of textiles, the pair decided to start a business together making cushions.
Though he enjoyed textile work, he had never tried embroidery until, one day, an idea came to him as he was waking: He would embroider dissident features atop the traditional French fabric toile de Juoy. The fabric, which he says has gone "in and out of fashion" virtually since its invention in the 18th century, is known for its depictions of French pastoral: men, women, and children enjoying the pleasures of country life.
In Saja's world, however, those charming figures courting or playing hoop games in the garden might be Juggalos, luchadores, or finely-dressed lords and ladies sporting multicolor mohawks and clown noses. Such is the ethos of his embroidery, which embellishes traditional toile with surprising and often humorous elements. While his original intent was to add Maori face tattoos to the figures in the scenes, the prints' small scales didn't allow for the level of detail he had hoped. The message, however, remained the same.
"I wanted to use history and inject a little humor in it at the same time," Saja says, adding that his work addresses themes of "tolerance, difference, and acceptance."
It took off; as Saja says, "there was enough there to make a career for me." His embroidered toile and other fabric work has appeared in hotels and restaurants such as the W in Philadelphia and Commander's Palace in New Orleans, frequently appears in art shows, and is often commissioned for private collections. One of his most recent projects is a collaboration with major fashion brand Weekend Max Mara, for which he chose and embroidered toile for a collection called "Trophy Day." These innovations in textiles, in fact, have earned him a 2018 Award of Merit from the St. John's College Alumni Association.
Saja says work has evolved over the years from "crude, graffiti-like scrawl" to careful, elaborate stitching—all self-taught. And while he occasionally creates using other media, embroidery is certainly at the center of his artistic life.
"It's sort of what the world demands of me," he says. "But I'm okay with it. If I really want to do something and feel strongly about it, I'll do it, but working within the confines of toile is enough. I have so many ideas and am gradually realizing them."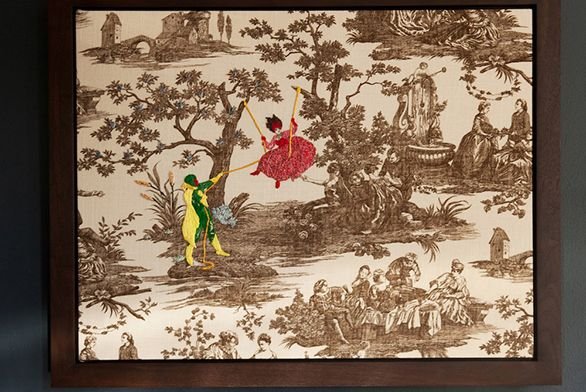 That includes pushing forward his central message of tolerance, one stitch at a time.
"This is something I was made acutely aware of at St. John's: no matter how dire or heavy the message is, it's so much more digestible if humor is involved," he says. "You can say lots of things with a smile that you can't with a scowl."
While his self-designed toile "Four Seasons in the Garden of Toilerance" may seem amusing at first, for example, the extension of those same French pastoral pleasantries between sea monsters, hybrid creatures, and humans takes on deeper meaning.
"The message is so basic, but it's something we haven't learned and never will learn—though there's an awareness emerging now with younger generations," he says. "We have bigger problems to address than ones with social difference."
The figures co-existing, living, and loving in his embroidered scenes embody the sense of acceptance that defines a St. John's education.
"What St. John's drove home to me is the rule of thumb: moderation in all things. It came up so often, but people really do need to hear it," he says. "For me, the St. John's education is the idea of exploring and discussing ideas without making it personal."
"Well," he laughs, "most of the time."
Saja will be honored for his 2018 Award of Merit at the Alumni Association Awards Banquet, held during the annual Homecoming celebration.