C-SPAN Bus Coming to St. John's
September 20, 2017 | By Gregory Shook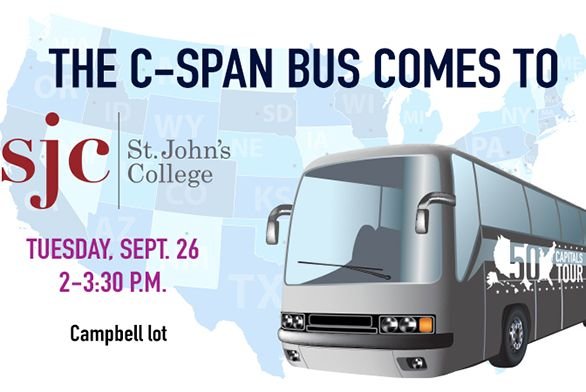 The C-SPAN Bus, a high-tech, interactive, 45-foot customized motor coach, is traveling to the campus of St. John's College in Annapolis as part of the television network's "50 Capitals Tour."
The C-SPAN Bus will welcome visitors to engage teachers, students, community members, and elected officials through interactive demonstrations of C-SPAN's various public service resources. In addition, C-SPAN will gather video responses from visitors as part of its "Voices from the States," providing visitors an opportunity to share viewpoints on state issues and feedback to Washington leaders regarding local concerns.
The bus will stop on the St. John's College campus, in the Campbell parking lot beside Mellon Hall, on September 26 from 2 to 3:30 p.m.
The new C-SPAN Bus includes upgraded resources such as access to an exclusive interactive experience available on 11 large-screen tablets featuring C-SPAN programming and various political and educational resources; a smart TV and classroom area for conversations with students and teachers; a high-definition TV production studio for taped and live programming; a 360-degree video station featuring C-SPAN's coverage of high-profile events and behind-the-scenes tours of U.S. landmarks; and a D.C.-themed selfie station where visitors can share their C-SPAN Bus experience through social media.
After the C-SPAN Bus kicks off its tour in Annapolis, it heads to every U.S. state capital, culminating in November 2018. The bus will visit local schools in each state. Students and teachers will learn about C-SPAN's national documentary competition, StudentCam. Awarding $100,000 in prize-money, the competition challenges students to produce a 5- to 7-minute documentary using C-SPAN video to explore a local or national issue of importance. This year's theme is "The Constitution and You" and asks students to pick any provision of the U.S. Constitution and illustrate why it's important to them.