September 21, 2017 | By Tim Pratt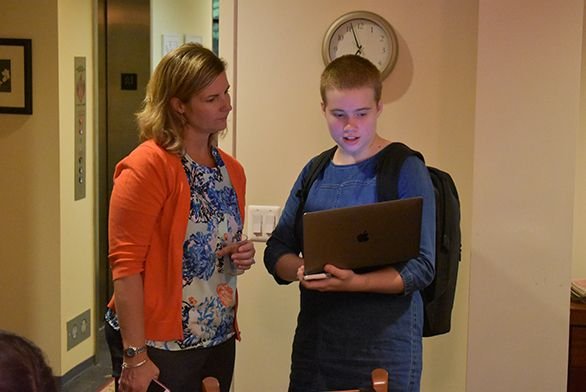 Years after Kieran Dowdy (A09) graduated from St. John's, he reached out to the college's Office of Career Services.
Dowdy wanted to work on his resume and plan for the future. The assistance provided by the office helped him land a job.
A few years later, Dowdy reached out to Career Services again for guidance and achieved the same result—a new job.
For Dowdy, Career Services has long been a helpful resource, from his time as a student to his most recent work in the law field.
On September 19, he and alumna Thea Chimento (A10) returned to the Annapolis campus to provide that same guidance to current Johnnies.
The pair participated in a resume-writing workshop, an event that attracted more than a dozen students to talk about everything from resumes and cover letters to internships and networking. It's one of a number of events being hosted by the Career Services offices this fall in Annapolis and Santa Fe.
While the events help students network and prepare for the future, they are just part of the offices' larger strategic effort to assist St. John's students and graduates, says Annapolis Career Services Director Jaime Dunn.
"I see what we do as a service for students all four years they're here, as well as when they're alumni," Dunn says. "I want students and alumni to know we're here for them."
Services
Dunn and Barbara Lucero Sand, acting director of Career Services in Santa Fe, make efforts to reach out to students when they arrive at St. John's. For Lucero Sand, that means meeting with all freshmen over lunch.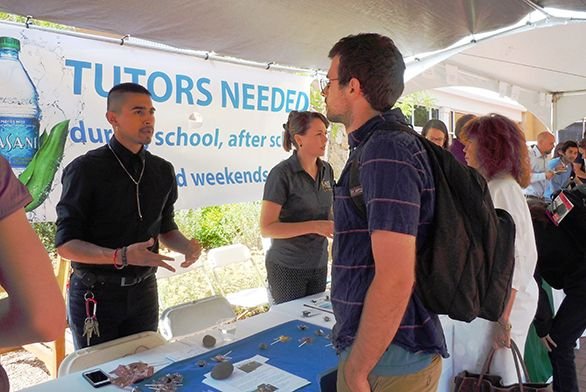 "That sets the stage and lets them know what kind of resources are available to them," Lucero Sand says.
The Career Services offices on both campuses compile internship and fellowship opportunities for students, and share job openings and scholarship opportunities. The offices also provide graduate school application assistance, pre-med and pre-law counseling, and help with resumes and cover letters, among other services.
The services keep them busy working with eager students, from undergraduates to those in the Graduate Institute.
Three or four times a day, students arrive at the Career Services office in Annapolis to meet with Dunn or Kathleen Cady, program manager. That adds up to more than 500 meetings with students per year on various topics.
To help keep students informed about events, the offices also regularly send e-mails to notify Johnnies about workshops, discussion panels, job fairs and information sessions. The goal is to get students involved as early as possible in their college careers, Dunn says.
"If they can start coming to our events, meet us and become familiar with us and the services we offer, that helps us maintain that relationship," Dunn says. "I love to engage with students throughout their time here."
Social media is valuable tool in the offices' efforts. Each office regularly shares job postings, internship and fellowship opportunities, and interesting articles, among other pieces of information.
One of the highlights of each semester is a field trip the Annapolis office plans for students to meet alumni in prominent positions at their workplaces. Trips in recent years have included stops at the Supreme Court, Smithsonian National Museum of American History, Washington Free Beacon and the office of a U.S. senator. The visits are typically followed by networking events.
Many alumni are eager to help current students in their search for jobs and internships.
"They know exactly what the students are going through because they've been there at one time," Dunn says. "They're also very loyal to St. John's and want to help them out."
Resume writing
At the recent resume-writing workshop in Annapolis, Dowdy and Chimento offered advice about resumes, cover letters and other facets of the job search. Dunn and Cady gave advice, too.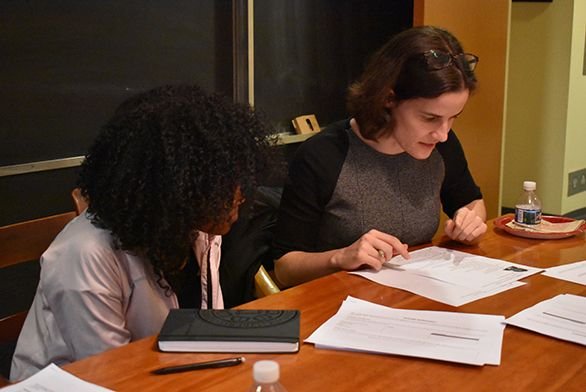 Create a one-page resume. Relevant information that won't fit can be included in a cover letter.
Include facts and figures to show specific details about the scope of your work.
Don't be afraid to include internships or work experience not related to the job for which you're applying. Even non-relevant work experience shows you're employable.
Let someone else look at your resume and cover letter. Another set of eyes helps in the editing process.
Never lie about your experience or qualifications. Employers will find out.
Networking is important.
"Your resume is important, but your reputation and ability to network is much more important," Chimento said, noting her ability to network helped her land jobs in the past. She now works as a procurement officer for the Maryland Department of General Services.
Senior Mason Troupe (A18) was one of a number of students who brought resumes to the workshop. The group asked questions about everything from formatting and content to relevant experience and applying for jobs in a foreign country.
"It was good advice for people in our position who don't have a lot of work experience," Troupe said. "It was enough highly specific tips that I'll adjust a few things (on my resume)."
Looking Ahead
Career Services in Annapolis has new initiatives planned, including one that will partner Graduate Institute (GI) students with undergraduates. The GI students will serve as mentors, Dunn says. The program is expected to launch in the fall.
"We see it as informally, or formally, connecting them based on their backgrounds and interests," Dunn says.
The Annapolis office also hopes to be more strategic in seeking out internships and fellowships for students. Dunn encourages alumni to send opportunities her way so she can help current students.
SJC Connect, the official networking platform for St. John's alumni, will soon open to juniors and seniors. In the past, students didn't have access to the platform until they graduated. This move will allow students access to the college's alumni network to seek career guidance and make connections with other Johnnies.
Career Services in Santa Fe has plans for the future, too. The office is in the process of hiring a new director who will develop a new vision for Career Services. In the meantime, Lucero Sand has started implementing a strategy President Mark Roosevelt discussed in his convocation address.
"We want to look at (students) and challenge them to have a more balanced life; to look not only at intellectual development, but personal and professional development over the four years they're here," Lucero Sand says.