Campuses Prepare for Collegium
December 8, 2016 | By Tim Pratt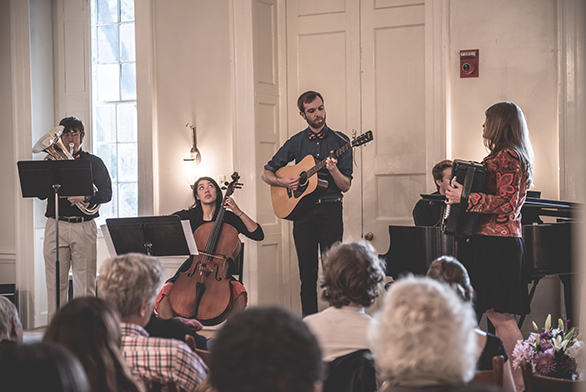 The end of the fall semester is approaching.
With it comes a tradition at St. John's College that gives students, tutors and staff members an opportunity to show off their musical talents: Collegium.
The event celebrates the end of each semester on the Annapolis and Santa Fe campuses. Participants perform everything from classical music and jazz to more contemporary numbers.
"Normally, people at St. John's are very focused on their academic success and work, but this gives them an opportunity to show the community the other side of themselves," says Katherine Irwin, a senior who is organizing the 2016 fall semester event in Santa Fe.
Combined, more than two dozen acts will be performing on the two campuses. Along with singing, there will be performances on piano and other instruments.
"It's a very nice way to get together and celebrate the end of the semester," says Elizabeth Akhvlediani, a senior who is organizing the 2016 fall semester event in Annapolis. "It's all very musical, but it's also preserving the St. John's spirit."