Freshman Chorus Writes Its Own Chapter
December 9, 2016 | By Tim Pratt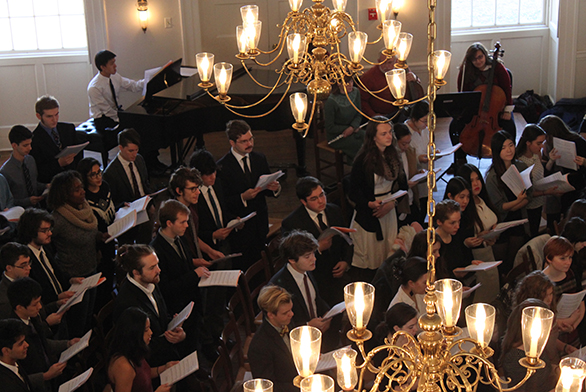 As they gathered below the chandeliers and a crowd of onlookers in the Great Hall in Annapolis, about 150 St. John's College freshmen came together in song.
Their voices rose, their musical accompaniment joined them, and for nearly 40 minutes, the St. John's Freshman Chorus delighted those who watched.
The Freshman Chorus Concert, a tradition that dates back generations at St. John's, was underway.
"It's an initiation into the college community," says tutor Peter Kalkavage, who leads the chorus. "It's a very important part of the college. We emphasize St. John's as a community of learning, and we learn to do everything together."
The entire freshman class is enrolled in chorus. They begin at the start of the school year to learn the songs that are to be performed at the concert.
This year's class sang everything from Bach and Beethoven to an Appalachian folk song and Sicut cervus—a song that has become a staple of the music program at St. John's.
Although some of the songs are sung year after year, a move that gives older students in attendance a chance to join in, the lineup varies every year, Kalkavage says.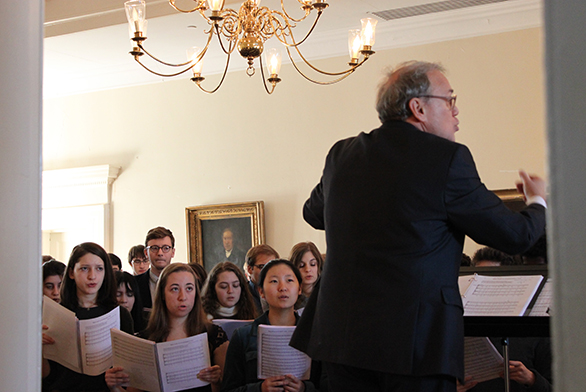 Many of the freshmen enter with no singing experience. But when the Freshman Chorus Concert comes around every December, they have come together as one.
"Mr. Kalkavage does an outstanding job, he really does," says freshman Jose Miura. "I told him this the second week. We're unruly, we sing terribly, but he has done an amazing job with us."
Those who were watching the performance from the second-floor balcony, from fellow students, tutors and staff members to Annapolis campus President Chris Nelson, agreed with Miura's assessment. They gave the chorus and musical accompaniment a rousing round of applause.
A live video feed of the event, shown on the college Facebook page, also drew praise.
"Wonderful job, Chorus; that was fantastic, everybody, fantastic," Kalkavage said excitedly after the applause had ended. "See you next semester."​