May 10, 2017 | By Tim Pratt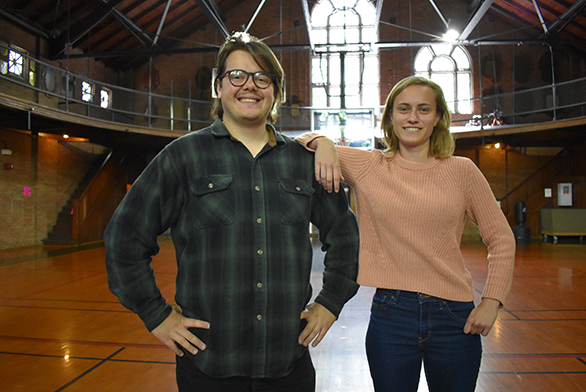 Throughout the school year, St. John's College students sped around the athletic facilities in Annapolis, scoring goals, making baskets and supporting their teams through victory and defeat.
Yet, two of those students stood out, says Athletics and Recreation Coordinator Chris Krueger (A07).
Seniors Stefan Vasic, of Woodstock, Virginia, and Grace Athanas-Linden, of Bethesda, Maryland, will be awarded senior blazers at Commencement on May 14.
Senior blazers are awarded every year to a male and female student who has had a positive effect on the athletic program and the broader college community. They must demonstrate commitment, engagement and excellence within the athletic program, Krueger says.
Vasic and Athanas-Linden, both of whom are captains on intramural sports teams at the college, say they are honored to be awarded this year's blazers.
"It's nice to see the work we put in is appreciated," says Athanas-Linden, captain of the Spartans, who will receive a blue blazer. "To me, this is one of the ways that shows what you do matters to the college community."
Many students came to mind when Krueger was considering who should receive this year's senior blazers. Roughly 50 percent of St. John's students participated in intramural or club athletics this year, including many seniors.
"It's a huge honor," says Vasic, a captain of the Druids, who will receive a maroon blazer. "There were a lot of capable captains who could have gotten it."
Vasic and Athanas-Linden have been active in athletics and other activities at the college since their freshman year. Yet, their time in competitive sports began long before that.
Vasic participated in many sports when he was growing up, from football and lacrosse to soccer and cross country. Athanas-Linden also led an active athletic life in her early years, including soccer, softball and basketball.
When freshmen arrive at St. John's, each is assigned to an intramural sports team. Vasic became a Hustler his freshman year; Athanas-Linden became a Greenwave.
Heading into sophomore year and the college's annual intramural draft, Vasic was selected by the Druids while Athanas Linden became a Spartan. They have remained on those teams in the three years since then.
Athanas-Linden has excelled since her first days at St. John's—in soccer and other sports—and won the outstanding athlete award during her sophomore and junior years. Along with her leading role on the Spartans, she also was captain for Kunai, the women's program.
"Her leadership was prominent on and off the field, which required an enormous, almost unfathomable, amount of dedication and energy, yet Ms. Athanas-Linden was always ready to help out whenever an extra need arose," Krueger says. "Ms. Athanas-Linden's commitment and care for both Kunai and the intramural leagues is one of the main reasons this year was a success for so many students who participated in the programs."
Vasic, who excelled in soccer, basketball and croquet, among other sports, exemplified what is possible and good in the athletic program at the college, Krueger says. He inspired his team to have the top turn-out in the intramural league, Krueger says, and continued to grow and improve every game.
"When faced with a question or concern, he was calm and considerate in expressing himself—even in tense circumstances," Krueger says. "Mr. Vasic showed what it looks like to have fun while pushing one's self and one's teammates to improve."
While Vasic and Athanas-Linden led their teams, the camaraderie they built with their classmates stands out. Some of their best friends have been made through athletics, they say. Both blazer winners encourage other students to participate in intramural and club sports in the future.
"There are a lot of things you can learn here outside of seminar readings," Vasic says.
In the coming months, Vasic will work as a Summer Academy coordinator at St. John's. Athanas-Linden plans to head home to Bethesda and work for a court-reporting and transcribing company.
Meanwhile, their names will go on a plaque in Iglehart Gymnasium among the blazer winners of years past.