Cherokee Nation to Columbia Law
March 10, 2017 | By Tim Pratt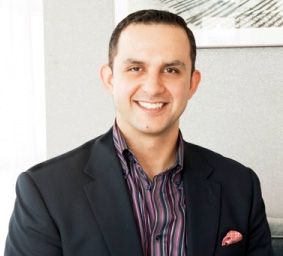 When Shawn Watts was growing up as a member of the Cherokee Nation in Oklahoma, he had two careers in mind.
He wanted to become a professional baseball player or a lawyer.
Fortunately for many in the Native American, business and international communities, Watts couldn't hit a curveball.
The St. John's College graduate went on to become an accomplished attorney and now serves as associate director of the Edson Queiroz Foundation Mediation Program at Columbia Law School.
It's a job that allows him to pursue his interests in tribal law and conflict resolution. And it has sent him all over the world, working with the United Nations and other organizations.
"I am 100-percent happy with what I'm doing," Watts says. "I feel grateful to get to do it. The work is very rewarding."
Watts took a circuitous route from Oklahoma, where he was born and raised, to Columbia Law School. His first stop was St. John's in Santa Fe.
Watts was a junior in high school when he learned about St. John's. He recalls sitting in the debate room—he was a competitive national debater—with a longtime friend.
As Watts talked about college options for his friend, he suggested trying to find a place where students didn't have to turn in homework every day. His debate coach overheard him and suggested St. John's, with its great books program and discussion-based learning approach.
Watts sent away for information from the college, and when it finally arrived in the mail, he was so intrigued by the thought of studying Plato and Leibniz that he kept the material for himself. He never gave it to his friend, who went on to study at the University of Tulsa.
With Watts set on attending St. John's, he decided to make the Santa Fe campus his home for the next four years. He wanted to be able to work among tribal communities while in college, and those opportunities were abundant in New Mexico.
Watts headed off to Santa Fe and lived a busy college life. He played sports every season, studied hard and worked a few years in the Admissions Office. But one of the things that stands out about his time at St. John's was a tutoring program he helped start at a Native American prep school north of Santa Fe.
Every Tuesday, Watts would head to the school to tutor students in math and writing. On Thursdays, prep school students would venture down to the Santa Fe campus for more tutoring.
"Being from a tribal community, being able to work amongst tribal communities was very important to me," he says.
All of his experiences in Santa Fe, from the classwork to the extracurricular activities, make him look back fondly on his college years.
"I loved it," he says. "I loved it enough that I considered tanking a couple classes senior year so I didn't have to graduate yet."
Watts' time at St. John's also helped him further develop his writing skills. His ability to analyze, interpret and explain complicated readings also was honed. Those skills have helped him in the years since he graduated.
"The kind of thinking that's required to get through the Program is the same kind of thinking you need in law school," Watts says.
But Watts didn't head straight to law school after he graduated from St. John's in 2000. He taught at a juvenile detention facility in Pittsburgh for a year; then he taught math at a prep school in New Jersey for several years. He spent the following year teaching at a school in Brooklyn.
Despite a teaching career that was increasing in length, Watts still had an interest in law, so he enrolled at Columbia Law School. There, he served as the president of the National Native American Law Students Association and was a Harlan Fiske Stone Scholar. In addition, he was a managing editor of Columbia Law School's Journal of Law and Social Problems.
After graduating from law school, Watts went into private practice for a few years, serving as an associate in the finance and bankruptcy practice group at the New York office of Sheppard, Mullin, Richter & Hampton LLP. In addition to representing creditors and debtors in multimillion-dollar bankruptcies, he specialized in Federal Indian Law and tribal finance.
Watts then headed back to Columbia, where he is now a faculty member at the law school. He teaches alternative dispute resolution and Federal Indian Law with a focus on internal tribal dispute resolution.
His students mediate community disputes at the New York Peace Institute, a nonprofit victim-assistance, advocacy and violence-prevention organization. Students also mediate civil cases at New York City Civil Court and small claims cases at the Harlem Small Claims Court, as well as employment-discrimination claims brought by federal employees and referred by Equal Employment Opportunity Commission administrative law judges.
The foundation has a formal partnership with the United Nations, too, in which ambassadors and diplomats receive training. The foundation is working on expanding the program, Watts says.
"All the international stuff we're doing now is really taking off," he says. "We're doing such cool stuff and we want to continue to do that."