Quality Books to Quality Engineering
March 15, 2017 | By Tim Pratt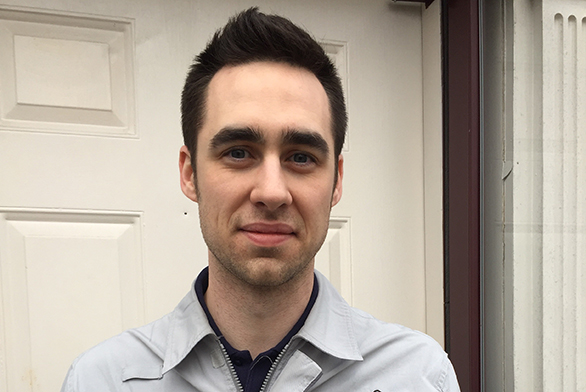 Growing up, Andrew Mize never considered himself a "car guy."
In fact, the Kentucky native says he didn't know much about cars at all.
"I didn't know the difference between a Honda and a Hyundai," he says with a laugh.
Mize, who graduated from St. John's College in Annapolis in 2012, was always analytical. He was organized, too, and liked to figure out how things worked.
More importantly, he says, he wasn't afraid to dive into something with which he wasn't familiar.
Those qualities helped him during his time at St. John's, he says, and they have helped him in the nearly five years since then.
Mize now works as a quality engineer specialist at Toyota Motor Manufacturing Kentucky, the company's largest motor vehicle manufacturing plant. He has worked at the plant in Georgetown, Kentucky, since February 2015, identifying and solving problems that arise inside vehicles. Prior to that, he worked as an engineer at an automobile parts manufacturing plant in nearby Frankfort—a job he landed weeks after graduating from St. John's.
Mize says he never would have imagined during his time in Annapolis that he would one day work in the automobile industry. He was planning to attend medical school. He even did internships at research facilities and shadowed doctors. When it came time to apply to med school, however, he had second thoughts.
"I started to feel really unsure about it," he says.
Shortly before graduation, Mize heard about a job opening for an entry-level engineer at the plant in Frankfort. Mize didn't know what quality engineering was, he says, but he did some research, applied for the job and was called in for an interview. He asked a lot of questions, went on a tour and was hired a week later.
The setting was a far cry from St. John's, where over the previous four years he stayed busy studying the great books, playing intramural sports, working as an audio-visual assistant and helping build sets for theater productions. This was a factory and he was tasked with handling production quality issues.
Mize recalls a moment early on when he wondered if he had made the right decision. He wasn't sure if he wanted to work in the factory setting, and debated whether to show up for work the following Monday.
"Everything in me was telling me this was going to be terrible and miserable, but I thought 'Maybe I'm wrong,'" he says. "And I was. I ended up loving it. That is the sort of disposition you learn at St. John's while you're there. You learn to be very open to new ideas."
The job afforded him a lot of independence as he worked on quality issues for different automobile parts. There was a lot of "self-learning," he says, which was another skill he picked up at St. John's.
After more than 2 ½ years, Mize left for his current job at the Toyota plant. He now specializes in issues that arise in the interiors of vehicles—from steering wheels to seats to lights to carpets—in the Toyota Camry and Avalon, and Lexus ES 350.
"It's nothing but problem-solving, really," he says. "There are problems and we have to solve them. So every day it's a matter of what problems are on my plate."
Mize says he likes the responsibility the job affords him. He also likes knowing that he is contributing to a higher quality and safer product.
"You feel useful," he says. "You feel good. If you have cars that don't work right, that's a big problem."
His knowledge of automobiles has increased, too.
"I'm very fascinated by the machine, figuring out and learning about them," he says. "I love them as a product, which I think, as an interior person, is more about experience and look. It's a fun product to be a part of."
If Mize has any advice for other Johnnies who are about to graduate, it's to look into quality engineering. He says his St. John's education prepared him—and should prepare others—to work in that field. And he says job opportunities are abundant.
"It's kind of this niche field that not a lot of people know about," he says. "Look into it, research it, and don't be afraid to go for these entry-level positions."