Preparing for a Career in Law
March 15, 2017 | By Tim Pratt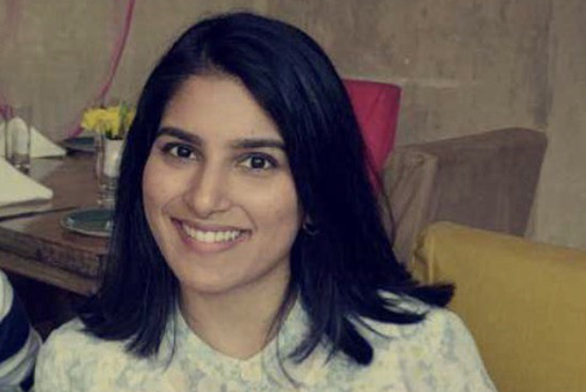 When Rohini Pandit was attending St. John's College in Annapolis, she used her summer vacations to prepare for the future.
One summer, she interned in the Contemporary Indian and Southeast Asian Art departments at Christie's, Inc., in New York City. The next year, she interned at the auction company again.
Those experiences helped set Pandit (A15) up for an internship the summer after she graduated at the Metropolitan Museum of Art in New York, where she developed an interest in the legal side of running a museum.
These days, that legal interest continues, and Pandit is preparing for a career in law. She's working as a paralegal at a law firm in India, and is applying to law schools back in the United States.
"The hours can be a bit demanding at times, but overall I find the work to be extremely fulfilling," she says.
Growing up in Mumbai, India, Pandit wasn't thinking about a law career. She wanted to be a professional tennis player.
When Pandit was 11 she moved to Tampa, Florida, to attend Saddlebrook Preparatory School, which provided academics and world-class tennis training. After playing tennis at the national and international levels, however, Pandit had to quit at the age of 14 due to a skin condition that made her unable to withstand prolonged sun exposure.
When it came time to look at colleges a few years later, Pandit considered St. John's on the recommendation of a family friend whose son had attended the Santa Fe campus. Pandit did some research on the great books program and made St. John's her top college choice.
The reading list was full of books she wanted to read, particularly in a seminar setting. She also appreciated the small class sizes.
When Pandit got to St. John's in Annapolis, she became active in student activities. During her freshman and sophomore years, she and other students would meet for a Euclidean study group, where they would try to find alternate proofs to some of Euclid's propositions.
Pandit also sang with the St. John's Chorus, and as a senior she was part of the Senior Gift Committee, helping the senior class for the first time achieve 100-percent participation in giving donations. She was the student body representative on the college's Board of Visitors and Governors, too.
During the summers of 2013 and 2014, Pandit interned at Christie's. That work and networking experience helped her secure an internship at the Metropolitan Museum of Art the summer after she graduated.
At the "Met," Pandit became more interested in the legal side of running a museum, setting up exhibitions and other aspects of the work. Shortly after her internship concluded, Pandit returned to India to look for a job.
In May 2016, Pandit began working as a paralegal. Since then, she has worked closely with the competition/antitrust law team at the firm, and has researched for and assisted in abuse of dominance cases, cartel cases and merger control filings.
The Competition Act, the main antitrust legislation in India, was implemented in 2009, so the legal proceedings she gets to be a part of are helping shape antitrust jurisprudence in the country. The work, she says, is "challenging and exciting."
Pandit recently completed law school applications and is waiting to hear back from schools in the United States. She still loves playing tennis, though she doesn't play 6-7 hours a day anymore, and spends her free time visiting museums, exhibitions, and attending lectures about art objects and collections. She loves to ski, too.
Looking back on her time at St. John's, Pandit describes the experience as "rewarding."
"I not only grappled with the various themes and debates embedded in the great books, but I also became a part of the St. John's community," she says. "A community which is cemented together by common participation in a four-year, all-required interdisciplinary curriculum unlike any other."
Pandit says her St. John's education has helped her since she graduated, especially in legal matters.
"The ability to present and defend cogent arguments has helped me perform well in most of the tasks that have come my way," she says.