Chris Krueger (A07) Infused St. John's Academic Program into Athletics, and Won
December 7, 2022 | By Patricia Moore
For many students, participating in the athletic program shaped by former Athletic Director Chris Krueger (A07) has been game-changing. To say that the program has been innovative is an understatement. Imagine a college where everyone is included, each student is assigned to an intramural team, student ideas inform much of the program, volunteers from the college enthusiastically coach and assist, and participation continues to grow, year over year. Every sport or fitness activity—from basketball, to fencing, to frisbee, to croquet, to a St. John's-inspired form of touch football whose rules require as much brainpower as athletic prowess, and more—success is not simply winning, but also embodying philosophical concepts examined by each student through the academic program.
Modeling the Athletic Program on the Academic Program's Method of Inquiry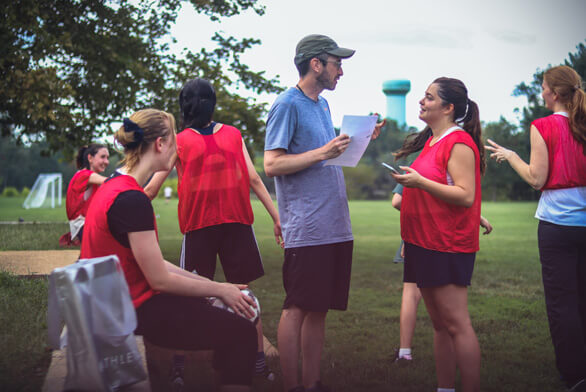 Questioning one's own assumptions and those of others is a way of life at St. John's. Inquiry is inextricably woven into the way students discuss and learn through seminal discussions of the Great Books of the Western tradition. "We try to model as much as possible in the athletic program what is going on in the classrooms," Krueger states. From this basic premise flows what makes St. John's athletics and fitness program distinctive. Krueger's thoughtful influence since he returned to the college after graduating in 2007 to lead the Annapolis athletics and fitness program in 2016 has formed and amplified how students, parents, tutors, and community members participate.
"It takes a kind of deliberate attention to what you are doing programmatically, or you'll end up just trying to win championships." That statement might mask the seriousness with which Krueger, and the students he trains, approach the playing field. "We want to be as exceptional and excellent as we can as athletes," he emphasizes. As in the classroom, "we're growing, we're learning, we're pushing the boundaries of what we're capable of, and that's what athletics at St. John's is all about," says Krueger.
How a Philosophy of Inclusion Makes St. John's Athletics Thrive
For those outside the college's milieu, a philosophy of welcoming everyone into athletics, and especially intramural competition, may seem counterintuitive. Yet, for Krueger, this principle is central to the athletic program's philosophy and ever-growing participation since he joined the college. "The main difference between the program now and when I started is predominately the amount of energy that people are giving to it."
When he began his fruitful efforts to bring out the best in every student, "the most experienced participants in the intramural program were not giving all their energy and intensity to their team sports. There was a lot of laughter, and that was great, but sports are not only fun," he states. "In sports, you get to try to the best of your ability every time you're on the field, and what that means might be wildly different for any two people." Krueger made it "okay to compete, to try to score that goal you missed before." He helped students see that "when you're in a community of people so connected with one another, that competition can be friendly, too."
Rachel Fleming (A11), St. John's new athletic and recreation coordinator in Annapolis, agrees. "Chris brought a lot of gravitas to the program. When I was a student before Chris arrived, it was primarily light-hearted competition. He's a former soccer player and coach. He'd seen the ultra-competitive side of sports. Chris recognized that there is a space for the ability to test yourself within this competitive atmosphere, and still walk away from a game satisfied with what you have done, whatever your level of experience."
Why Adversity through Sports Can Be a Good Thing
Ultimately, the St. John's athletics program is practice for real life, an arena where students can try out different philosophies or beliefs on the field, without the consequences that might result in the classroom or at a job, according to Krueger. "When you're accustomed to dealing with adversity in sports, you can envision taking that next step and not giving up, dealing with emotions, and becoming comfortable with your own sufficiency and your insufficiency," he says.
By participating in sports and "blowing off steam on the athletic field, you learn to handle the really challenging academic environment of St. John's because your body is quieted," Krueger points out. "There's also an element of teambuilding through sports that translates to the classroom because you learn to take input and perhaps see a different perspective." He credits the student leaders for the athletic program's success because their suggestions configure the program according to what students want. That rare process in college athletics, combined with the fact that there are very few coached teams, has meant that the program continues to thrive under Krueger's inclusive philosophy.
"Athletic participation has increased every year," says Fleming, citing about twenty people per team, meaning roughly 100 people coming out in each of the seven intramural sports, "and that does not count all those who take part in crew, sailing, fencing, croquet, and other sports and fitness participants."
When considering Krueger's legacy, Fleming characterizes him as "a bit of a mastermind; he had a lot of ideas and ingenuity. For someone with a master's in fine arts, this was a dream job, and there was no task too big or small for him." She gives the example of a ping pong tabletop Krueger built by hand. Fleming recalls how "he was very much an educator on the field," pointing out how Krueger would give the rules of each game "a conscious look and explain them with infinite patience to players on the field." Taylor Waters, director of student services in Annapolis, concurs: "What stands out to me is his ability to be a 'ref.' He brought so much gravitas to the program. Students admired and respected him, even when they disagreed with him, because of the way he wrestled with ideas the way students do in the classroom, and because they saw him as fair, even when they might challenge a call he made on the field."
Strengthening the Athletic Program from the Inside Out
According to Jaime Dunn, director of career development in Annapolis, Krueger "revitalized the athletics program through the welcoming culture he created. Chris saw students as people first, before he even began to consider their athletic abilities. They felt seen."
Following Krueger's retirement, Dunn feels the program is in excellent hands with Fleming, a St. John's alumna. Why is it vital to have a Johnnie leading athletics at St. John's? "It's unlike any other athletic department because it's so aligned with the academic program," says Dunn, her career advisor expertise coming through. "It's important to have an alum who was invested in athletics as a student, and someone who truly understands the academic program."
Dunn cites the community Krueger created, "a sense of belonging that is crucial to a college student's career," as perhaps his most impactful legacy. By all accounts, Krueger's contributions to the St. John's athletics program will continue to inspire students to bring their best game to life. As many students say, "You play, you stay." (This aphorism is attributed to the late St. John's athletic director Bryce Jacobsen, an intramurals advocate who served from 1958 to 1988. The original saying was, "Those who play, stay," according to Chris Krueger.)