St. John's College Helps Recruiter See Beyond the Resume
December 5, 2022 | By Anne Kniggendorf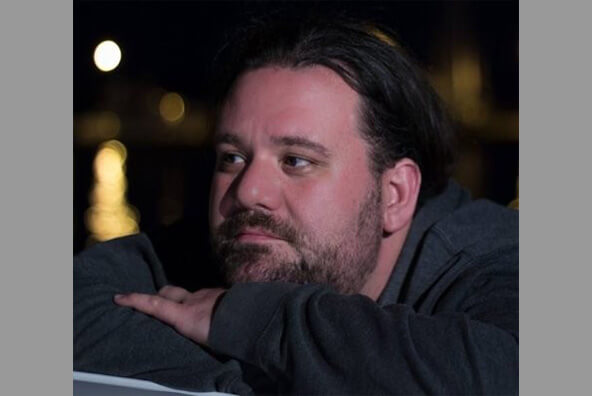 John Woods (AGI05, EC09) is a Maryland native who had known about St. John's College his entire life. It wasn't until after he'd completed an undergraduate degree in English at Towson University and had started teaching high school that he felt a pull to learn more about the college.
"I got a lot of modern education and modern poetry. And through all that, I discovered that I didn't have a strong classics background, which is how I really found the St. John's education," Woods explains.
As soon as he completed the MA in Liberal Arts (MALA) in Annapolis, he began the Eastern Classics graduate program in Santa Fe, which he discovered he enjoyed even more than the MALA he received from Annapolis.
Then, after graduation, he was surprised to find how extremely useful and applicable the education was to his professional life.
In 2016, in addition to college -level teaching at Anne Arundel Community College (AACC), he moved to the world of tech recruiting for jobs that require a security clearance—another position that involved carefully reading applications and resumes and speaking to candidates.
He says that he did not expect St. John's classroom conversations to be as applicable and relevant as they have turned out to be.
"It blows my mind how much I'm reminded of listening to what people say, understanding what they really mean," Woods says, "and then jumping in to connect to that conversation."
While recruiting for organizations such as the Department of Defense, listening and critically thinking through both what he's hearing and the material on hand is crucial to the success of the assignment.
Woods doesn't have a security clearance, so the job requisitions and resumes that cross his desk leave out certain details or sometimes might indicate a job duty in a cryptic manner. The mysterious nature of what he sees isn't necessarily intentional; sometimes it's simply the result of a tech gap between when a contract was written and when it was actually awarded to be filled. He thinks his ability to make sense of those disparities is aided by having read and worked through ancient Sanskrit and Chinese texts.
"Seeing what they want, understanding what they really need, and then offering them a solution that is a compromise between the two, I think definitely is something from my St. John's education," Woods says. "Understanding what's beyond the words on the resume, how to pull things out of [the applicant] in a conversation, asking them questions about their experience. That's exactly what we do at St. John's. When you read a text, you're looking beyond what's on the page."
Woods also tries to inject St. John's-style conversation into the English courses he teaches at AACC. He facilitates "more workshops, more hands-on sharing of papers, communicating with my students more than I do just lecturing at them."
Aside from the immediate educational value he finds in those methods, it's also a matter of exposing students to a less typical way of thinking about their studies.
A traditional bachelor's or master's program is essentially "pigeonholing" a student he says; that route narrows a person's education to a point, whereas a St. John's education broadens a student's outlook and understanding.
Woods talks about his MALA and Eastern Classics classmates who have gone on to be therapists, doctors, lawyers, and philosophers —all with the exact same education. A group of people who have studied at a more typical institution will have been trained to perform a specific job and go on to do similar work.
He says, "When you're trained at St. John's, it opens up a lot more doors and can lead to future educational and work experiences that you wouldn't maybe initially think as you're applying or starting a Graduate Institute program."