Pauline Stacchini Brings Multicultural Background and Service Mindset to Patrons
December 1, 2022 | By Anne Kniggendorf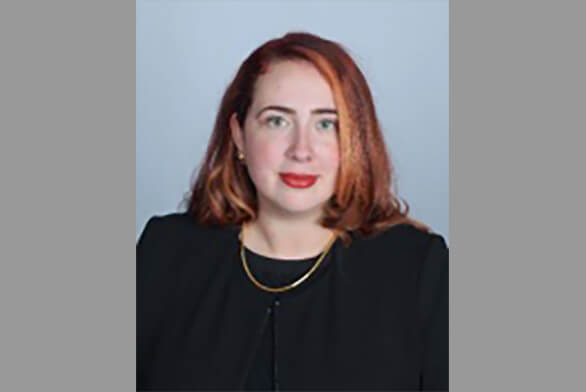 Pauline Stacchini (A09) is a librarian in Kansas. This sounds like an unassuming position, and in a lot of ways it is, but it's also carefully cultivated. That is, her St. John's College education taught her to inquire without judging, which, she says, is perfect for library work.
Stacchini, the executive director of the Emporia Public Library since October 2022, is the child of a study abroad romance in France. Because her father is French, she grew up there, but she spent many summer breaks in Iowa with her grandmother.
And whether in France or the United States, libraries were a constant in Stacchini's life, her mother always close at hand.
"As women, we are kind of doomed to become our own mothers. My mother volunteered and worked in some capacity in every library that I went to when I was a child," she says.
In Iowa, Stacchini's library was one of the hundreds of democratizing Carnegie libraries, and she participated in the summer reading program. And though it is not inaccurate, she is quick to point out that she does not wish to be one of the scores of librarians who says, "I became a librarian because I love to read."
By the time she was ready to choose a college, she had participated in a program at Thomas More College of Liberal Arts, learning through reading and conversation in a manner that is similar to the St. John's College program.
That conversational approach was starkly unlike the rigid French education system she'd grown up in, and she liked the contrast.
"There was not a lot of room for questions. You know, in America, we very much say there's no such thing as a stupid question. That is not the case in France. Every question was stupid. Conversation, collaboration really wasn't encouraged," Stacchini explains of her experience 20 years ago.
In a lot of ways, that was fine. She says that in addition to English and French, she is also fluent in Spanish thanks to that rigid system—she learned as she was told to learn, and she gained certain skills and knowledge.
However, she says, "I saw value in pursuing an experience that would be educational and also different from how I'd experienced education so far."
She found that in ways, St. John's was just as democratizing as those Carnegie libraries. Stacchini carried a lot of what she gained at St. John's forward into her library work, first in academic institutions from her work study job at the Greenfield Library to the Hardin Library for the Health Sciences at the University of Iowa where she earned her MLIS, and later in public systems in Dallas and Austin, Texas.
It's been crucial to her career that the St. John's program forms an inquiring mind.
"The whole reason we're reading through these things is to learn more and to ask questions to better understand. And that right there's a reference interview," she says.
So, for instance, if someone approaches her for help finding forms on a website, she can dig deeper to find out what they're really looking for, address their concerns, and help find solutions.
That's her cultivated ability to inquire without judging.
"So," she says, "if someone is saying, 'I need this form because I want to sign up for food stamps,' it's not 'Oh, because you are XYZ...' It's 'Okay, let's see if we can get to the website. I see here there are also these services. Did you need assistance signing up for those?' No predetermined idea that's going to keep you from continuing to engage with that person."
Stacchini is one of many Johnnies who have gone into library work, people like the trailblazing Joan Cole (Class of 57), recently featured on the college website, and several others who will be featured in the coming months.