Patrick Schaefer (A00) Translates a St. John's-Inspired Affinity for Cross-Cultural Communication into an International Law Career
November 30, 2022 | By Patricia Moore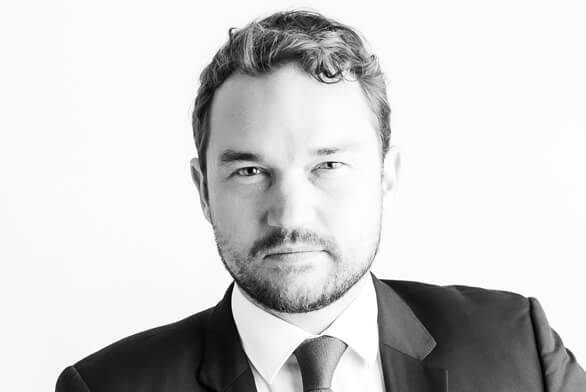 A Maryland native, Patrick Schaefer (A00) found his worldview significantly expanded by spending his junior year on the St. John's College Santa Fe campus. Surrounded by what seemed a foreign land to a young man who had never been "out West," Schaefer was intrigued by the rich geography, cultures, and systems he discovered in New Mexico.
"St. John's fosters thinking that's important globally," states Schaefer. Now general counsel at the New Mexico Department of Finance and Administration, Schaefer is known for his efforts to find innovative, cross-border legal solutions to shared regional challenges where differing and often opposing legal systems and social values prevail. Schaefer is a bridge builder, and Fulbright offers one of the ways cross-cultural divides can be negotiated, he suggests.
"St. John's can significantly contribute to the mission of Fulbright because no other school fosters the strength of a candidate to have both the tools to execute and to get the most out of the experience," he states. Johnnies who receive Fulbrights benefit by exploring what they are thinking about in school out in the world and be enriched by an experience that positions them for post-graduate work or taking the next steps in their careers, Schaefer points out.
How St. John's Locations Fostered a Passion for Cultures and Languages
Whether in Santa Fe or Annapolis, Johnnies can explore real-world intersections of current issues such as climate change, supply chains, and free trade, Schaefer emphasizes. The Annapolis campus borders the state capitol and offers proximity to Washington, DC, the World Bank, numerous embassies, and trans-Atlantic trade. One year on the Santa Fe campus was Schaefer's introduction to languages and cultures different from his own. He became Intrigued by Native American and Mexican languages and societies. "I began to teach myself Spanish in the St. John's Library," says Schaefer. In 1998 he visited Mexico City. These experiences led Schaefer to want to understand the political, legal, and economic structures of Latin America and the Iberian Peninsula occupied by Portugal and Spain.
Schaefer credits St. John's with fostering his interest in what has become a life's work—resolving international and cross-border conflicts. After graduation from St. John's, Schaefer pursued a master's degree in Latin American studies and his law degree from the University of New Mexico, where he specialized in the comparative legal systems of the United States, Mexico, and Brazil. He culminated this work with a Fulbright Fellowship to study their Iberian and European counterparts in Spain and Portugal. While there, he earned his LLM (Master of Laws) at the Universidade Católica Portuguesa.
St. John's Nurtures the Qualities of Successful Fulbright Candidates
"St. John's offers an unparalleled context for nurturing quality Fulbright candidates by amplifying their curiosity and increasing their ability to understand and articulate different systems for the betterment of humanity," Schaefer says. One of the goals of the Fulbright program is to help recipients build capacity to contribute at the local, state, or national level. Schaefer's self-directed Fulbright Fellowship allowed him to return to the New Mexico region with the capacity to found and direct a research institute focused on comparative legal and economic systems to help improve economic development. "This allowed me not only to contribute locally, but also to tell people in Washington, DC, Europe, and Mexico City about positive economic and social developments in my region," says Schaefer.
How St. John's Supports Fulbright Applicants
Schaefer emphasizes that his Fulbright experience and subsequent career "all have been built upon a foundation that is found in the St. John's curriculum and campuses. My ability to contribute to the community and my commitment to public service are a direct outgrowth of the St. John's program." Now, he continues his relationship with the Fulbright Program as a Fulbright Senior Specialist. He also volunteers to help students at St. John's through the Hodson Trust Internship Program—including advising Nortaute Grintalis (A21) on both inter-American and European legal research—as well as assisting the admissions office, development office, and St. John's College Alumni Association.
To learn more about how the college supports Fulbright applicants and those seeking other internships and fellowships, visit the Santa Fe Office of Personal and Professional Development and the Annapolis Career Development Office.