Christine Curran (A00): A Professional Path of Faith and Service
October 25, 2021 | By Eve Tolpa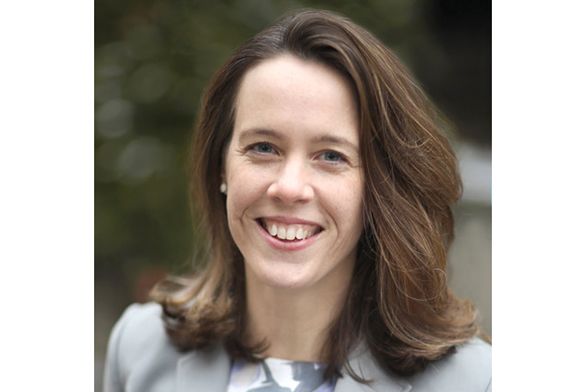 Christine Curran (A00) believes that "we can each do a part to make the world a better, more loving place." Since January 2021, she's been putting that principle into practice as executive director of the Ignatian Spirituality Project (ISP).
An organization that offers spiritual retreats and companionship to people recovering from homelessness and addiction, ISP was founded in 1998 by the Society of Jesus (also known as the Jesuits). Based in Chicago, where Curran herself lives, ISP operates in 28 cities across the U.S., Canada, and Ireland.
"I see a lot of my job as attempting to solve problems or remove obstacles for those folks," says Curran of the population she serves. A big part of that is encouraging ISP's staff, volunteers, and board to "do our best each day in living out our mission."
As a St. John's student, Curran was drawn to texts that "wrestled with spiritual meaning and purpose," including works by Thucydides, Tolstoy, Dostoyevsky, James Joyce, Nietzsche, and Kierkegaard. Those books have resonated with her ever since.
"While much of life is ordinary and humdrum, there are times in life when decisions must be made and you must discern what it is you believe and how you will choose to live," she says. "At these moments and turning points, it is phenomenal to have journeyed a bit with these thinkers."
Curran experienced one of those clarifying moments shortly after finishing her undergraduate degree. "A year after graduating, I became assistant editor and then managing editor of The Public Interest, a quarterly public policy journal headquartered in Washington, DC," she says, noting that the executive editor at the time had been impressed by her St. John's education. During her time at The Public Interest, she "experienced a call to ministry that was to change my life." Curran went on to earn a master's in religious studies from Yale Divinity School in 2009 and in the years since has worked at several religiously affiliated nonprofits
A voracious reader who "used to skip class in high school to read," she was inspired to apply to St. John's when her brother received a brochure in the mail outlining the Program. It read "The following professors will return to teach at St. John's College this year" and featured the faces of Marx, Nietzsche, Plato, Locke, and Einstein, among others. "I found it really compelling," Curran recalls.
Now, in her professional life, she employs many of the critical thinking skills she honed as a Johnnie: thinking out loud, following a line of thought to its logical conclusion, being able to change your mind, and, importantly, knowing "how to differentiate between a good argument and simply a strongly worded argument. The loudest or most confidently voiced opinion is not always—and actually seldom is—the right one!"
On the contrary, Curran notes: "Listening is often more powerful than words, and ... true humility is a real and rare gift."
Hindsight has deepened her appreciation for the uniqueness of the Program, especially in comparison to the college experiences of friends and colleagues. "I remember, for instance, taking for granted that I could continue a discussion from class at a party off campus," says Curran. "Imagine having a conversation about Kant's Critique of Pure Reason in the line for beer ... Crazy, but things like that happened all the time!"
She has also thought a lot about the relationship between her faith and her time at St. John's. "[It] was a fairly secular place, but there was a place for faith and a basic respect for spirituality and the questions of the soul and spirit," Curran says.
"At St. John's, I gained a deep respect for the essential human search for meaning and the desire we each have to achieve the 'good,'" she adds. "Through texts that engaged these important questions, I witnessed individuals who struggled to hold their spiritual and religious convictions alongside the life of the mind. There is a tension between faith and reason, but it is a healthy and honest one. I think we don't engage these questions enough in our society."